Musicheads Essentials: The Replacements, 'Pleased to Meet Me'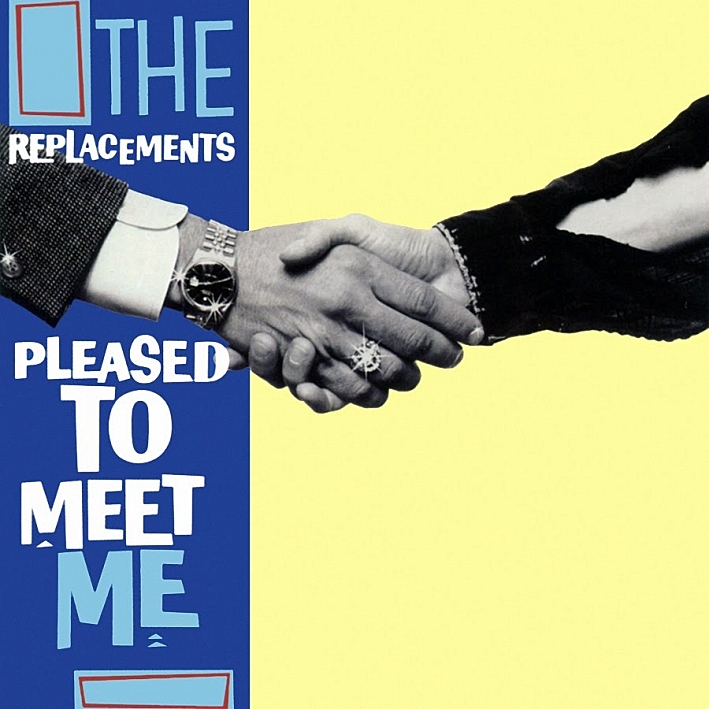 Many say that great art must be created under difficult circumstances. The implication that personal struggle is the sole source of great inspiration feels right when you say it, and it's an endedring idea. Although this has proved to be true in many ways, in the realm of modern music, inspiration alone doesn't seem like it's enough. To create a truly great album — the currency music fans trade in — so much more must happen beyond the inspiration to first put pen to paper and write about what you feel or see or imagine others are experiencing.
First, one must gather the right collection of those thoughts and ideas and observations and pull them together into song; then find that perfectly sympathetic musical arrangement to help tell the story. Writing a great album requires that you log ideas, take notes, rework what's not working and not give up. It is a study. And great albums are always more than just one song; they are many. Ten to 20 will work . . . 30 is better. Assembling a great album means collaborating with a team, sometimes with people you hardly know and who may not really care the way that you do, or care for you at all. It requires taking risks and experimenting without losing your identity. It demands fearlessness and humility. In recording a great album, artists must creatively reconstruct and perform a song's chosen arrangement in a studio while the meter runs and the clock ticks. It requires creativity under pressure. Most importantly, a great album requires that choices are made. Lots and lots of choices. Which take? Which mix? Which effects? How much is too much? When is enough really enough? In what order? What type of art? Who writes the liner notes? What do they say? When is it all really done?
Making a great record is difficult circumstances. The more I learn about what it takes for the final version of an album to arrive in a bin at a record shop, the more I am in awe that even one album exists, never mind its greatness. Yet many do, and some of them are indeed great. Each is a testament to the personal strength and intestinal fortitude of the artist beyond proof that you need to suffer to see.
And then there were three. . .
First, the facts. Pleased to Meet Me was released July 7, 1987. It was The Replacements' fifth album and the second one they recorded after being pulled up to the big leagues to partner with juggernaut Sire / Warner Brothers. It was also their first and only record made as a trio. Not only had Paul Westerberg, Tommy Stinson and Chris Mars recently parted ways with founding member and savant guitarist Bob Stinson — who many fans saw as the physical manifestation of the true spirit of The Replacements — but they'd also chosen to dismiss their manager Peter Jesperson, who was widely recognized as the fifth Replacement.
Pleased to Meet Me was recorded at Ardent Studios in Memphis, Tenn., in late 1986 through early 1987. The record was produced by Jim Dickinson, a musician and producer who worked with Ry Cooder, Aretha Franklin, Mojo Nixon, Screamin' Jay Hawkins and — most importantly for this story — Alex Chilton and Big Star. When all was said and done, Pleased to Meet Me peaked at 131 on the Billboard charts, and though reviews continued to be strong, sales fell short of the expectations of both the label and the band.
Now, a whole bunch of opinions. Pleased to Meet Me is the finest record The Replacements ever made. Sonically, it is fantastic; rich and full of style and swagger. It lands in that sweet spot where technology, team, craft, chops, guts, attitude, ideas, creativity and some major label money all intersected at the right time for those songs to become what they became. Exploding drums. Growling bass. Ripping guitars that defied the trends of the time (mostly).
The record begins with "I.O.U.", a pedal-to-the-metal, 182-BPM boozed-up and amphetamined Chuck Berry haymaker delivered with the middle finger. Beholden to no one, "I.O.U." is a blistering reminder that although the back of the record may have a Sire logo on it, the image on the front says the Replacements' deal with the devil is temporary at best. And I believe that went double for the fans who were vocally opposed to the band's record deal, Bob's firing or anything else anyone might say about the band's business or direction.
Yet Pleased to Meet Me isn't all punk-rock piss and vinegar; some of the absurdly loveable loserisms remain. A song like "Nightclub Jitters" masquerades as a lark but is a piece of the real on the anxieties of the author. And what a delightful sax solo! Wait — sax solo? Yep. Sax solo. There are horns and strings and a junky rhythm machine and all sorts of other playful sonic explorations outside The Replacements' box. And it all works.
One of my favorite things about this album is its depth. It's widely considered that Paul Westerberg was on quite a streak around the time Tim and Pleased to Meet Me were recorded. While it's clear that singles "Can't Hardly Wait," "Alex Chilton," "The Ledge" and "Skyway" were and are stone-cold classics, "I.O.U.," "Never Mind" and "Valentine" more than qualify. That rare blend of arrogant affront and complete vulnerability that Paul had been trying to balance since the beginning? This time out it couldn't have been any more natural. In "Skyway," Paul unabashedly penned the great Minnesota love song. In "Alex Chilton," he re-imagined the world in which his hero was recognized in the way he truly deserved. In "The Ledge," Paul wrote a song that cries out to those who have experienced any degree of isolation and loneliness — to the extent they contemplated ending life — to reassure them that they are not alone.
The absolute highlight on Pleased to Meet Me is the last track. It's rare that an album's best track is actually the last, but that's exactly what the 'Mats did. "Can't Hardly Wait" is unquestionably the Replacements' greatest song and the epitome of their efforts on this record: soulful, sweet, sad and lonely with soaring strings and the Memphis Horns just in case you weren't paying attention. It is power-pop perfection, the likes of which the world hadn't heard since Big Star.
Difficult circumstances certainly surrounded The Replacements during the creation of Pleased to Meet Me; certainly some of the inspiration for the songs on this record can be attributed to that situation. But the in the face of those challenges, the band persevered and somehow managed to make the finest album of their career . . . so far.
Resources
What is Spotify?
Related Stories