Another city, another story: Chicago's take on The Replacements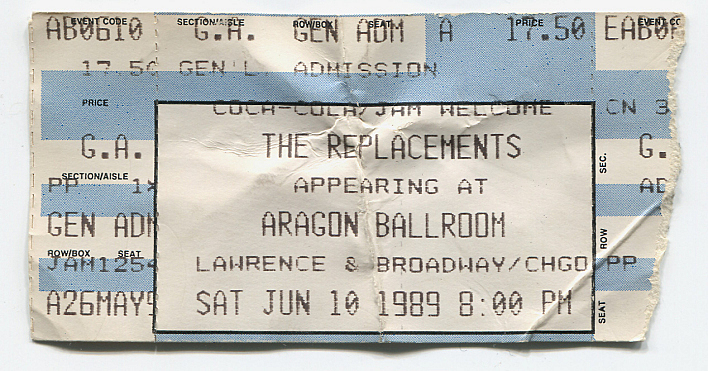 Although "take the Skyway" means a vastly different thing in Chicago than it does in the Twin Cities, the Replacements struck a chord with Chicago audiences. Significantly, the Replacements' final gig happened in 1991 in Chicago's Grant Park; now reunited for RiotFest, the Replacements' first U.S. date is in the Windy City.
Ahead of the Replacements' show in Chicago this Sunday, we talked to some Chicagoans about their memories of and thoughts about the band. Here are their reflections:
Discovering the Replacements
Jim McGuinn, program director at 89.3 The Current, St. Paul, Minn. (but formerly of Downers Grove, Ill.)
"I grew up outside Chicago and was at the University of Illinois-Champaign for college, and at the time, the Replacements started doing wider and wider swings through the Midwest, so they would come through Champaign every six months or so, so I got to see the band evolve from Let It Be through Pleased to Meet Me, probably five or six times.
"And like the cliché about the Replacements, I saw shows where they were the tightest, best rock 'n' roll band you ever wanted to see, I saw shows where they were falling-down drunk and ended with an hour of covers, and everywhere in between. You never knew what to expect, and that was part of the fun. And somehow, they made both the powerful shows and the sloppy shows awesome."
Jim DeRogatis, co-host of Sound Opinions from WBEZ, Chicago
"I grew up on Jersey City and Hoboken, N.J., and I started sneaking into Maxwell's underage at about 16, 17, and actually saw the first Replacements' show at Maxwell's, which would have been one of their first handful of shows in the New York area at all. Stink had come out, and I just went to Maxwell's to see anybody who was playing; I had no freakin' idea who the Replacements were. . . .
"It was one of the coolest shows ever — I've told this story a bunch of times — but they came and did their Stink-era set, and it was sloppy and short and a disaster. But Paul wasn't ready to stop playing. So the other guys left the stage, and a bunch of local punk band kids . . . came up and picked up the Replacements' instruments; Paul sat behind Chris's drums, and then they played 'Louie, Louie' for 20 minutes or half an hour. It was great. To me, it was like here's everything this band is about: 'We got nothing except the desire to make this art. You can do this too, and you should be. We're all part of one community.' It was right there in the name, The Replacements. That was my first exposure."
Andy Mead, "designer/musician/single dad", Chicago
"I first discovered the Replacements through friends. I think Hootenanny was the first album that I saw in somebody's room, it must have been my senior year in high school, like '83. When Let It Be came out, I was a musichead, I was 18 or 19 — and when that record came out, there was such a huge buzz about it — it was the kind of record you'd go into a store and it was sold out. I remember having to order and wait for it, which for indie records at that time, just never happened. You never had to wait for a Hüsker Dü or a Squeeze record or whatever; you could just walk in and get it."
Live Show Memories
Amy Ward, Oak Park, Ill.
"My friend Cindy and I were at the same show at EXIT in Chicago. One of the band members was wearing a dress. The shows were pretty loose. I remember the EXIT show being entertaining."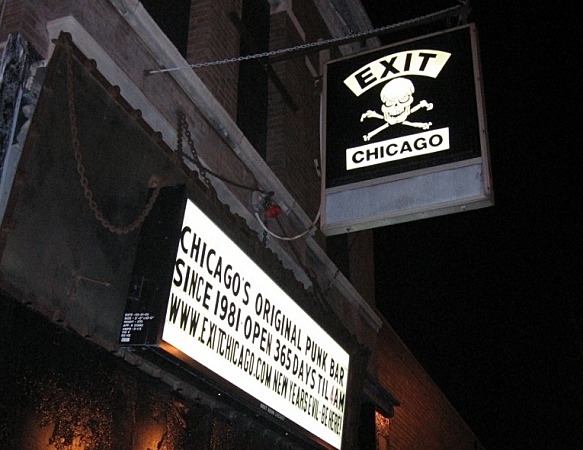 Façade of EXIT Chicago (straightedge217 via Flickr)
Andy Mead:
"I'm a huge fan but I never saw them with Bob; it's kind of embarrassing I never saw the original lineup, which is kind of a drag!
"But I saw them, on their first tour with Slim, at the Riviera Theatre in Chicago in August of '87. They were great — to this day, one of the best shows I've ever seen.
"It was pure chaos. One of my friends got thrown out during the first song, but he climbed up the fire escape and got back in through the side of the building — about three songs later, he landed on my back. My brother lost a shoe. Nowadays, shows are a much more orderly. But that show, it was pure chaos, but in the best rock 'n' roll kind of way. It was a lot of fun."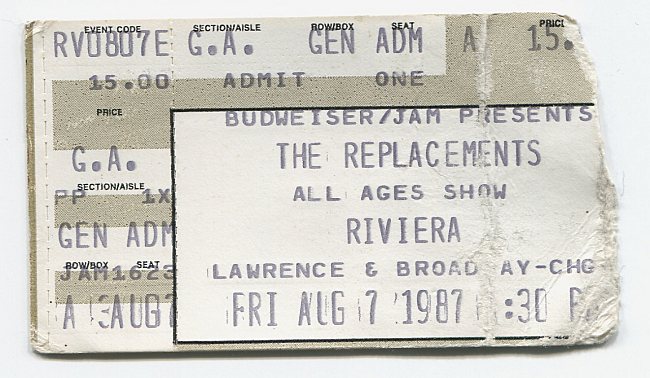 Andy Mead's ticket from the Riviera show. (Andy Mead)
Carla Carpenter, Chicago
"My best memory was when they were playing at the Cubby Bear in Chicago and I got a great parking spot. I came out during a set break to find Paul Westerberg making out on the hood of my car."
Jim McGuinn
"The band I was in during college knew people who booked clubs and stuff, so we ended up playing a show with The Replacements at Mabel's, a 500-seat rock club, in Champaign, Ill., in '85.
"At Mabel's you shared a dressing room, and I remember after we opened we came off stage and I passed by Westerberg coming in and out of the dressing room, and I said, 'What did you think, Paul?'
"He said, 'I thought your band sucked [expletive].' And I said, '[Expletive] you!' Then he said, 'That's the attitude you needed on stage.'
"And I was dumbstruck, because he was right."
Andrew D. Huber, singer-songwriter, Huntley, Ill.
"I put my Replacements hat on backwards by most critical-darling standards. Don't Tell a Soul stands as my summit since its first spin through my headphones. Mesmerized? Hypnotized? Not enough. I WAS that album, and might still be, depending on the day.
"I finally saw the Replacements live on the All Shook Down tour. By that time, there was not a note or word on any of their records I had not counted on as basic life support. 'I.O.U' surged through my veins. 'Left of the Dial' was played at mandatory full volume before any show I played. I was gutted, soothed, held up, knocked down, smothered, crushed and rejuvenated by the whole catalogue.
"Their fabled 'live insanity' did not surface that night. They were dead-on, they were perfect, and it was all for the pensive kid in the brown leather jacket in the near-back row. Just try and tell me otherwise."
Jim DeRogatis
"I saw great Replacements shows, which was one out of three, and I saw disastrous Replacements shows, which some people liked more, just off the rails. They couldn't even get a Kiss cover done, drunk and battling. So yeah, I got the gamut.
"After they signed to Warner Brothers, I never loved them as much. I know it's heresy, but they started to get played by what would become adult alternative radio. They were no longer the domain of me and the fanzine world and left-of-the-dial, college-radio stations. And they were just getting a little slick, you know? There were fewer disaster shows. Slim was no Bob. Slim was great! But Slim was no Bob. And it wasn't the same band, you know?"
Jim McGuinn
"Near the end, they went on tour with Tom Petty, and they played Poplar Creek Music Theater in Hoffman Estates, Ill., and I saw them there. The Replacements went on as people were sort of walking in for the Tom Petty show, and they just seemed a shell of what they once were. Slim was in the band, and he was sort of straightforward, holding it together. They didn't have the sense of danger they had with Bob, and they just seemed tired. They just seemed like, 'Who cares? Our fans aren't here. Nobody cares.' And they were kind of going through the motions. And that was it. I think it was a year later they were broken up.
"I also think that was the tour where six months later, Petty wrote 'Into the Great Wide Open' and he used the 'rebel without a clue' lyric — the same lyric Paul had used in 'I'll Be You'."
Andy Mead
"I was at the last show; the only time The Replacements played in Chicago's Grant Park was at that last show.
"Grant Park is a huge, front part of the city along the lakefront, and the band shell has been there forever, but it's basically a band shell with a seating area, so we got there early, about 8 a.m., to get into the seats. We were sitting pretty close to the stage.
"It was a long day; I don't think the Replacements went on till 3:30 or so, because they were the headliners. So it was a long day of waiting; I think NRBQ played and Material Issue played and then it rained for a while. And then the Replacements came out and it was great; the crowd went nuts.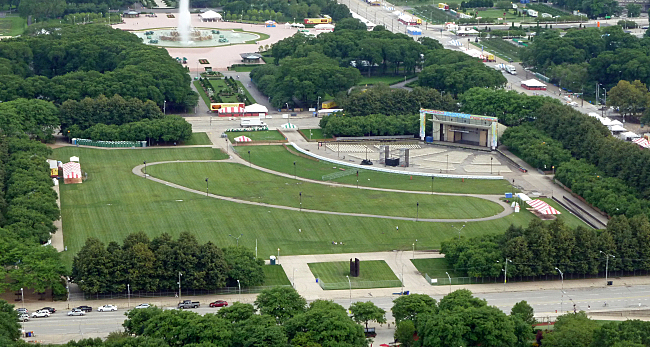 Petrillo Bandshell in Chicago's Grant Park (Torsodog via Wikimedia Commons, Creative Commons license.)
"On a variety of levels, it was the Replacements' final gig. Chris was gone, so Steve Foley was drumming for them at that point. And as happened with a lot of shows around that time for them, it slowly kind of ground to a halt — probably by about two-thirds into the show where you could just tell that Paul especially was kind of losing interest. And then, famously, it ended with them all handing their stuff to the roadies — I think it was Tommy and the roadies doing 'Hootenanny'. And I remember Tommy screaming at the beginning of that song, 'This is the last [expletive] time you'll ever hear this song.' And that was going live on the radio, which was great! It was a fun day. It doesn't seem like it was that long ago."
Looking back, looking ahead
Michael Brett, freelance writer, Evanston, Ill.
"The Replacements broke up in Chicago, at the Taste of Chicago, our annual public barbecue. It makes sense that they will reunite at a Chicago-based festival. Although from Minneapolis, we in Chicago always made a claim on The Replacements. WXRT was one of the first stations to give them any kind of exposure. We like to think of ourselves as the Midwest Metropolis, without the airs you'll find on the coasts. We dug the sloppiness of Paul, Tommy and the boys. They wanted to have a good time on stage and in the studio. That rubbed a lot of music suits the wrong way, but it sure never bothered us."
Val Camilletti, owner, Val's Halla Records, Oak Park, Ill.
"Not only is there renewed interest in the Replacements because of the reunion, but because of vinyl. We've had very good success with carrying most of the Replacements' LPs that had sort of been forgotten on CD — nobody bought them and it just wasn't of interest. But now that they're available again in vinyl, there's just something about it that appeals to that market and even to a younger market that wouldn't have been around for most of the Replacements' stuff, but they've picked up on it because of vinyl, which I think is really cool."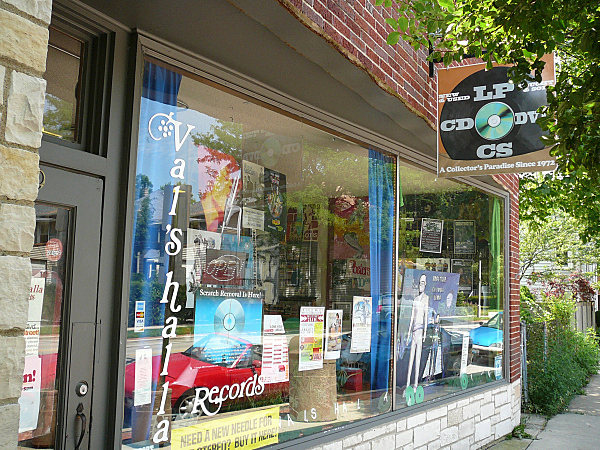 Val's Halla Records in Oak Park, Ill. (MPR photo/Luke Taylor)
Jim DeRogatis
"Paul Westerberg has written perhaps a dozen of the greatest rock songs ever — like 'Unsatisfied' or 'Answering Machine' — I mean those songs are as good as anything anyone's ever written, Dylan or the Stones or McCartney and Lennon.
"I live with and listen to my Replacements records, and the music is still alive. But them on stage now? I don't want to see it because I don't want to sully my memories of three dozen Replacements shows in the past. I don't expect to see the Replacements at RiotFest; I expect to see a simulacrum of them."
Andy Mead
"The show that I saw three weeks ago in Toronto was amazing because they were just as much fun, but they were a little more together. Even though it's just Paul and Tommy, all of them just really capture the spirit of everybody who's ever been in that band. It was a great presentation and in their truest spirit. It felt like Bob and Chris and Slim were up there with them. It was just a great, great show. It'll be exciting to see them in Chicago. I'm looking forward to it.
"The Replacements were a great band and I've always loved them. Some bands just getcha — and they were one of those bands for me."
Will you be attending the Replacements' show in Chicago? What expectations do you have? Had you seen them play live in their prior incarnation? Share your thoughts in the comments section below.
Related Stories
1 Photo
View of part of Chicago's skyline, including the Willis Tower.

(MPR photo/Luke Taylor

)
---
comments powered by

Disqus