Album Review: Arctic Monkeys, 'AM'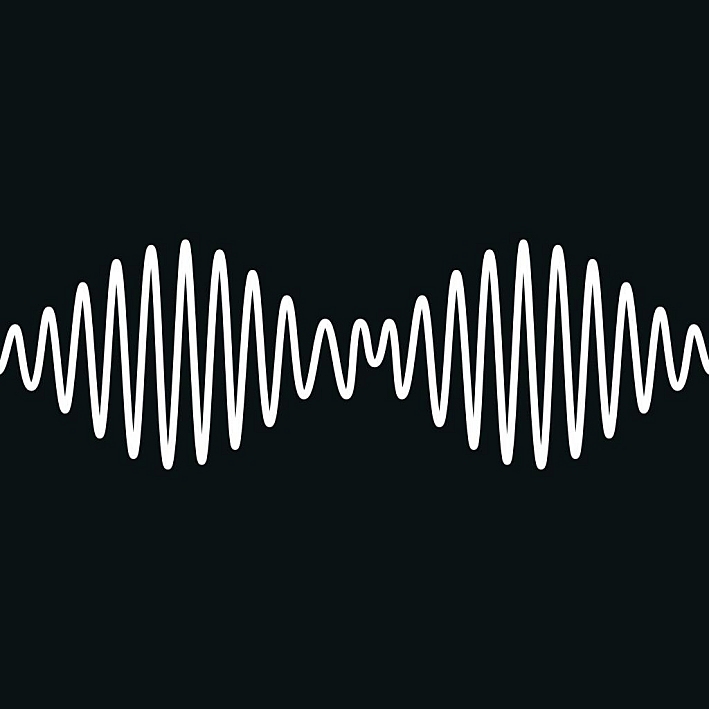 After getting buzzed about on the Internet — still a relatively new phenomenon back in 2005 — Arctic Monkeys' debut release in '06 went straight to #1 in the U.K. Their latest album, AM, is the fifth-straight release that has been to the top across the pond; no mean feat in this age of disposable, Internet-driven music careers. In the last 10 years, few British rock bands, however hooj over there, have managed to translate their success into American sales. But this week, AM sits at the top in the Alternative Billboard charts and at #28 in the Top 200.
The Arctic Monkeys have redesigned themselves especially for the U.S. market in a way that no recent U.K. bands have even attempted. The Clash were a perfect example of how to grow beyond your roots; even though one of their first hits was "I'm So Bored with the USA," the Clash toured here more than any other punk band and soaked up a wide swath of the musical influences by taking old blues musicians on tour with them and by marinating their style in the hip-hop notions emanating from NYC during the '80s.
The same is true of Alex Turner of Arctic Monkeys. His colloquial lyric style and cheeky persona were immediately labeled as being quintessentially British, and perhaps non-transferable over here; now, he's lived in NYC and L.A., sports an Elvis quiff hairstyle, and loves rap artists and R&B producers. The band have also been mentored over the past few years by Josh Homme of Queens Of The Stone Age, and this album was recorded in L.A. and in Joshua Tree, Calif. Alex says that the biggest influence Josh has had is teaching him the drama of a pause, but I would suggest that he's been able to encourage the young band NOT to take themselves too seriously. Throughout this record, they try on several different styles of rock, some of which only work if you approach them with an ironic tongue in cheek, as Josh does.
For example, I take myself way too seriously, so track 4,"Arabella" sounds too much like an outtake from Black Sabbath's first album. Track 5, "I Want It All," is the weakest lyrically, from a man whose song craft I hugely admire, and the backing vocals make it sound like a Mud hit from the '70s. (And if you don't know Mud, you must see this video.)
Indeed, critiquing those two tracks in the heart of the album points to a soft belly, which could have been solved by cutting perhaps two tracks. This would have made a brilliant 10-song album, and it's obvious that they attempted to make it flow as an old-style album would — even suggesting with the artwork that the record has two sides. Tracks 6 and 7 don't improve my mood much, either, as they share a kind of self-referential nod to music appreciation; "No.1 Party Anthem" recalls the slowed euphoria of Pulp, and both detract from the main spirit of the rest of the songs that are all about girls, or perhaps even ONE girl, to the point that it could be considered a concept album. Alex has always been brilliant in creating characters in song, and this single focus for inspiration confines the canvas he has to work within. Especially when we know that he's had a high-profile romance with TV host and model Alexa Chung, which apparently ended shortly before this album was written.
Tracks 8 through 11 salvage the work, though; track 9, "Why'd You Only Call Me When You're High," covers the same idea as "Do I Wanna Know" which has a line: "Ever thought of calling when you've had a few / 'Cause I always do," but the melody and slightly rushed chorus line borrows deep. And track 10, "Snap Out Of It," is as good as the first two singles that have already been Current Chart hits and which interestingly are tracks 1 and 2.
I'd love to be able to say that AM ends on a high note, because the last song's lyrics are by one of my heroes, punk poet John Cooper Clark. He was an early inspiration to Alex and even gave him the nod on using the band name, which no one else liked! But JCC's strength is dense imagery and long tales of gloriously scuzzy characters. The song here "I Wanna Be Yours" is a short, sweet little ditty with one clever idea. Perhaps that again stresses the album's theme? Alex wants that one girl to be his, enough said. How many songs in the history of music have had that theme?!
When you make at least three-and-a-half awesome singles from that idea on your fifth album, you have definitely earned your place in the rock 'n' roll canon — on BOTH sides of the pond!
Resources
Related Stories
Arctic Monkeys perform live in The Current studios The Arctic Monkeys won the Mercury Prize in 2006 for their album, "Whatever People Say I Am, That's What I'm Not" and have continued to rise in popularity ever since.
Arctic Monkeys perform in the Current studio After Alex Turner and Jamie Cook received guitars for Christmas, they made practicing a full time obsession. All of that practicing paid off when the band inked their first recording deal with the label Domino in the spring of 2004.
---
comments powered by

Disqus