On the Ball with Mark Wheat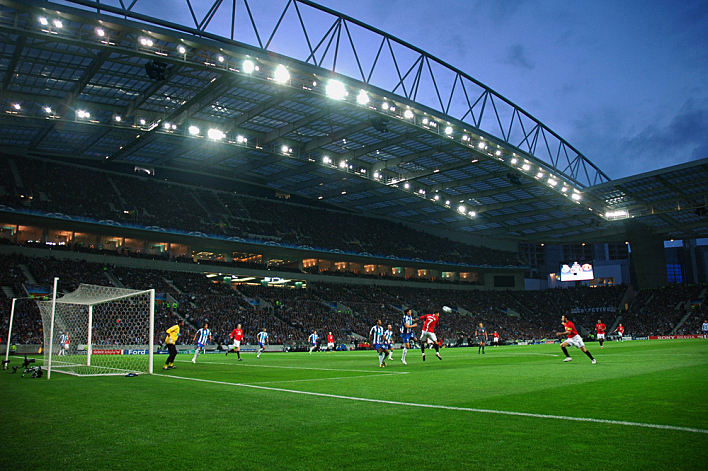 On the Ball with Mark Wheat is a new Monday feature on The Current that celebrates the connections between music and soccer, with an eye to the past weekend's results.
I remember as a young teen watching the first Super Bowl game that was televised in Britain as an experiment. It converted me; indeed, I used to follow the NFL more than soccer when I first came to the U.S. in the '80s. So it would be marvelous and bizarre if my adopted hometown team moved to London?!? That's what some were suggesting after the big win yesterday:
The Vikings made themselves at home Sunday, both in London and with new starting quarterback Matt Cassel, writes Ben Goessling on ESPN.com "It would have been a long flight back to take after a loss," said wide receiver Greg Jennings who caught two TD's. "It was a special day. To do this at Wembley Stadium is a once-in-a-lifetime experience." Not so for the Steelers, who fell to 0-4 for the first time since 1968. That's a hole only one team has dug itself out of to make the playoffs, the
San Diego Chargers in 1992.
Meanwhile, as many American eyes were on London's NFL game, I watched in horror as my favorite English Premier League (EPL) club, Manchester United, lost at home to W.B.A. (West Bromwich Albion, best old-fashioned name in EPL!) for the first time in EPL history. This means that Man Utd have made their worst start for 24 years. Like the Steelers, no team has ever won the championship after starting so poorly. Man U have dominated the competition for the last 20 years. Even two years ago when they lost the championship on the last day of the season, it was to their crosstown rivals Manchester City — so one town has had all the glory for 6 of the last 7 years?!?! This must frustrate potential U.S. fans of the EPL.
Actually, British sports writers all refer to the "Big 4," the London teams Chelsea and Arsenal being added to the Manchester teams as the most likely to hold the top 4 positions in the League at season's end. Before it started this year, many sports writers picked Chelsea to win and Arsenal to sink out of contention. At the end of this weekend's matches (still only 6 games into a 38 game season) when Man City also lost a game they should have cantered through, Arsenal are 2 points clear of Liverpool and Tottenham Hotspur (second best name!) who have now been added to the predictions some are making of ANY of those 6 teams being possible contenders.
I've always admired the idea of maintaining parity that the NFL has done so well with salary caps and draft rules, so I can understand American sports fans being detractors of EPL; i.e. Why does the same team ALWAYS win?!? So this might be the season to start following the EPL! And with NBC showing ALL the games this year on one platform or another, you can pick a team to support and see them every week. I have to say, NBC's analysis, highlight shows and commentators are the best that the USA has ever had.
The Brits still cover it pretty well, too, of course, with the BBC and The Guardian having comprehensive coverage.
(Meanwhile, right here in Minnesota, our own Minnesota United FC beat San Antonio Spurs 1 - 0 on Saturday, their first win of the Fall season, so well done to the Loons!)
To end on a musical note, all the footie fans in Manchester will be singing this song this morning; it's by one of the city's best known bands:
Related Stories
Album Review: Morrissey - Years of Refusal While it's doubtful that this far into his career Morrissey is going to win over oogles of new converts, if you've been there in the past, you're probably gonna like "Years of Refusal" -- one of Morrissey's best solo outings to date.
Video Q&A: Another stadium for MLS in MN? The tantalizing news that Major League Soccer is going to grow by 20 percent in the next eight years has some observers, like Fox Sports North, speculating about a futbol team in the new Vikings stadium.
Vikings trip to London ends with a win The Minnesota Vikings won their first game of the 2013 season in London yesterday, beating the Pittsburgh Steelers 34-27. The Vikings are are now 1-3. MPR's Phil Picard spoke with Howard Sinker, a digital sports editor for the Star Tribune, about the victory which featured Matt Cassel replacing Christian Ponder as the starting quarterback. Ponder sustained a rib injury last week.
---
comments powered by

Disqus