The Olms perform live in The Current studios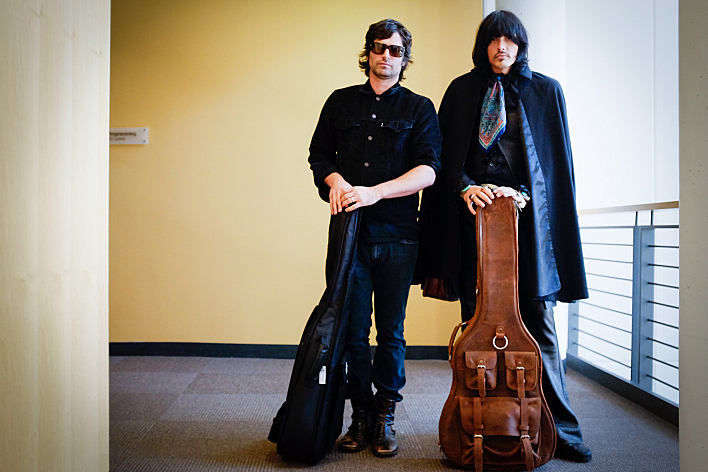 Pete Yorn, a successful solitary songwriter and musician, was looking for a different experience for his next record. When longtime friend and experience engineer J.D. King began playing guitar more, Yorn saw the jigsaw pieces falling into place.
J.D. and Pete — who were introduced to each other by mutual friend Linda Ramone, the late Johnny Ramone's widow — would conveniently write and record demos in King's home studio, making it easy to crank out 16 songs, 10 of which made it onto the debut self-titled album.
Listen to the whole session to hear The Olms perform a stripped-down set and to listen to their chat with host Mary Lucia about Andre Agassiz, which albums they recommend for songwriting inspiration and about performing for an audience playing hooky from work.
Songs Performed
"She Said No"
"Someone Else's Girl"
"Wanna Feel It"
All songs off The Olms, out now on Harvest Records.
Hosted by Mary Lucia
Produced by Jade
Engineered by Mike DeMark
Guests
Resources
Related Stories
6 Photos
Mary Lucia looks on to J.D. King and Pete Yorn of The Olms while they perform live in The Current studios.

(MPR / Nate Ryan

)

Pete Yorn of The Olms in The Current studios.

(MPR / Nate Ryan

)

J.D. King and Pete Yorn of The Olms perform an acoustic set live in The Current studios.

(MPR / Nate Ryan

)

The Olms perform in The Current studios.

(MPR / Nate Ryan

)

J.D. King performs in The Current studios.

(MPR / Nate Ryan

)

J.D. King and Pete Yorn of The Olms sound check in The Current studios.

(MPR / Nate Ryan

)
View 5 more photos
---
comments powered by

Disqus