The Current's Guitar Collection: Black Joe Lewis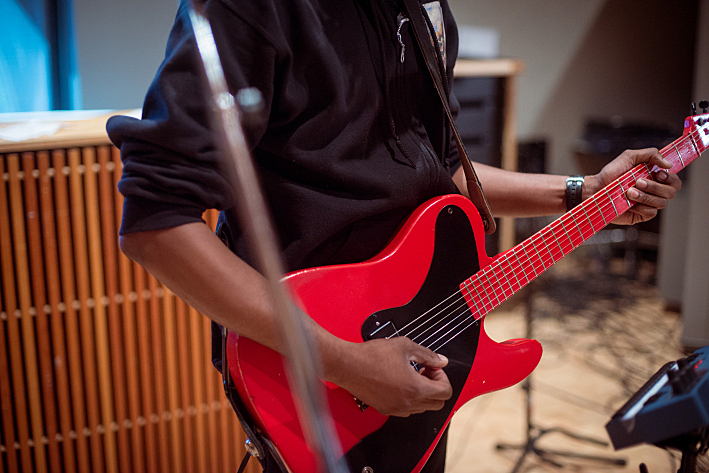 When Joe Lewis stopped in with his band for an in-studio session at The Current, we asked him about his bright-red guitar. Here's what he had to say:
Are you playing a type of Telecaster today?
Yeah, it's custom. There's a guy back home [in Austin, Texas] named Tom Oatley, he works on guitars and he built it for me.
It used to be a $150 Squier, and we used to use it on a backup on the road. We had a few other Squiers, but by this time, we had bought nicer guitars so we ended up using them to smash on stage, for a prop.
This is the last Squier that we had. I went to Tom and I was like, "I want a red guitar, man." So he designed a pick guard, pulled all the insides out and put a Gibson P-90 pickup in there — I think it had been a Humbucker, originally — and then he just put a kill switch on it — on, off — and set it to where it's turned up all the way. So it's just one P-90 pickup and an on/off switch. That's all there is. There's no tone knobs or anything, so I just go with it, man.
Tom put all nicer hardware in there. The body has nice stuff on it, so it's almost a nice guitar, but I can tell it's not going to last forever.
What do you like about the tone of it?
I like bite and stuff that'll feed back. I guess the P-90s, the soapbar pickups, are a little bit less stable than some of the newer designs they've got. And I got into this kick where I wanted to get into using fuzz tone a lot, and I was trying to figure out how to get it to sound like the old Gibson Maestros they used to use in a bunch of old stuff — the Rolling Stones used them, Springsteen used to talk about them. They used to come with the amp, back in the day, so you'd get a Gibson Maestro with a Gibson amp. They're hard to find; I have found 'em, but people want a lot of money for 'em.
But on this one, I got the fuzz phase and then figured out the reverb for really good fuzz tone on a clean tone, so something like a Fender Twin -- I usually play a smaller, lower-wattage amp than a Fender Twin because I like 'em to break up -- but for fuzz tone, if you get a Twin and you crank it, you get the reverb going on it and you turn on the fuzz, that's how you get the really old, '60s-style kind of [stuff].
So that's why I went with the P-90 rather than a Humbucker because apparently, as Tom was telling me, it doesn't fight off the hum -- that's why they're called "Humbuckers" -- and the P-90s just take everything in. So I went with that. I like a really crunchy tone.
Any memorable stories about this guitar?
I've written songs on it. I probably wrote that whole record [Electric Slave] on it. I don't have an acoustic at home right now. I just play this all the time now. It's been with me three years now, almost. It's been a lot of places, a lot of gigs.
I play with my teeth a lot; it's one of my stage tricks. People like that.
What was your first guitar?
I couldn't afford a nice guitar for a long time after I started playing. First I had a big-ass Washburn guitar. And then I got an Ibanez; it looked like a Strat copy. I never got to play it through an amp because I didn't have an amp at that point, but the guitar was just a wooden body with no finish on it. I liked that guitar; it ended up breaking on me, though. Somebody knocked it over and the head broke off.
I got a Mexican Tele Deluxe, so that was the first nicer guitar I got. I still have it and I use that as my backup.
And then I got this one made. I'm going to stick with it. I like the way guitars look when they get worn out, so I'm going to stick with this one. As long as it works.
Who are your guitar-playing influences?
I like Lightnin' Hopkins. I used to listen to him a lot when I was learning. Elmore James. Hound Dog Taylor. I guess Jimi Hendrix, but everybody says that. Buddy Guy — I was listening to Hoodoo Man Blues back in the day, his Junior Wells stuff. *
I like Nile Rodgers, the disco player. He plays in Chic. He did a bunch of that disco stuff back then. He's really cool. Just really weird picking on the single-note stuff.
Those are probably the main ones.
*Buddy Guy was a session player on Wells' album Hoodoo Man Blues, although Guy was originally credited on the album using the thinly veiled pseudonym, "Friendly Chap."
Related Stories
Black Joe Lewis performs live in The Current studios Last time Black Joe Lewis performed in the Twin Cities, he was opening for Sharon Jones and the Dap Kings. Before his headline show at First Avenue, he and his band (formerly known as the Honeybears) stopped by to play a few songs off the new record and chatted with Barb Abney about aliens, his connection to Minnesota and what touring with Spoon was like.
3 Photos
Black Joe Lewis in The Current Studios.

(MPR / Nate Ryan

)

Black Joe Lewis sound checks in The Current studios.

(MPR / Nate Ryan

)

Black Joe Lewis in The Current studios.

(MPR / Nate Ryan

)
View 2 more photos
---
comments powered by

Disqus