King Khan and the Shrines perform live in The Current studios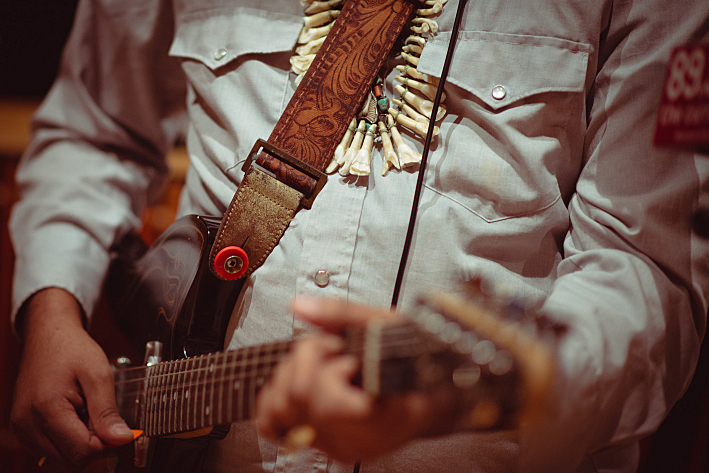 It was an early morning in The Current studios for King Khan and the Shrines, but not quite a pajama party. Before the session, host Mary Lucia mentioned the Paisley Park PJ party Prince threw over the weekend after King Khan and company mentioned they were fans. First thing she says to the band? "I'm sorry we don't have pancakes!"
No doubt fitting nine people on the Turf Club stage is a challenge, but such a spectacle, too. Back in 1999, King Khan and the Shrines put on their first show and have since evolved into one of the most critically acclaimed live acts. With a full brass section, an organist, percussionist, drummer and two guitarists, the band's gonna have a big sound. And on top of that, frontman Arish Ahmad Khan adds psychedelic visual effects like lights, rhinestones and sparkles.
Now on their eighth full-length studio album, King Khan and the Shrines don't have to rehearse their live show much. Playing before an audience is all the rehearsal the nine-piece want or need, and after 14 years together, they are only getting better with age.
Listen to the whole in-studio session to hear Mary Lucia chat with King Khan about his roots in underground radio, his love for Sun Ra and musicians creating their own myths, and what connection he has to Eastbound and Down.
Songs Performed
"Fool Like Me" off The Supreme Genius of King Khan and the Shrines on Vice Records
"Thorn in Her Pride" off Idle No More out now on Merge Records
Hosted by Mary Lucia
Produced by Derrick Stevens
Engineered by Mike DeMark
Guests
King Khan and the Shrines
Resources
Related Stories
9 Photos
King Khan and the Shrines sound check the brass section live in The Current studios.

(MPR / Nate Ryan

)

Drummer John Boy Adonis of King Khan and the Shrines performs live in The Current studios.

(MPR / Nate Ryan

)

King Khan and the Shrines' brass section performing "Bite My Tongue" live in The Current studios.

(MPR / Nate Ryan

)

King Khan's Arish Ahmad Khan performing live in The Current studios.

(MPR / Nate Ryan

)

Guitarist Till Timm performing live in The Current studios.

(MPR / Nate Ryan

)

Percussionist Rahn Streeter performs with King Khan and the Shrines live in The Current studios.

(MPR / Nate Ryan

)

Simon Says plays the sax with King Khan and the Shrines live in The Current studios.

(MPR / Nate Ryan

)

King Khan and the Shrines pack up equipment in The Current studios.

(MPR / Nate Ryan

)

We spy a sticker from The Current on this King Khan and the Shrines brass case.

(MPR / Nate Ryan

)
View 8 more photos
---
comments powered by

Disqus