The Current's Guitar Collection: Till Timm of King Khan and the Shrines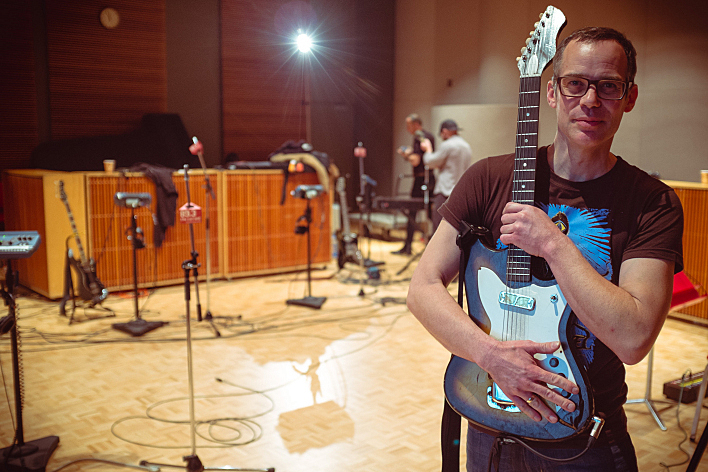 When King Khan and The Shrines stopped in to The Current studios for an in-studio session and an interview with Mary Lucia, the band's lead guitarist Till Timm took a few minutes to talk about his vintage guitar just before he and the band packed up to travel to Madison, Wis. Here's what he had to say:
What kind of guitar is this?
It's a Harmony guitar. I think it's from the late '60s. I bought it in Canada — I think it was in Toronto. I bought it just because, do you know Mark Pepe, aka Mark Sultan or BBQ? That's the guitar he uses.
How long have you had this guitar?
I think I've had it about eight years now.
What do you like about its sound?
It's the loudest guitar I've ever had. It's more like a beginner's guitar, so it's not that easy to play, but I totally dig the sound. And I dig that it's so powerful.
I used to play Fender guitars, but they are very heavy so that was bad for my back. And Fenders have a soft sound, which I don't dig very much.
This guitar is more bassy, but it's not a rock sound, it's a more '60s sound — that kind dirty sound. And it works pretty well with most any amplifier.
Who are your guitar-playing influences?
We listen to soul music and a lot of '60s stuff. There's a lot of early Rolling Stones that I really dig, and then I listen to what the Stones were listening to back then: I'm not that fond of Chuck Berry, but I like Barrett Strong — do you know his song "Money"? That's, like, one of my favorite songs and I think that lick is great.
And there is a lot of Beatles stuff where I think the guitar is really, really great. My influences are mostly '60s: Kinks, Beatles, Stones.
And lots of the garage stuff: the Nuggets: Original Artyfacts from the First Psychedelic Era album, the Pebbles compilation series, acid punk. That's what I try to copy, more or less.
Guests
Related Stories
2 Photos
Till Timm's Harmony guitar, in studio at The Current.

(MPR photo/Nate Ryan

)

TIll Timm, lead guitarist of King Khan and the Shrines, in the Maud Moon Weyerhaeuser Studio at 89.3 The Current.

(MPR photo/Nate Ryan

)
View 1 more photos
---
comments powered by

Disqus