Sun Gods To Gamma Rays performs for The Local Show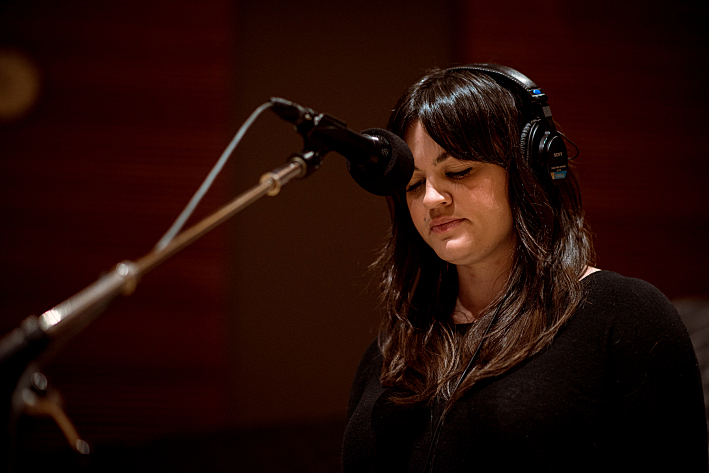 Sun Gods To Gamma Rays have made quiet strides over the past year, first as a vehicle for frontwoman Brianna Kocka's solo project Caetani, and now as a fleshed out quintet.
Their ethereal sound, at once combining a lead voice reminiscent of Feist, as well as slow-churning melodies characteristic of Portishead, have given Sun Gods To Gamma Rays a nice jumping off point in the Twin Cities music community.
The band is celebrating the release of their debut EP, The Water, The Wave. For this Local Show session, they talk with David Campbell about cosmic influences, how to turn slow songs into a captivating live show and more.
Songs performed: "Not Worth Anything," "You Thought You Had It All" and "Burn Me Through"
Guests
Resources
9 Photos
Sun Gods To Gamma Rays in Studio M's control room

(MPR / Nate Ryan

)

Sun Gods To Gamma Rays perform in The Current studios

(MPR / Nate Ryan

)

Mitch Miller of Sun Gods To Gamma Rays performs in The Current studios

(MPR / Nate Ryan

)

Brian Gollnick performs with Sun Gods To Gamma Rays in The Current studios

(MPR / Nate Ryan

)

Brianna Kocka of Sun Gods To Gamma Rays performs in The Current studios

(MPR / Nate Ryan

)

Paul Flynn of Sun Gods To Gamma Rays performs in The Current studios

(MPR / Nate Ryan

)

Peter Bregman of Sun Gods To Gamma Rays performs in The Current studios

(MPR / Nate Ryan

)

Sun Gods To Gamma Rays performs in The Current studios

(MPR / Nate Ryan

)

Sun Gods To Gamma Rays performs in The Current studios

(MPR / Nate Ryan

)
View 8 more photos