The Gospel According to the Roe Family Singers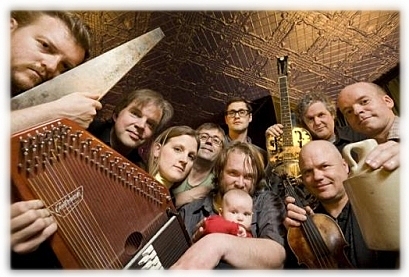 The title of the Roe Family Singers' latest album might suggest that the band is struggling, but when you hear a track or two from the disc you'll know that's NOT the case.
"Heaven Send Us Better Times" is the album's title. It's a collection of gospel tunes: some traditional, some Hank Williams songs, Carter Family songs and a couple of spirituals. It's something Quillen Roe says he had meant to record for quite some time.
I had the pleasure of sitting in the front "Roe" (sorry Quillan) for a performance by the Roe Family Singers live in the Radio Heartland studio.
Songs performed:
"No Depression In Heaven"
"Ready To Go Home"
"Workin' On A Building"
Guests
Quillan Roe
Kim Roe
Adam Wirtzfeld
Dan Gaarder
Ric Lee
Kurt Froelich
Eric Paulson
Resources
Related Stories
Roe Family Singers perform in The Current studio The Roe Family Singers have long been a mainstay at the 331 Club playing every Monday night, minus two, for the past six years. Formed by the husband and wife duo of Quillan and Kim Roe in 2004, now nine members strong the Roe Family Singers are fine tuned folk organization including a musical saw and jug player.
4 Photos
Kim and Quillan Roe

(MPR/Mike Pengra

)

Dan Gaarder and Eric Paulson of the Roe Family Singers

(MPR/Mike Pengra

)

Saw player Adam Wirtzfeld and Kurt Froelich of the Roe Family Singers

(MPR/Mike Pengra

)

Kim and Quillan Rod with Rick Lee on Fiddle

(MPR/Mike Pengra

)
View 3 more photos