Sebadoh perform live in The Current's studio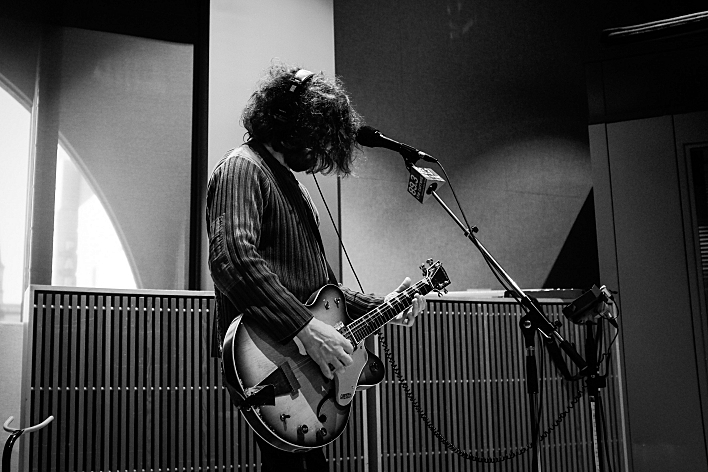 Touring in support of their new album, Sebadoh played at the Turf Club in St. Paul, Minn., last night. Today, they stopped by The Current's studio to chat with Mary Lucia and to play a few songs before hitting the road for Indianapolis.
As Lou Barlow describes Sebadoh's approach to music-making, one thing becomes clear: Sebadoh are a team. The band's latest record, Defend Yourself (their first since 1999), was produced by Sebadoh's Jason Loewenstein and recorded in Barlow's practice space. And while Barlow brings song ideas and melodies to the table, he emphasizes the collaborative spirit that exists among him, Loewenstein and drummer Bob D'Amico. The collaboration articulately expresses itself in Sebadoh's fuzzy guitar, melodic bass, insistent drums and earnest vocals — all of which are palpable in today's in-studio session.
Between songs, Mary and the band also talk about some of Sebadoh's favorite touring partners, about veganism and vegetarianism on the road, and about how — even though there are those who argue they are depressing — Lou Barlow's songs actually contain kernels of optimism.
Songs Performed:
"I Will"
"State of Mine"
"My Drugs"
Hosted by Mary Lucia
Produced by Derrick Stevens
Engineered by Michael DeMark
Guests
Resources
Related Stories
First Listen: Sebadoh, 'Defend Yourself' The band's first album since 1999 once again mixes unlikely sensibilities: miserablism made vital by gritty forcefulness, scabrousness harnessed in the pursuit of beauty. Even as singer Lou Barlow offers up clear-eyed postmortems of a wrecked marriage, Defend Yourself exudes the live-wire energy of musicians brought back from the brink.
Lou Barlow performs in The Current studio Few people in the indie-rock world have had three separate successful careers. Lou Barlow is known as much for his solo work as his tenure as the bassist in Dinosaur Jr. and as the founder of the alt-country/folk supergroup Sebadoh.
Lou Barlow performs in studio Lou Barlow continues to write and play music long after having played an integral part in influential groups such as Dinosaur Jr and Sebadoh. He joined Mary Lucia in the Current studios to perform songs from his latest album.
11 Photos
Sebadoh perform live in The Current's studio.

(MPR photo/Nate Ryan

)

Sebadoh's Jason Loewenstein

(MPR photo/Nate Ryan

)

Sebadoh's drummer Bob D'Amico

(MPR photo/Nate Ryan

)

Sebadoh perform live in The Current's studio.

(MPR photo/Nate Ryan

)

Sebadoh perform live in The Current's studio.

(MPR photo/Nate Ryan

)

Sebadoh drummer Bob D'Amico

(MPR photo/Nate Ryan

)

Sebadoh drummer Bob D'Amico

(MPR photo/Nate Ryan

)

Sebadoh's Lou Barlow

(MPR photo/Nate Ryan

)

Sebadoh perform live in The Current's studio.

(MPR photo/Nate Ryan

)

Sebadoh perform live in The Current's studio.

(MPR photo/Nate Ryan

)

Sebadoh's Lou Barlow performs live in The Current's studio.

(MPR photo/Nate Ryan

)
View 10 more photos
---
comments powered by

Disqus