Minor Alps perform live in The Current's studios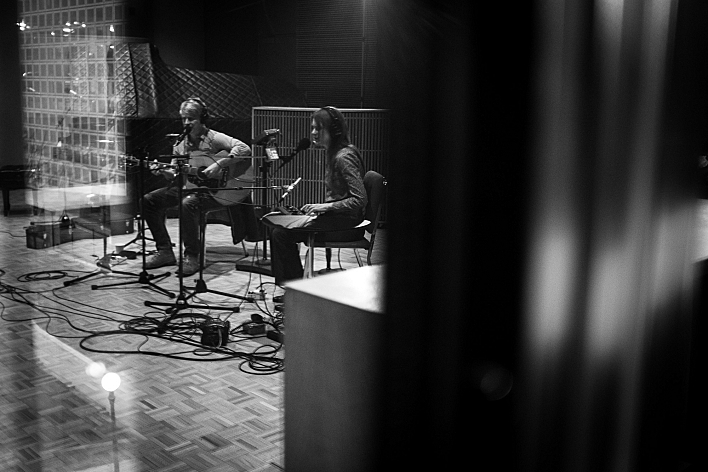 Listen to Minor Alps talk about songwriting, and it sounds equal parts simple and elusive.
Minor Alps, comprising singer-songwriter Juliana Hatfield and Nada Surf's Matthew Caws, stopped in to The Current's studio on Friday, Nov. 15, shortly after landing at Minneapolis-St. Paul International Airport. Fresh off the West Coast leg of their tour, they were set to play gigs in Minneapolis on Saturday and in Chicago on Sunday before jetting off to New York for an Eastern swing of show dates.
Despite the busy schedule, Caws and Hatfield enjoyed a friendly chat with The Current's Mark Wheat, and they played three songs off their collaborative album as Minor Alps, Get There.
Minor Alps came together after Caws and Hatfield crossed paths a number of times while touring in their respective acts. Hatfield and Caws developed a mutual respect for each other's singing style and approach to songwriting. After reciprocally providing vocals on each other's records, it only seemed natural that a more formal collaboration take place.
Both Hatfield and Caws describe their resulting creative effort as "easy" and "natural" — at least when it came to singing and writing together. When pressed about what helps them decide whether or not a song idea is good, each of them alludes to the ineffable nature of the art of songwriting: Hatfield calls it an instinct, while Caws finds it analogous to topiary.
Listen to the full audio to hear Minor Alps talk more about how their album came together and why they've taken a more stripped-down approach to the songs on tour than one hears on the album. They also describe their friendship with Dan Wilson, their established fans' reactions to the new project and their signing with Barsuk Records. Caws also talks about what Nada Surf will be up to next.
Songs Performed
"Maxon"
"If I Wanted Trouble"
"I Don't Know What to Do with my Hands"
All songs off the Minor Alps release, Get There, out now on Barsuk Records.
Hosted by Mark Wheat
Produced by Derrick Stevens
Engineered by Michael DeMark
Resources
Related Stories
Theft of the Dial: Nada Surf Nada Surf has performed in The Current studio several times, but the alt-rock band brought their record collections instead of their instruments as they hijack the airwaves to share their hand-picked playlist.
Album Review: Nada Surf - The Stars Are Indifferent to Astronomy When I think of Nada Surf, I can't help but think of the word "earnest." not only in terms of their heartfelt lyrics, but their striving. This is a band that will always try. If this band were a student, they'd be that moderately-bright kid who consistently delivers B-grade essays, but just isn't cut out for AP.
Nada Surf Perform in The Current Studios Nada Surf has visited the Current many times in their 20-year career. They have a new album out, "The Stars are Indifferent to Astronomy," that has them taking stock of the past and looking towards the future.
6 Photos
Minor Alps are Juliana Hatfield and Matthew Caws.

(MPR photo/Nate Ryan

)

Minor Alps are Matthew Caws and Juliana Hatfield.

(MPR photo/Nate Ryan

)

Juliana Hatfield performs as part of Minor Alps.

(MPR photo/Nate Ryan

)

Matthew Caws performs as part of Minor Alps.

(MPR photo/Nate Ryan

)

Minor Alps perform in The Current's studio.

(MPR photo/Nate Ryan

)

It's official! Minor Alps have performed in The Current's studio and Matthew Caws' guitar case has the decal to prove it.

(MPR photo/Nate Ryan

)
View 5 more photos
---
comments powered by

Disqus