Album Review: Various Artists, 'Songs for Slim'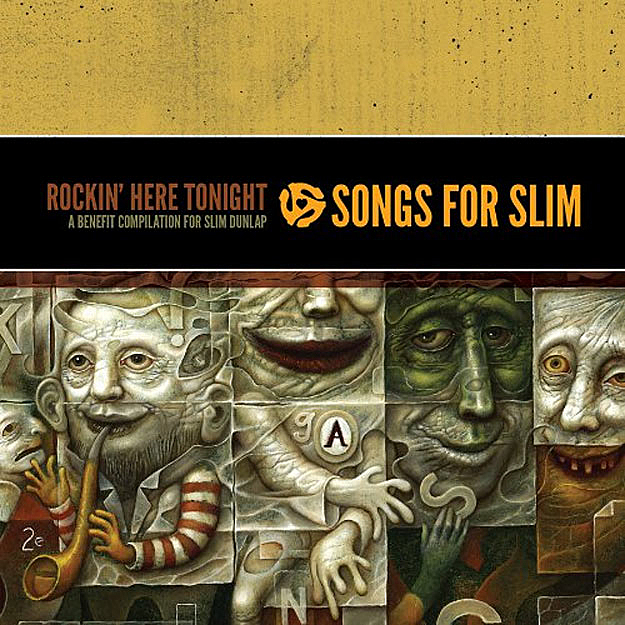 When former Replacements guitarist Bob "Slim" Dunlap suffered a stroke in February 2012, it didn't take long for his musical friends and admirers to offer their services to help his family cover the massive medical costs associated with Slim's long, slow road towards recovery by agreeing to record Slim's songs. The end result is more than a fundraiser to help a fellow musician, it's a celebration of Slim's career and life as a friend to so many in our community and beyond, and an album chock full of great songs.
Most of the first CD of Songs for Slim consists of the tracks released via a series of 7-inch singles over the past year that were pressed in limited quantities and auctioned off to raise funds for Slim. It contains tons of star power, with performances from Jeff Tweedy, Craig Finn, Jacob Dylan, Joe Henry, John Doe, Lucinda Williams, The Minus Five, and Steve Earle. The locals weren't left out either as the reformed Replacements, Chris Mars, Tim O'Reagan with Jim Boquist, Curtiss A, and the Suicide Commandos — who back Frank Black — all took their shots at some of Slim's most enduring tunes. The second disc includes an additional batch of unreleased songs for Slim, including LP.ORG, which is essentially the Jayhawks minus Mark Olson, and some newer artists like Frankie Lee.
The majority of the tracks were either produced in Los Angeles by Joe Henry, or here in town at Flowers Studio by Ed Ackerson. All the recordings capture the story of a life in music, with Slim's wry observations on the music biz and life filled with humanity and clever wit — Slim is almost like a Minnesotan Nick Lowe, and the songs come to life with these great vocalists performing them.
Songs for Slim works on so many levels: It helps Slim out while at the same time making the case for the beauty and quality of his work, even better than his own records did. It's a shame that it took Slim's illness to gather his friends and shine that light on his songs, but on the other hand, it's great to recognize his songs for how great they are while he's here to enjoy the respect and love that permeates the album.
Have you heard the album? What do you think of it? Share your thoughts in the comments below.
Resources
Related Stories
Today in Music History: Happy Birthday, Slim Sonny and Cher hit no. 1, Nick Low puts together an album with a little over $600, and a nod to Slim Dunlap Today in Music History.
The Replacements show their ramshackle charm at Chicago Riot Fest show What the 'Mats proved Sunday, at their second of three Riot Fest gigs, is that they continue to capture and channel the wry, irreverent, loose, and searing energy that made them such a legendary band to begin with.
The Replacements make a triumphant return at Riot Fest in Toronto Like a decades-old bottle of champagne finally uncorked, The Replacements' Riot Fest; set had a celebratory, infectious, and downright giddy spirit to it.
---
comments powered by

Disqus