Top 89 Staff Picks: Jacquie Fuller, Host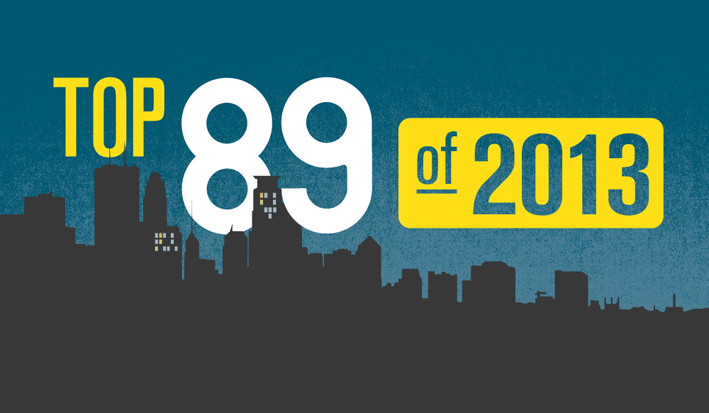 Favorite Tracks of 2013:
10. Jim James - Know Til Now: This song is a sonic amusement park. RIDE ALL THE RIDES.
9. Caroline Smith - Magazine: Trying to resist the catchiness of this song is an exercise in futility. I am certain that those back, back, ba-acks have reshaped the structure of my brain.
8. James Blake - Overgrown: Warm, soulful, spare. Looks like a foggy night, feels like being covered in hot laundry.
7. Vampire Weekend - Step: I love the way this delicate track echoes that most New England of wedding marches, "Canon in D."
6. Beck - I Won't Be Long: Sexy and meandering. The soundtrack to a long, boozy night spent waiting for a first kiss.
5. Sonny Knight and The Lakers - Sugar Man: A horn section takes Rodriguez's song to a whole new level of yearning. A cover, yes, but also The Real Deal.
4. Phosphorescent - Song For Zula: Bette Midler lyrical fakeout gives way to a forest of lushness. This song has wings.
3. The National - Pink Rabbits: Stick-your-finger-in-the-wound delicious. Do not consume alcoholic beverages while listening to this song.
2. Neko Case - Man: One gal jubilantly plants her flag in the soil of manhood for all humankind, and thousands of male music critics totally miss the point. Neko Case is a superhero.
1. Arcade Fire - Reflektor: Bongos, sax, Happy Mondays-esque keyboards, weird Bowie cameo? Yes, please. There isn't a single second of this heady song that isn't delightful.
Favorite Albums of 2013:
10. Arctic Monkeys - AM
9. Local Natives - Hummingbird
8. Janelle Monae - The Electric Lady
7. James Blake - Overgrown
6. Julianna Barwick - Nepenthe (P.S. Babies love this album.)
5. Vampire Weekend - Modern Vampires of the City
4. Neko Case - The Worse Things Get, the Harder I Fight, the Harder I Fight, the More I Love You
3. The National - Trouble Will Find Me
2. Arcade Fire - Reflektor
1. Phosphorescent - Muchacho
If I had to sum up the year in music in one word ... well, I can't. But I can give you three: Estrogen, Nostalgia, and Mania. Estrogen: Heart and Donna Summer were inducted into the Rock & Roll Hall of Fame, Lorde was the first female to top the alternative charts since Tracy Bonham (yup, that's 17 years between those two), Savages came roaring out the gate, and Neko Case released one of the most important - and misunderstood - songs of the year, "Man." Nostalgia: Daft Punk made an entire album out of our childhoods, Har-Mar went old school, and three great bands reunited: The Replacements, The Postal Service, and Neutral Milk Hotel. Mania: From Icona Pop to The Colourist to NoNoNo, pop music was frantically peppy. I'm not sure what this style of music's popularity says about us culturally - is this the sound of a country bounding back from recession and war? Or are we still in the thick of our gloom and in need of some sonic Ritalin? I like sugar-sweet pop as much as the next girl, but I heard a lot of songs in 2013 that made me feel like I was being assaulted by Muppets on speed.
Related Stories
The Top 89 of 2013 Starting Dec. 31 at 4 p.m. we'll countdown the best songs, albums and artists of the year according to The Current's listeners.
Top 89: Staff Picks The staff and hosts on The Current share their opinions on this year's best music.
Top 89 of 2013: Bonus Categories Don't forget to vote for our bonus categories, including best album, best concert and best new artist.