Top 89 Staff Picks: Jim McGuinn, Program Director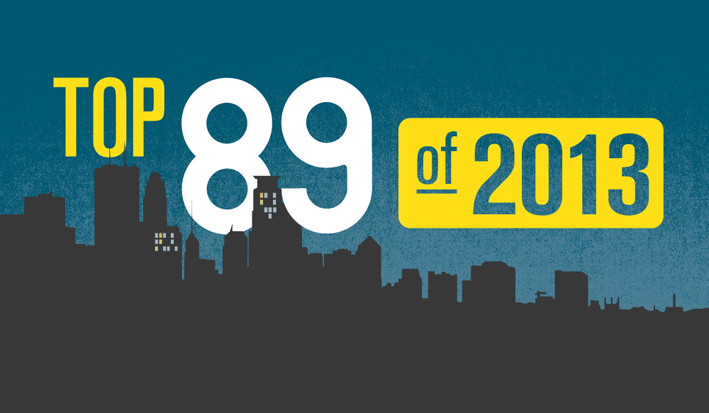 Songs
2013 was a year of breakout successes (Lorde, Macklemore, and Lumineers), pop crossovers (Daft Punk), interesting collaboration (Elvis and the Roots), and music that stretched across genres (Mavis Staples covering Low?). The less of a 'center' that exists in music today, whether due to the decline of mainstream radio or the explosion of access thru the internet, the more we as fans are able to skip among the fringes of - everything. Here's my Top 10, or at least, Top 10 as of today - ask me tomorrow and it might look totally different. But these are the songs that blew my mind the most in 2013.
Vampire Weekend - Diane Young
Arcade Fire - Reflektor
Daft Punk - Get Lucky
Lorde - Royals
Elvis Costello and The Roots - Walk Us Uptown
Jake Bugg - Two Fingers
Macklemore and Ryan Lewis - Can't Hold Us feat. Ray Dalton
John Grant - GMF (Greatest Living Creature)
Mavis Staples - Holy Ghost
Jeremy Messersmith - Tourniquet
Then there's a bunch more that I wish I could squeeze onto this list: Songs by The National, Franz Ferdinand, Har Mar Superstar, James Blake, Josh Ritter, Savages, Yeah Yeah Yeahs, CHVRCHES, Atmosphere, Low, Phosphorescent, Pretty Lights, David Bowie, Zach Sobiech, Superchunk, Nick Cave, Queens of the Stone Age, and The Suburbs.
Albums
As to the albums, I think about the records I kept coming back to, and expect I will continue to come back to at home in the years to come.
Elvis Costello and the Roots - Wise Up Ghost
Vampire Weekend - Modern Vampires of the City
Daft Punk - Random Access Memories
Low - The Invisible Way
Arcade Fire - Reflektor
Jim James - Regions of Light and Sound of God
The Replacements - Songs For Slim EP
Preservation Hall Jazz Band - That's It!
The National - Trouble Will Find Me
Laura Marling - Once I Was an Eagle
Related Stories
Top 89: Staff Picks The staff and hosts on The Current share their opinions on this year's best music.
The Top 89 of 2013 Starting Dec. 31 at 4 p.m. we'll countdown the best songs, albums and artists of the year according to The Current's listeners.
Top 89 of 2013: Bonus Categories Don't forget to vote for our bonus categories, including best album, best concert and best new artist.