Top 89 Staff Picks: Steve Seel, Host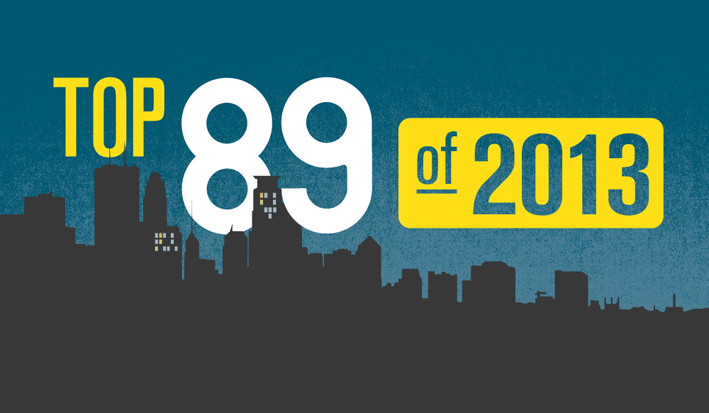 No more ranking my picks! Picking them is hard enough.
Songs:
Neko Case - "Night Still Comes"
Painful, haunting, gorgeous - one of the many riveting moments on Case's emotionally naked "The Worse Things Get ...". Simultaneously raw and elegant.
John Grant - "Ernest Borgnine"
The HIV-positive artist imagines what the veteran actor might say to him. A queasy mixture of self-shaming and hilarity.
Cheatahs - "The Swan"
A big, noisy, shoe-gazey, propulsive rock tune with indecipherable lyrics that was tonic to my soul in a year otherwise filled with sing-songy boy/girl pop fluff. Not enough of this kind of stuff this year.
Yo La Tengo - "Before We Run"
The final track off of 20113's "Fade," this tune has the same sprawling majesty of The Verve's "Bittersweet Symphony," but with an original orchestral riff instead of a sampled one.
The National - "Demons"
"Trouble Will Find Me" has too many good tracks to choose just one. I love the fact that this one is in 7/8. These boys are such awesome nerds.
Johnny Marr - "Upstarts"
The God Marr is free. All hail The God Marr.
Laura Marling - "Take The Night Off" / "I Was An Eagle" / "You Know" / "Breathe"
The first four songs on Laura Marling's "Once I Was An Eagle" actually amount to one song with four slightly different parts. If you think the idea of a four-song suite in 2013 is pretentious, listen to this amazing tour-de-force and get back to me.
Actual Wolf - "Victims and Things"
Eric Pollard's story is one of triumph in the face of near personal destruction. This song sounds to me like the a bird realizing how lucky he is to have escaped his cage.
The Replacements - "I'm Not Sayin'"
Paul and Tommy reunite to record covers for their ailing bandmate Slim Dunlap, and to Paul's delighted discovery, "We still rocked like murder." You don't need to know this tune is a Gordon Lightfoot cover (first heard by Paul as covered by Nico!); it was, somehow, the most magical choice of a song to reintroduce this band to the world, after what has felt like millennia frozen under the ice.
The Starfolk - "Sleeping Without Dreaming"
Without dreaming? Few songs this year were dreamier. The peerless Brian Tighe and Allison LaBonne and friends strike again.
Albums:
Laura Marling - Once I Was An Eagle
David Bowie - The Next Day
Neko Case - The Worse Things Get, The Hard I Fight, The Harder I Fight, The More I Love You
Iron and Wine - Ghost on Ghost
The Starfolk - The Starfolk
The National - Trouble Will Find Me
Jim James - Regions of Light and Sound of God
Volcano Choir - Repave
Tim Hecker - Virgins
Bonus:
Local Video of the Year: Alpha Consumer, "The Eat"
Related Stories
Top 89: Staff Picks The staff and hosts on The Current share their opinions on this year's best music.
The Top 89 of 2013 Starting Dec. 31 at 4 p.m. we'll countdown the best songs, albums and artists of the year according to The Current's listeners.