Interview: Mick Cooke (formerly) of Belle & Sebastian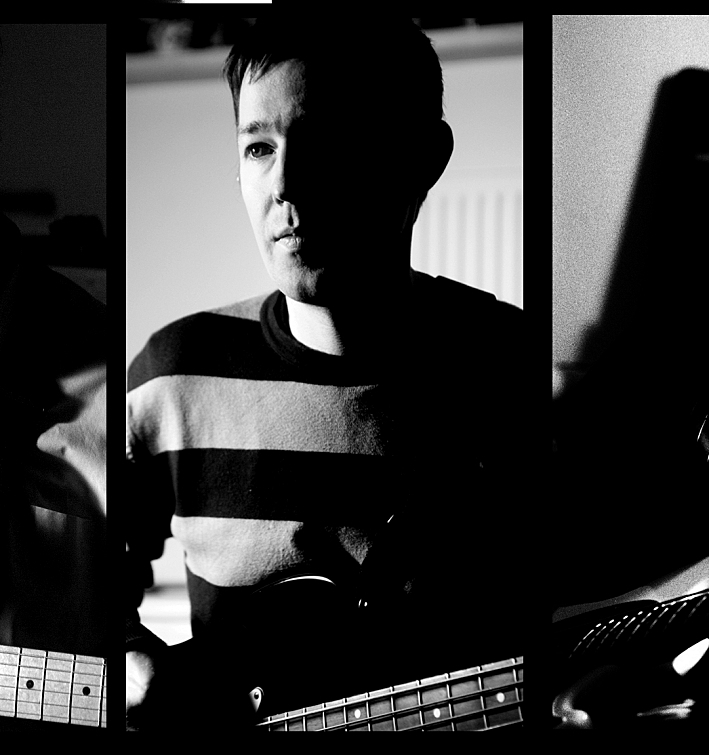 Last Friday, Dec. 3, in an official email from the band, Glasgow's Belle & Sebastian announced some festival dates for next year, along with a subtle hint that they might be working on a new record in the coming months.
Also included in the message was news that longtime B&S member Mick Cooke had left the band. We recently caught up with Mick to talk about why he decided to step back from Belle & Sebastian. Mick also tells us about his growing career as a composer, and he lets us know a bit about where we can hear his music next.
LT: The email from Belle & Sebastian read, "You may know already that Mick Cooke has left the band and won't be touring with us next year. We wish him all the best with any future projects and hope to work alongside him again in the future."
Although it says "left the band", the language suggests more of a leave of absence. Can you tell me more about that?
MC: I have definitely left the band. I suppose what they're referring to there is that perhaps we might work together again. There's no animosity. It was purely a life decision. I started a family a few years ago, and starting a family kind of makes the whole touring-with-a-band prospect a whole lot less appealing than it used to be.
It came to crunch time: I had to decide earlier this year if I was going to tour with the band again, and I actually ducked out of touring last time the band toured, and I realized I couldn't do that again, so I had to make the decision that I was going to leave the band. The main reason for leaving was because touring was just becoming a lot more difficult with a family. That's not to say we might not work together in the future. The door is always open, which is great.
Over time, you've become more interested in composing and arranging. How did that part of your career evolve?
Yeah, I've got a lot more into composing. I started composing for TV a few years ago and my day job now is to compose for children's television.
The great thing about Belle & Sebastian is that it's always been a band where if you were interested in a certain part of the process, you could try it. [Front man] Stuart [Murdoch] used to do all the arrangements back in the day, and then when I got quite interested in doing them, he said, "Well, just work away and have a go at the arrangements."
It's fantastic to get that sort of experience. Belle & Sebastian has been a whole learning experience. To get a chance to work with producer Trevor Horn — it was actually making the Trevor Horn record, Dear Catastrophe Waitress, that we really kind of went for it in terms of the arranging side of things. And he really encouraged us to do that, which is great as well.
And he's very much into orchestration is Trevor Horn, so he was encouraging us to use as much of that as we could! (laugh) I kind of think we went a bit overboard, but to get the opportunity to actually just have a go, it really expanded on that record. We had a bigger orchestra.
Belle & Sebastian was great fun and a really great learning experience. We started small and built up to bigger things.
Your last couple albums were recorded at The Sound Factory in Los Angeles. What were the advantages and disadvantages of that?
The advantage was we were working with a great producer, Tony Hoffer, and in a really great studio. And just a change of environment as well, particularly when everyone's so busy with their home lives, it's great to get away and concentrate just purely on making records. We haven't made a record in Glasgow for a very long time, and I think it would be tricky these days because everyone does have families now. When you're making a record, the best thing to do is just completely immerse yourself in it, so that's what we did.
But the down side of being away from home for so long is that you tend to miss your home, particularly if you've got children and things. So that was a down side.
It was a great experience, and I think all of the band absolutely love L.A. It's kind of a second home to quite a few of the band. I wasn't quite so keen on L.A., I have to say; it's not really my kind of place. It's quite difficult to navigate around. I think it takes a while to scratch the surface and get to know it. But it's interesting to be there for a while. And the people there are nice. The producer and all his friends were very welcoming. Stuart's got quite a few friends there now.
You mentioned that you now compose for children's television, and you've even put out a children's album. Did becoming a father inspire your interest in children's music?
It's funny, actually, because making children's music started quite a long while before I had children. It was really quite accidental: Belle & Sebastian were asked to contribute a song to an American children's album, and in the end, for various reasons, we ended up not doing that. But by that point, I had written a song for it, and then basically, we decided to do our own compilation album, which is called Colours Are Brighter; that was in 2006. We got lots of different bands together, bands we had met and knew, so Franz Ferdinand and Snow Patrol and the Kooks played on that, to name a few. We released the album for the charity Save the Children.
That kind of started things for me, in terms of making children's music. I found that I just really enjoyed it! I felt quite good at doing it. Off the back of writing that one song, "The Monkeys Are Breaking Out of the Zoo," I wrote a whole album of another 11 or 12 songs based at the zoo. That came out in 2011, Down At The Zoo.
Through those projects, I ended up falling into children's television, and quite happily. I'm now working on a 52-episode series called Zack and Quack for Nickelodeon, and it's great fun. The great thing about this series in particular is that the music is so varied on it. It kind of allows you to be sort of John Williams one week and you're sort of Hans Zimmer the next! (laugh)
It's all with a kind of pre-school slant, but most composers don't really get the chance to have such a varied music base on something they're working on. One week it's in space, the next week it's ninjas. It's a fantastic series just because it's so varied and cool. I think people will like it.
Fifty-two episodes is an ambitious project for a production team.
It's one episode per week. They're ten-minute episodes, which you score in a week. It's certainly very challenging. But like I say, the fact that every episode is so different, I'll certainly cut my composer teeth on it. Virtually every possible scenario will have been covered by the end of these 52 episodes, I think!
How did you find your way specifically to Zack and Quack?
I kind of got in on it through the back door in a way, because the director and creator of this series is a guy called Gili Dolev. I scored his short film, The Happy Duckling, in 2008. He's an Israeli guy who was working in Dundee at the time, and I just happened to meet him through a friend. And he asked me to score his film, and his film was amazing, just really visually stunning. It was kind of a 3D origami popup world, done with CGI, about a boy and his duck. And now this series Zack and Quack has been based loosely upon his short film. And Gili really wants to work with me again, which is great.
The challenge is the whole thing is basically done by Skype. Gili is in Israel, I'm in Glasgow and the production team are in London and it's for Nickelodeon in L.A., so one of the directors is based in L.A. The whole thing is scattered across the globe, so you're writing music and sending it off and then Skype-ing people to discuss how it's been going. It's cool, you're part of a team but you're also working on your own as well.
And that will air on Nickelodeon in the U.S.?
Yeah, it's coming out next year, actually. I'm not sure what the release schedule is like, but it will be sometime next year.
Beyond children's television, you've also composed for musical theatre, an original work called Cannibal Women of Mars. Tell me about that.
That is kind of the polar opposite of the children's music stuff! (laugh) That just came about because I'd been to see Avenue Q in London a few years ago, and it just struck me that there aren't many things like that. I just decided with a couple of friends, "Why don't we have a go at writing a musical?"
It's kind of like Avenue Q in tone, kind of adult comedy. It's just a really daft premise: It's the future, 100 years from now, and sex has been banned on planet Earth because of overpopulation. Our two heroes decide to go to Mars where they've been told there's a surplus of women and there's no men, so they've been told they can go and get lucky on Mars, but they're actually being sent there to be eaten! That's the premise, and it kind of goes off from there. We started with the idea of just producing a fun night out, and I think that's what we ended up with.
Has it played at the Edinburgh Fringe Festival?
No, it hasn't been there yet, but we had a run at the Tron Theatre in Glasgow. We found a fantastic director for it, Andy Arnold, he's the director of the Tron. But we're sort of making plans to take it to the Fringe next year. The Fringe is the perfect international showcase for musical theater because it is such a big international event, and everyone from across the globe is there. So if Cannibal Women of Mars is going to do anything at all, it's going to do it at the Fringe.
And it's kind of handy that that is only 40 miles down the road. So we're going to take it there and see what happens.
And another Belle & Sebastian-related project is the forthcoming film God Help The Girl. What can you tell us about that?
The film's all in the can. It's coming out next year. I was in the orchestration for that album, a lot of which ended up on the film.
There are quite a few more strands of music enter into the film, so it's quite interesting. But a lot of stuff that was on the God Help The Girl album is on the film, and much of the orchestral stuff that you hear on that film is my orchestration.
How did you find the musicians for that?
If you're recording in London, there's a session orchestra that's put together by a fixer called Isobel Griffiths. Every single day, they're doing a new record or a film for somebody. They're kind of the go-to guys in London. They're fantastic players.
Derek Watkins, who died quite recently, was part of that orchestra. He was the trumpet player who played on all the James Bond soundtracks, played on Star Wars and things like that, he's a fantastic player. He played a part of that. He plays on God Help The Girl, and he was also playing on Dear Catastrophe Waitress. He's a bit of a legend is Derek Watkins.
The other guys in that orchestra are great players as well. They're kind of all of a par when it comes to playing. They're fantastic.
Watch Mick Cooke's composer reel:
Guests
Resources
Related Stories
---
comments powered by

Disqus