The Current's Guitar Collection: Juliana Hatfield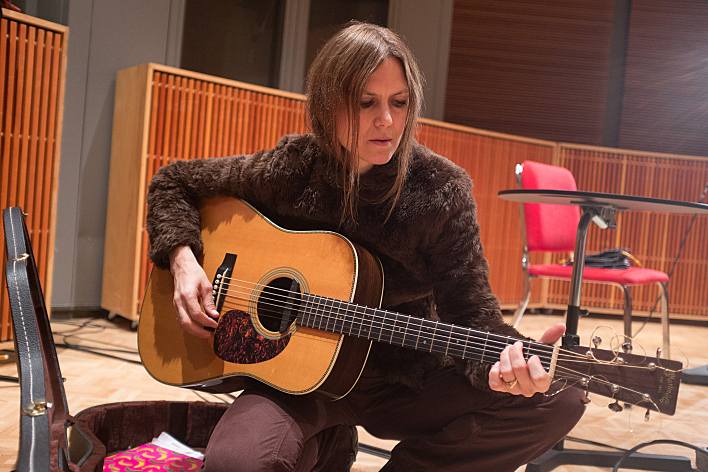 Indie singer-songwriter Juliana Hatfield stopped in to The Current's studios a few weeks ago with her friend Matthew Caws as part of their collaborative project, Minor Alps. Hatfield has performed as a solo artist as well as in other bands, including the Juliana Hatfield Three.
After her in-studio session with Caws, we asked Hatfield about her guitar. Here's what she had to say:
What kind of guitar is this?
It's a Martin D-25.
Do you write songs on this guitar?
I do, yeah. This is pretty much my only acoustic guitar right now. I sold a lot of my guitars the past couple of years just because I had too many and I didn't have enough space for them. I don't think I need more than one. This guitar kind of does everything I need an acoustic guitar to do: I write on it, I record on it, I tour with it.
Do you remember when you got this one?
I got it about five years ago at this great store, the Music Emporium in Lexington, Massachusetts.
Is that your go-to guitar shop?
I had heard about it. I live in Boston, and the Music Emporium in a suburb of Boston, and I'd just heard about it.
How did you end up going there?
I went out there with a friend of mine one day, not intending to buy anything. I was just playing around on a few instruments. I'm not a gearhead, and I'm not really interested in the provenance of a guitar. All I care about is how it feels and how it sounds. And this guitar just felt really good. The neck felt really good as I played it. It's just a very solid, standard, great-sounding, great-feeling guitar.
Did you try a few that day before finding this one?
Yeah, I tried a bunch, not really knowing what was what. But I knew I kind of wanted a Martin, and they have lots and lots of them there. I tried a lot of them, and this one felt and sounded best.
And this guitar was a gift; the friend I was with bought it for me. My other go-to guitar, my electric guitar, which is a 1969 Gibson SG Custom, was also a gift from the same person. So these things just sort of befell me.
To tell you the truth, I kind of hate guitar shopping. I don't like guitar stores. I just feel really uncomfortable in guitar stores. So I guess I just wait for things to come to me.
What is it about guitar shopping that you dislike?
My insecurities, I guess. There's always someone in there shredding and drawing attention to themselves. And I just don't like to draw attention to myself. I just feel, because of my insecurities, I feel judged in guitar shops.
And also maybe because I'm female, I go in there and I shrink a little bit and I feel very shy and I can't really relax enough to really get the feel of anything.
You mentioned being female; do you think there are other women who feel that way?
I don't know. It's probably just because I'm extremely insecure. It's not as bad as it used to be, I know that. I think that it's much more acceptable and it's much less novel and weird for women to be playing electric guitars nowadays.
What advice would you give to women about guitar shopping?
Just don't do what I do. Don't feel overwhelmed. Don't be shy! Just go — you have as much right to be there as anyone else.
Minor Alps perform "If I Wanted Trouble" in The Current's studio:
Resources
Related Stories
1 Photo
Juliana Hatfield performs in The Current's studio.

(MPR photo/Nate Ryan

)
---
comments powered by

Disqus