Transmission's Top Tracks of 2013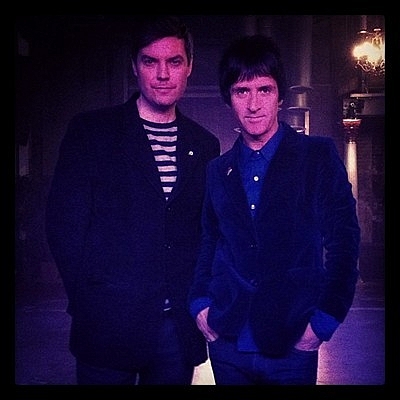 Transmission's roots are in the worlds of post-punk, new wave, synth, power & dream pop, shoegaze, psych, mod, space and Krautrock.
Here's a list of artists who carried on those sounds nicely in 2013 (in no particular order). Some broke through to the masses while others are still waiting their turn.
Remember to submit your favorites songs of 2013 for a chance to win an iPad Mini and tune in Dec. 31 to hear the countdown of this year's Top 89.
Johnny Marr — "New Town Velocity"
It's not a stretch that the man behind the music of the Smiths made Transmission's top of the list two years in a row. This track especially brings up the guitar chime we all love about Mr. Marr in the first place.
David Bowie — "I'd Rather Be High"
At 66, David Bowie is still one of the most innovative artists creating new material today.
Savages — "Husbands"
The raw, dark, post-punk feel of Savages' entire debut this year is exactly what 2013 needed.
Depeche Mode — "Should Be Higher"
This track is proof that Depeche Mode has lost nothing since their 1981 inception. Nothing. Well, besides Vince Clarke and Alan Wilder...but you know what I mean.
Parquet Courts — "Borrowed Time"
Long live great rock and roll!
The rest (in no particular order):
The Ocean Blue — "Sad Night, Where Is Morning?"
Ski Lodge — "Just to Be Like You"
The Proctors — "Trouble with Forever"
Wild Nothing — "The Body In Rainfall"
Veronica Falls — "Waiting For Something To Happen"
Saturday Looks Good To Me — "Invisible Friend"
Camera Obscura — "Do It Again"
Amor De Dias — "Jean's Waving"
Deerhunter — "Back to the Middle"
The Pastels — "Check My Heart"
Arctic Monkeys — "Why'd You Only Call Me When You're High"
The London Suede — "Snowblind"
Eleanor Friedberger — "She's a Mirror"
Club 8 — "Stop Taking My Time"
Washed Out — "It all Feels Right"
Pure Bathing Culture — "Pendulum"
Still Corners — "Berlin Lovers"
Primal Scream — "Invisible City"
Yo La Tengo — "Well You Better"
Queens of the Stone Age — "I Sat By the Ocean"
Nick Cave & the Bad Seeds — "Push the Sky Away"
Au Revoir Simone — "More Than"
Daft Punk — "Lose Yourself to Dance"
St. Vincent — "Birth In Reverse"
Blouse — "A Feeling Like This"
Mood Rings — "Pathos Y Lagrimas"
Orchestral Manoeuvres in the Dark — "Metroland"
Karl Bartos (formerly of Kraftwerk) — "Without a Trace of Emotion"
Boards of Canada — "Cold Earth"
Resources
What is Spotify?
Related Stories
The Top 89 of 2013 Starting Dec. 31 at 4 p.m. we'll countdown the best songs, albums and artists of the year according to The Current's listeners.
---
comments powered by

Disqus