On The Ball with Mark Wheat: Prediction Time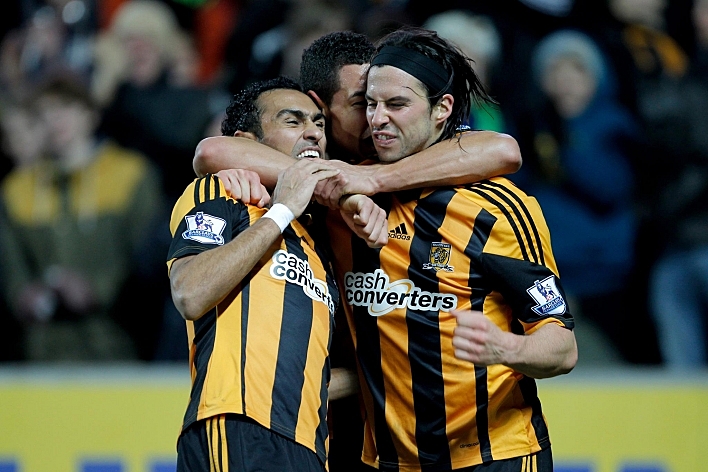 On the Ball with Mark Wheat is a new Monday feature on The Current that celebrates the connections between music and soccer, with an eye to the past weekend's results. Listen Mondays at 7 p.m. as Mark plays the music selection of the week.
Hope your holiday season is going well! While other European nations give their players a winter break, in England the season is traditionally celebrated with a ton of footie. Especially Boxing Day, an old tradition dating back to feudal times when the wealthy landowners had big feasts on Christmas Day, then the next day gave the leftovers to the poor, in boxes, hence the name. Wow...I just realized that if it had started here, it might be known as Doggie Bag Day!
Anyway the Queen opens her presents on this day, in deference to the poor, and watching her yearly speech on the BBC was added to our traditions. It was good: The Queen basically advised us all to slow down and meditate more! The Royals always spend Christmas at Sandringham which is in Norfolk, very close to where I was raised. Apparently the young princes added some footie to that tradition this year.
Another tradition around this time is to make predictions. So I thought we'd do that this week and if you'd like to join in, we might even arrange a prize for the best guesses!
Some pundits say that whoever is at the top of the league now will win it, and some statistics prove this to be true more often than not. However, the race has seldom been this tight at the top. Only 9 points cover the top 8 teams, and statistically that would give all of them a chance! I think it is so hard to call that I would just be OK for Arsenal winning it all. Arsene Wenger deserves it as the most durable and consistent manager in the league now Sir Alex is gone! But if I had to put money on it, I'd go for Man City. They seem to have found how to take advantage of all their weapons this season, in unleashing tremendous scoring firepower. Saturday's win over lowly Crystal Palace was a struggle; several fine saves from Joe Hart, despite an ugly-looking eye injury, saved their day. They say champions somehow win on their off days, and this was an example that City might have discovered how to do that, too!
Manchester City v Crystal Palace highlights (via NBC Sports)
Sunday's game at Stamford Bridge helped answer a few questions, too. Jose Mourinho at Chelsea seems intent on playing solid defense, starting with David Luiz who has played as a central defender in the past, playing in front of two other central defenders. Then at half time, when winning 2-1, adding John Mikel Obi, another defensive midfielder. Shutting up shop and sitting on a one-goal lead at HOME is not the way I want a title to be won, but they'll be in the top four. I'm not sure about Liverpool, though. Their slide to fifth after being top last week is an indication of how tight the league is but also how tenuous their hold on the top was, too. They don't have the world-class quality to surround Luis Suarez with and when he is more intent on diving than scoring they're in trouble. I swear he's played better recently while newly acquiring the captain's armband; he seemed less inclined to dive. Now he's making headlines doing it again.
Chelsea v Liverpool highlights (via NBC Sports)
So who's the last team that will make up the all-important Top 4? Of course I hope it is United but I still am not convinced by them and I cannot be unbiased so I'll say ...Spurs. I think they're the one team who have grossly under-performed so far and they're still in contention.
As one commenter put it last week..."Still no respect for The Toffees?" No; I'm afraid Everton are the best over-performers so far, but they will not last.
Make your predictions for the Top 4 and post them in the comments section.
Mine are: Man City, Arsenal, Chelsea, Tottenham Hotspur;
Bottom three is so much harder to pick, but I think my gut goes for: Sunderland, Cardiff City and Aston Villa.
For various reasons I think the soul thing is lacking at these clubs. Even though Villa are 13th right now, the potential relegation zone may even go above them to Swansea and Stoke who are only 7 points above the bottom.
That means we should honor mid-table teams who have over-performed so far to make themselves safe but NOT title contenders. Southampton in 9th and Hull in 10th who destroyed Fulham 6-0, perhaps the most impressive performance of the whole Christmas week. And that's why this week's music pick goes out to Hull City:
HAPPY NEW YEAR!
Be sure to make your predictions for top 4 and bottom 3, and share them in the comments section below.
Related Stories
On The Ball with Mark Wheat: Premier League managers feel the heat Being a Premier League manager is a tough job; four out of the bottom five clubs have sacked their managers. Malky Mackay and Sam Allardyce hold on to their jobs, but for how long? Plus, a look at some highlights from the weekend and today's London derby, and a music pick for the Kop at Anfield.
On The Ball with Mark Wheat: Weekend Goal Fest A crazy weekend in the Premier League brought goals aplenty and two sacked managers. Plus, we give a shout-out to a Minnesota-bred goalkeeper in the Premiership, have a look at the Champions League draw and make a music pick based on Man City.
On The Ball with Mark Wheat: MN United FC coach Manny Lagos talks World Cup Mark Wheat talks to Minnesota United F.C. coach Manny Lagos (who earned three caps for the U.S. from 2001 to 2003) about what he thinks of the 2014 World Cup draw. Mark also looks at highlights from the MLS Cup and a big win in the Premier League. Plus -- an appropriate music pick from Manny Lagos.
---
comments powered by

Disqus