So how about that new Silversun Pickups track?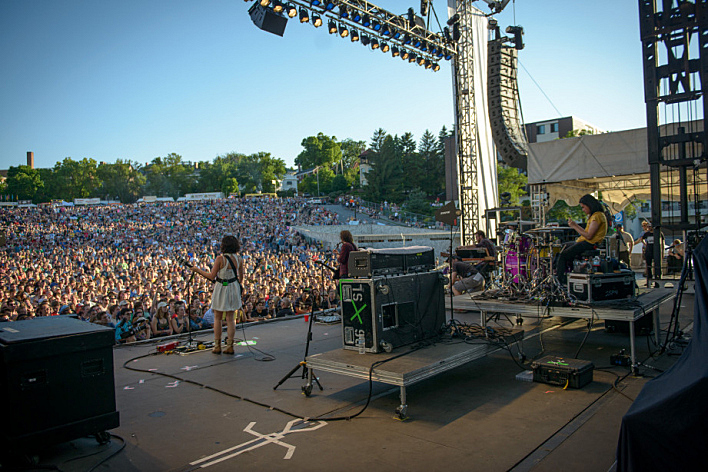 Three records in and Silversun Pickups are already releasing a singles collection, though it's likely that the compilation is in celebration of ten years on the Dangerbird label, home to the releases of other Current favorites like Fitz and the Tantrums and Minus the Bear. Singles Collections will feature ten tracks off Silversun Pickups' 2004, 2009 and 2012 records, along with a new single, "Cannibal" (have a listen below).
Even with a new single and several shows across the States since their sold out performance at Rock the Garden last June, guitarist and lead vocalist Brian Aubert tells Rolling Stone about the future of Silversun Pickups: "Plans come and go. We don't like to think about laying down rules and lists. It's best for us to lay low and eventually build momentum organically. We'll start working on the next album when we all come to the conclusion that it's time. We never know when that'll be, but personally, I hope it's sooner than later. I have a lot of weird ideas that need to come out."
The Singles Collection Track Listing
1. "Kissing Families"
2. "Lazy Eye"
3. "Well Thought Out Twinkles"
4. "Little Lover's So Polite"
5. "Panic Switch"
6. "Substitution"
7. "The Royal We"
8. "Bloody Mary (Nerve Endings)"
9. "The Pit"
10. "Dots And Dashes (Enough Already)"
11. "Cannibal"
The Singles Collection is due out Feb. 25 via Dangerbird.
In the meantime, how's "Cannibal" working for ya? Let's start a conversation in the comment section below.
Related Stories
---
comments powered by

Disqus