On The Ball with Mark Wheat: Big Win for Man Utd and Moyes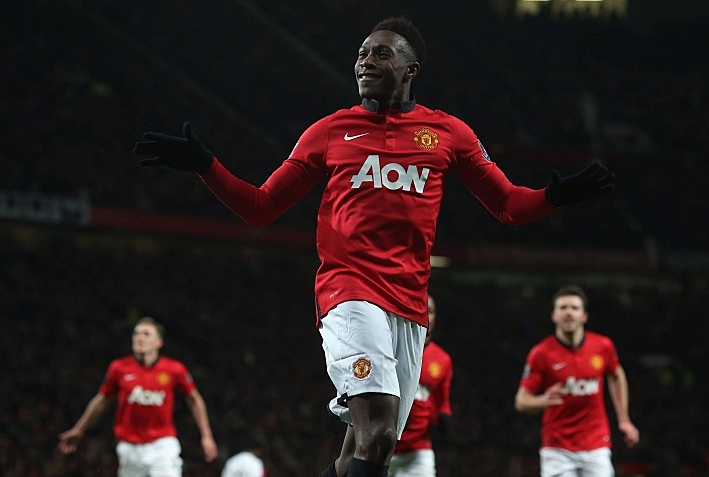 On the Ball with Mark Wheat is a new Monday feature on The Current that celebrates the connections between music and soccer, with an eye to the past weekend's results. Listen Mondays at 7 p.m. as Mark plays the music selection of the week.
Today Arsenal started to do what Champions have to — getting solid away wins against lower teams. They let Villa back in towards the end, but deserved to stay top of the league. Not many other surprises this weekend except perhaps the big win (4-1) away from home for Sunderland.
Jack Wilshere delivers Arsenal the lead (via NBC Sports)
Can't really resist talking about my team Manchester United this week as everyone else was last week and throughout the busy weekend. Speculation about the ability of new manager David Moyes and the dedication to the task of some of the senior players set up a great story for the main NBC game Saturday, when United took on Swansea. The commentators did an excellent job of setting the scene for those viewers who, unlike me, do not follow the team religiously. This is something they have to do at specific moments to allow access to the sport for new viewers, of which there are many this year in the U.S. because of the extensive NBC coverage. The drama emanated mostly from the history of this storied club. When I were a lad, in my teens feverishly egging them on they were often terrible, being relegated to the second division (now called The Championship). But 27 years ago, Sir Alex Ferguson took hold of them and, after a bumpy start even for him, guided them to the most successful period of English football history. Supporters younger than 35 have never experienced a time like this before. United had never lost 4 games in a row, especially not 3 at home, which would happen if they slipped again against Swansea and they had never languished in 7th position. Unbelievably they haven't finished outside the top 3 in over 20 years, that statistic stunned even me!
Despite all the talk of a disastrous season unfolding for them, I've still maintained a lot of optimism. Man Utd qualified impressively for the Champions League final stages, and getting into that competition next year has to be their focus, so I didn't mind them going out of the FA Cup last week. The other loss to Sunderland in the League Cup was only the first leg of a semi-final that they must still be favored to win; no big deal. But I must admit I was a little nervous to watch how the team played, after all this media talk and lacking its two big stars, Wayne Rooney and Robin Van Persie.
Manchester United v. Swansea highlights (via NBC Sports)
I was relieved at the comfortable win, powered by Danny Welbeck's continuing good form and Shinji Kagawa shining. I like him enough to have retained him on my fantasy team even though he hasn't had many games. Even though many managers do get fired for poor team play as we showed a few weeks back, it really is up to the players. They showed good character, supportive of their manager, which is a good sign. I do share the concerns of one of the BBC's chief writers, Robbie Savage, who suggests that there's a lot of dead weight on the roster, it will be interesting to see how the squad morphs under Moyes.
Today, Ronaldo — who was the bookies' fave and statistically deserving — won the European Footballer of the Year today, at an awards ceremony that is the sports equivalent of the Oscars! Shame they don't have Tina and Amy to hand over the FIFA Ballon d'Or.
And now we go to an NME report today, with the latest EPL star import on his way to MLS; a surprise deal — which will see striker Jermaine Defoe move to Canada and compete in the Major League Soccer tournament with his Toronto teammates in February — was confirmed by Tottenham last week. Rumors suggested that rapper Drake, who is a friend of Defoe's and also an ambassador for Maple Leaf Sports & Entertainment, which owns Toronto FC, was instrumental in the move. Drake has now confirmed the rumor.
"I don't know if I had an influence on him coming here," Drake told the Toronto Sun. "I think that all I did was give him the necessary information about a city he didn't know much about. I told him how great it's been to me, and how great I assumed it would be to him. We had a great conversation. We built up a personal relationship."

The rapper continued: "I'm excited to see him begin his career here. I just do what I can. [Maple Leaf Sports & Entertainment president Tim Leiweke] is the boss. It's all Tim, really. I was just a piece of the puzzle, I guess."
For the music portion of today's post, we play a song they were singing at Old Trafford on Saturday:
What games were you watching this weekend? How did your club do? What do you think of Ronaldo's Ballon D'or win? Share your thoughts in the comments below.
Related Stories
On The Ball with Mark Wheat: Not Spurning Spurs We start by remembering Portugese great Eusebio, who passed away this weekend. Then, Fred Child, host of 'Performance Today', talks about how he became a Spurs fan and why he keeps a bright outlook for the team despite Saturday's FA Cup result. Plus, a music pick for American goalkeeper Kasey Keller, who enjoyed a good career at Spurs.
On The Ball with Mark Wheat: Prediction Time As the Premier League reaches the critical Christmas-New Year's week, it's time to make predictions. Have a look at Mark Wheat's picks and then share your predictions. And of course, Mark also has a music pick; this week, it goes out to Hull City.
On The Ball with Mark Wheat: Premier League managers feel the heat Being a Premier League manager is a tough job; four out of the bottom five clubs have sacked their managers. Malky Mackay and Sam Allardyce hold on to their jobs, but for how long? Plus, a look at some highlights from the weekend and today's London derby, and a music pick for the Kop at Anfield.
---
comments powered by

Disqus