St. Lucia perform in The Current's studio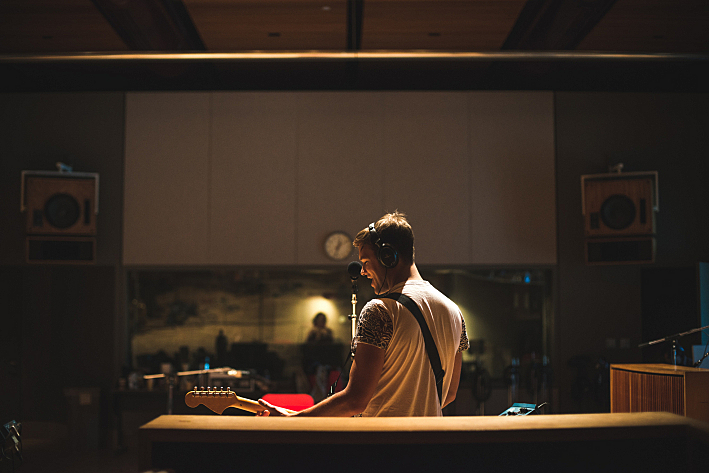 Fresh from playing a gig at the Fine Line in Minneapolis last night, Brooklyn-based St. Lucia stopped into The Current's studios to talk to Mary Lucia and to play a few songs off their new album, When the Night.
St. Lucia — comprising Jean-Philip Grobler, Ross Clark, Nicky Paul, Dustin Kaufman and Patricia Beranek — play tunes that Mary describes as being "infectious" and having a "shimmering sound" and "incredible bounce."
Between songs, Mary speaks to front man Grobler about his childhood in South Africa, about studying in Liverpool and about how he and keyboardist/partner Beranek ended up in New York. Grobler also talks about what it was like to write music for a fabric softener.
Providing a fascinating local peg, guitarist/bassist Ross Clark talks about how he attended McNally-Smith College of Music for two years, living just a couple blocks from The Current off Wabasha Street in St. Paul, Minn.
And then there's a tale that explains the fate met by drummer Dustin Kaufman's suitcase. Listen to the audio to hear the details.
Songs Played
"All Eyes on You"
"Elevate"
"The Way You Remembered Me"
All songs off the album When the Night, out on Columbia Records.
Hosted by Mary Lucia
Produced by Jade
Engineered by Michael DeMark
Guests
Resources
Related Stories
Theft of the Dial: The Wombats What would The Current sound like if it were run by the Liverpudlians from The Wombats? We find out in this edition of Theft of the Dial.
9 Photos
St. Lucia front man Jean-Philip Grobler and drummer Dustin Kaufman.

(MPR photo/Nate Ryan

)

Ross Clark of the band St. Lucia

(MPR photo/Nate Ryan

)

St Lucia's Jean-Philip Grobler and Patricia Beranek

(MPR photo/Nate Ryan

)

St. Lucia's Patricia Beranek

(MPR photo/Nate Ryan

)

L to R: St Lucia's Patricia Beranek, Jean-Philip Grobler and Ross Clark.

(MPR photo/Nate Ryan

)

St Lucia's Ross Clark

(MPR photo/Nate Ryan

)

St Lucia's Nicky Paul

(MPR photo/Nate Ryan

)

St. Lucia's Nicky Paul sets up to play in The Current's studio.

(MPR photo/Nate Ryan

)

St Lucia drummer Dustin Kaufman

(MPR photo/Nate Ryan

)
View 8 more photos
---
comments powered by

Disqus