Weekend Arts Roundup: Three Reasons to Get Out of the House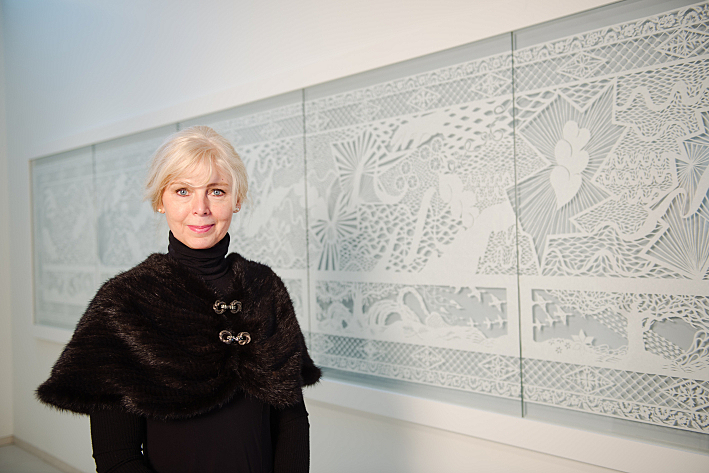 MPR News Arts Reporter Marianne Combs joins Steve Seel and Jill Riley to talk about three reasons to get out of the house this weekend despite the snowy, wintry weather.
The School for Lies — David Ives' adaptation of Molière's The Misanthrope maintains the costumes of the French period morality play, but Ives will stop at nothing to maintain rhyming couplets, including the use of limericks and rude words. This witty, ribald play is staging now at Park Square Theatre in downtown St. Paul, and its run ends this Sunday, Feb. 2.
Papercut! — Danish/Norwegian artist Karen "Bit" Vejle began doing paper cutous — think snowflakes or children holding hands — as a young girl, and it's a hobby she continued into adulthood, making more and more intricate patterns and stories as she developed her art. When a neurological disorder ended Vejle's career as a TV producer, one of her colleagues discovered her abilities as a psaligrapher; that is, a paper-cutting artist. Now, Vejle's artwork comprises large-scare scenes of stories and dreamscapes. Her work is on display at the American Swedish Insitute in Minneapolis, and it will remain on show until May 25.
Art Shanty 2014 — What could be more embracing of the winter weather than building an artistic community on a frozen lake? This year, Art Shanty moves to White Bear Lake in its eponymous city north of St. Paul. Art Shanty opens this weekend, with a Sparkle Parade on Saturday, Feb. 1. Adorn yourself with reflective items to participate and to beat the winter blues. Learn more about Art Shanty 2014 at its official website.
Marianne Combs joins Steve Seel and Jill Riley every Thursday at 8:30 a.m. to give the Weekend Arts Roundup. Read more arts news at the State of the Arts Blog on mprnews.org.
Related Stories
Music with Minnesotans: Steven Lockwood He developed a small local theatre company into a regional force - and classical music has played in the background of his life from an early age. Steven Lockwood has just stepped down as Executive Director of Park Square Theatre and shares a playlist with scenes, blocking and lots of emotion.
Minn. company Ice Castle revolutionized ice fishing Ice Castle ice-fishing houses, built in Montevideo, are rapidly becoming ubiquitous across the Upper Midwest's ice-fishing belt.
Weekend Arts Roundup: Theater, Gallery, Dance MPR News Arts Reporter Marianne Combs joins Steve Seel and Jill Riley to talk about three can't-miss events that span a number of the arts: musical theater, dance and photography. They just might warm the cockles of your heart.
---
comments powered by

Disqus