Album Review: Various Artists, 'Sweetheart 2014'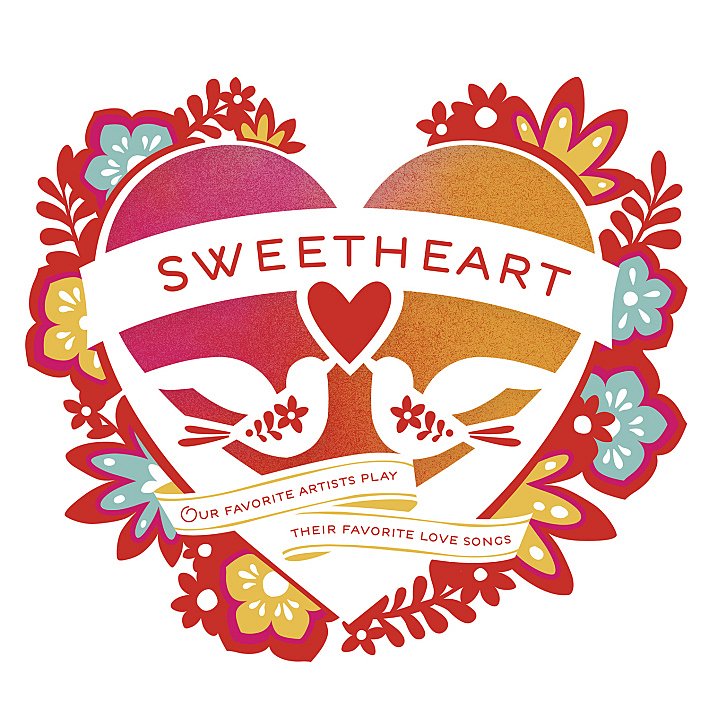 After being the annual host of our Valentine's Day special evening of programming for the last 9 years, I know that love songs come in all shapes and sizes, and not all fit everyone. I hope you've got your perfect fit; if so, pass it on to me for Friday's show — I love telling the stories behind your special songs.
In the artwork for this new compilation — which leans a little heavily on the clichéd with its images of hearts, songbirds and flowers — the text does give the artists a chance to tell their stories about each song; for example, Beck says simply that Lennon's "Love" is "Masterful simplicity with chords you can get lost in," and Blake Mills opens up a whole new avenue of appreciation for the song he covers, an obscure Bobby Charles song from the mid '60s, saying, "Good times gone bad mixed with a feeling of desertion to create a new color: self-love."
From my perspective, with any covers record, how you hear the new versions will depend on what relationship you have with the original of that song. Everyone knows that seeing an ex in the arms of another is tough, even if the split was good, whatever that means! There were several songs I didn't recognize at all, and perhaps they benefited from being brand new to me. That was the case with both Jim James's take on Bob Marley's "Turn Your Lights Down Low" and Phosphorescent's swoon-inducing envelopment of Bob Dylan's "Tomorrow Is A Long Time". I can feel Dylan purists squirm at this point, but since Bob did his Super Bowl Chrysler ad, perhaps he's fair game for re-interpretation!?
I've always liked Fleetwood Mac's "The Chain", and that seems OK to say these days as they're re-grouping and being touted as influences by many young musicians. But Brandi Carlisle sticks too close to the original arrangement and doesn't give it anything new. Sharon Jones, however, attacks Stevie Wonder's "Signed, Sealed, Delivered, I'm Yours" right from the first beat, upping the ante on the original's heft, and giving it a nice twist by not inverting the gender roles of the song. This is the last and loudest track of the whole album which does, as a piece, keep pretty slow, quiet and not real groovy. So plan accordingly if using it as a soundtrack for love. In fact, it almost stops completely right in the middle with a glacial take on another song I loved, "Always On My Mind" by Bahamas.
Like all love stories the album has a few bumpy rides along the way, but hopefully by the time Sharon seals the deal at the end, your heart has been won over to consider love worth a try and you have a positive outlook for Valentine's Day. I hope you enjoy it with your Sweetheart 2014.
Have you listened to the album? What do you think of it? Share your thoughts in the comments section below.
Resources
Related Stories
---
comments powered by

Disqus