On The Ball with Mark Wheat: Meeting a Coaching Legend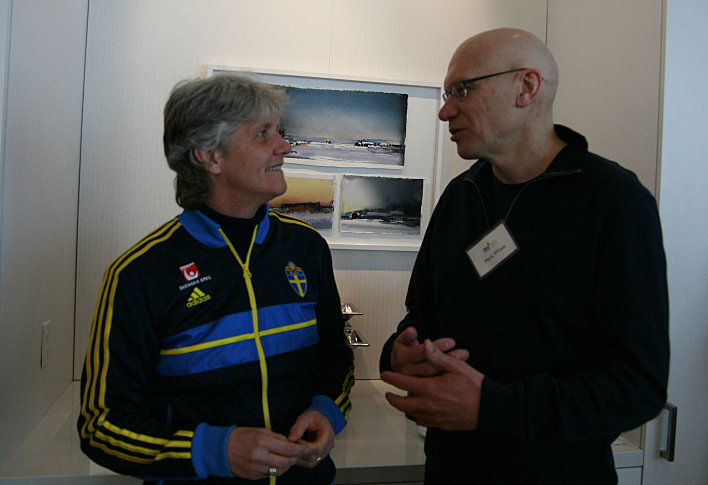 On the Ball with Mark Wheat is a new Monday feature on The Current that celebrates the connections between music and soccer, with an eye to the past weekend's results. Listen Mondays at 7 p.m. as Mark plays the music selection of the week.
Another mind-boggling week in the English Premier League. New viewers might not get this, but I'm convinced it's the most topsy-turvy, hard-to-predict season ever! Lots of lowly clubs got good results, including bottom club Fulham drawing at Man Utd, Norwich holding the scoring machine of Man City to zero, and Hull and West Ham getting away wins against recently improving Sunderland and Aston Villa, respectively.
But the most amazing scenes were at Anfield, where home side Liverpool faced Arsenal. I got up a little late on Saturday, so by the time I turned it on with 20 minutes gone, the game was at 4-0 to Liverpool... 'all over, bar the shouting' (Another famous English soccer cliché). I couldn't believe my sleepy eyes. It ended 5-1 and reignites Liverpool's campaign to be in serious contention for the top 4.
Liverpool v Arsenal highlights (via NBC Sports)
Pia Sundhage will be pleased! She's the most celebrated and decorated female soccer player and coach on the planet, and she was in town last week at the American Swedish Institute in Minneapolis. She's teaching leadership for 8 weeks at Bethany College in Lindsborg, Kansas, and the college has an established connection with the ASI. On Thursday, I was lucky enough to be at a small lunch at which Pia spoke about her amazing, pioneering career and the art of coaching. But first things first: I asked, "Why do you support Liverpool, Pia?!" She told me this story:
"Back in the good old days in Sweden, we watched TT Spektra every Saturday at 4 o'clock; that was the only game you could get during the whole week compared to today, you can get games any time.
Then my national coach, Ulf Lyfors, said, 'You need a team.'
'What team should I pick?'
'Why not Liverpool?'
'OK, let's go.' "
Like me, Pia was born in 1960. Liverpool were the dominant team when we were teenagers — perhaps the most conspicuous English team to the rest of Europe. From a coach's perspective, Pia compares them to the now-great Barcelona. "The reason is about passing, key position and running, one-two touches and runs," she says. "In the women's game, we weren't that technical back then, so that's something I was striving for, to get a chance to play some great soccer."
As a player, Pia always wanted to be a goal scorer, so her favorite player was Ian Rush. "He was pretty cool," she says. "I just liked Liverpool. Then I looked at the Swedish teams, and where I come from, there's a team called Elfsborg and [another from] Gothenburg. Those two. And Torbjörn Nilsson — that was the man, he was a goal-scorer."
As the women's game has grown across the globe, Pia is symbolic of how far it has come. When she started playing in the late '60s, there were no girls' teams. From the age of 9 to 12, she played surreptitiously on a boys' team, being dubbed "Pelle" instead of her given name. It was a stunningly appropriate choice for her, as it's so close to Brazil's Pele — one of the all-time great players who started his international career at 18 in the 1958 World Cup in Sweden!
The Swedish women's team played their first game in 1973, drawing 0-0 with Finland; two years later, Pia made her debut as a 15-year-old!
As her playing career came to an end in the late '90s, Pia started coaching and got her first major job in China as an assistant for the 2007 World Cup. She became the USA Coach in November 2007, leading them to two gold medals in the Olympics of 2008 and 2012, and losing the World Cup final on penalties to Japan in 2011 at a sold-out Wembley Stadium in London. But she'd always dreamed of leading her native country and signed on with Sweden last year. In March, her team will meet the USA at the Algarve Cup in Portugal.
At the ASI in Minneapolis, Pia shared some interesting insights into the role of a coach:
"As a coach, my job is to be a mirror; not to judge, but to let you know how you behave, how you play, your body language, your language. Take care of your body language. Recognize it."
And she is well aware of how her players should be role models:
"Be responsible and accountable for what you've promised yourself. Whenever we have the media, we want to be ambassadors — not only for the sport, but for women. We should be proud of our female players."
She also started her talk by saying that she wanted to be seen as a positive person with a lot of courage. Well, actually — she started with a song! She has a reputation for this, famously singing Dylan's "Times They are A-Changin'" at her first team talk to the USA:
"Singing is a good way for me to express myself. English is not my mother tongue, but I've been singing Bob Dylan songs forever. ... My brother is nine years older than me, he plays the guitar and he introduced me to Bob Dylan's music. I like Melissa Etheridge and Nora Jones, too."
Thanks to Luke for transcribing Pia's thoughts and for the great pictures, and he found an awesome example of her singing:
What games did you watch this weekend? Are you looking ahead to watching the Algarve Cup? Who were your favorite players when you were growing up? Share your thoughts in the comments below.
Resources
Related Stories
On the Ball with Mark Wheat: Like a Pass in Reverse This week, Mark takes a look at which sides in the Premier League showed character -- and which did not; meanwhile, a vital Monday game pits Chelsea against Manchester City. Plus, a look ahead to a luncheon with 2012 FIFA Coach of the Year Pia Sundhage, and a Brazilian-style rainbow pass demonstration from none other than Annie Clark, aka St. Vincent.
On The Ball with Mark Wheat: The Romance of the FA Cup This week, Mark Wheat looks at the excitement and romance of the FA Cup, where the huge teams are sometimes surprised by the minnows. Plus, an exclusive interview with Jake Bugg about Bugg's support of Notts County F.C.
On The Ball with Mark Wheat: Great Sayings in Soccer In this week's On The Ball, Mark Wheat examines some of soccer's great cliché's -- and why they're so often true. And on the week we commemorate Martin Luther King Jr., Mark pays tribute to John Barnes, a player who worked to kick racism out of football, with a music pick.
3 Photos
Pia Sundhage, coach of Sweden's National Women's Soccer Team, addresses an audience at the American Swedish Institute in Minneapolis.

(MPR photo/Luke Taylor

)

Sweden National Team Coach Pia Sundhage and The Current's Mark Wheat chat over lunch at the American Swedish Institute in Minneapolis.

(MPR photo/Luke Taylor

)

L to R: Bruce Karstadt, President & CEO, American Swedish Institute; Pia Sundhage, Head Coach, Sweden Women's National Soccer Team; Dr. Edward F. Leonard III, President, Bethany College, Lindsborg, Kan.; Mark Wheat, Host, 89.3 The Current from Minnesota Public Radio.

(MPR photo/Luke Taylor

)
View 2 more photos
---
comments powered by

Disqus