On The Ball with Mark Wheat: FA Cup, Champions League, Walker Art Center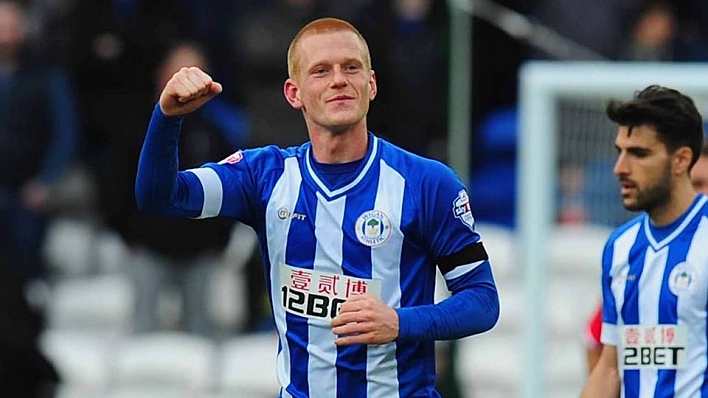 On the Ball with Mark Wheat is a new Monday feature on The Current that celebrates the connections between music and soccer, with an eye to the past weekend's results. Listen this Tuesday at 7 p.m. as Mark plays the music selection of the week.
The Premier League took the weekend off; in fact, Man Utd apparently had a nice warm weather break planned in Dubai! Do they deserve it? Will it help improve their form? We'll see!
Meanwhile in the FA Cup, their noisy neighbors Man City came back to winning ways, taking revenge on Chelsea who beat them at home in the league recently. Some other less noisy but still close neighbors, Wigan, became Cup Giant Killers AGAIN, beating Cardiff City of the Prem.
Cardiff City v Wigan Athletic highlights (courtesy the FA)
Wigan are now in The Championship (2nd level division) after being relegated last year after having won the Cup at Wembley by beating Man City in the closing minutes of a riveting final — perhaps the club's greatest ever victory. They're rewarded this year by getting drawn away against City again in the quarter finals! Time for City to exact more revenge as they strive to win the never-before-achieved quadruple this year!?
Arsenal and Everton were drawn to play each other too, after Arsenal got revenge for their 5-1 mauling last week by beating Liverpool 2-1. Meanwhile, Everton took care of a weakened Swansea.
Arsenal v Liverpool highlights (courtesy the FA)
Everton v Swansea City highlights (courtesy FA)
The weather has been atrocious in the UK recently, with massive rainstorms and high winds. The commentators on Saturday's broadcast of the Arsenal - Liverpool game described an unsympathetic announcement made at half time, advising the Liverpool fans that all roads were closed and all trains cancelled so they wouldn't be able to get home!? Two games were postponed because of it, too: Brighton vs Hull City, the winners of that will face Sunderland; and Sheffield Wednesday vs. Charlton. The winners of that tie will face Sheffield United. It would be great for the city of Sheffield to see a derby; they haven't had much to shout about recently. Both teams have had their glory days but have been languishing in the lower divisions for many years. It would also guarantee that one of them gets to Wembley (both semifinals are now played there as well as the Final). The games will be played on March 8 and 9.
The Champions League resumes today, with a clash between Man City and Barcelona, a test of whether the title favorites in England are ready to take on the best in Europe. Barcelona seemed to have hit their form at the right time, winning 6-0 at the weekend with Messi scoring twice, and they won the very first competitive meeting between these two giants by 2-0, only adding one in the final minute. It wasn't completely convincing, but the tie might be over.
Try and watch the big game tomorrow, too: Arsenal vs. Bayern Munich, who are running away with their league competition this season and are trying to repeat as Champions which is hardly ever done. Milan did it last in the '80s.
Barcelona were represented in the Star Tribune's Vita.MN at the weekend, too, by Jim Hodges, who had a big show opening at the Walker on Friday night. I wasn't able to get to the opening early, as I was doing the big V Day show, but the missus was there and asked Jim if he's a big Messi fan; "Omigod I wore that for the picture in the paper?! I get myself in trouble all the time in NYC, every time I go into a deli wearing that jacket! Truth is I don't know much about it!"
I got there at around 10.45, just before Sufjan Stevens was due to perform a short cameo with his new project, Sisyphus, who were commissioned by the Walker to make an album based on Jim's work. The old Gallery 8 space was packed and steaming hot. Thanks to Performing Arts curator Phillip Bither for getting me in the back way and close to the stage to watch the three friends quickly start an arms-in-the-air dance party that they seemed genuinely surprised and delighted to be in the middle of — check out the smile on Sufjan's face (black baseball cap with pink edges)...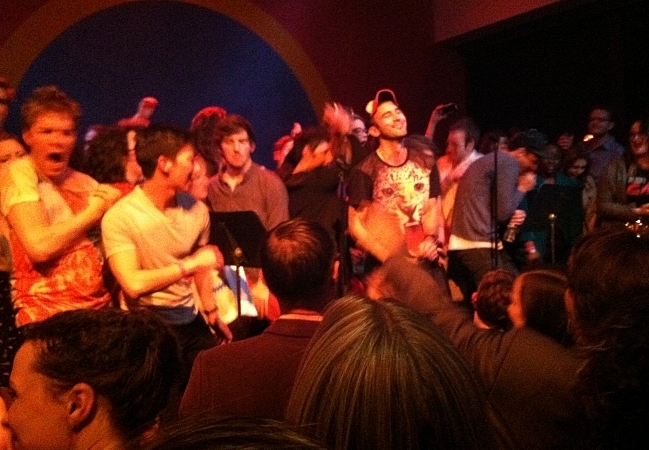 MPR photo/Mark Wheat
So the musical portion of the blog this week is a new track from Sisyphus that was inspired by Jim Hodges, a Barcelona shirt-wearing non-fan!...
Sisyphus - "Calm It Down" (lyric video)
Have you been following the FA Cup or the Champions League? Do you have any predictions or teams you'd like to see do well? Share your thoughts in the comments section below.
Resources
Related Stories
On The Ball with Mark Wheat: Meeting a Coaching Legend It was another mind-boggling week in the Premier League, with Arsenal getting thumped by Liverpool and Norwich City shutting down the Manchester City scoring machine. Closer to home, Mark Wheat got to meet a coaching legend: Sweden's National Women's Team (and former U.S. Women's National Team) coach, Pia Sundhage. She shares her insights -- and her music!
On the Ball with Mark Wheat: Like a Pass in Reverse This week, Mark takes a look at which sides in the Premier League showed character -- and which did not; meanwhile, a vital Monday game pits Chelsea against Manchester City. Plus, a look ahead to a luncheon with 2012 FIFA Coach of the Year Pia Sundhage, and a Brazilian-style rainbow pass demonstration from none other than Annie Clark, aka St. Vincent.
On The Ball with Mark Wheat: The Romance of the FA Cup This week, Mark Wheat looks at the excitement and romance of the FA Cup, where the huge teams are sometimes surprised by the minnows. Plus, an exclusive interview with Jake Bugg about Bugg's support of Notts County F.C.
---
comments powered by

Disqus