Stephen Malkmus and the Jicks perform in The Current's studio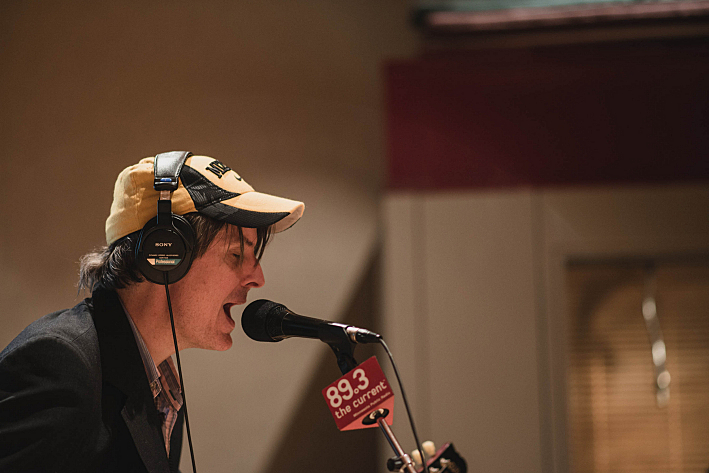 In town to play a show at The Cedar Cultural Center in Minneapolis, Stephen Malkmus and The Jicks stopped by The Current's studio to play a few tunes off their new album, Wig Out at Jagbags, and to talk with Steve Seel.
Malkmus — who fronted the band Pavement, considered the definitive indie band of the '90s — continues his enduring career with The Jicks. Speaking to The Current's Steve Seel, Malkmus describes how Pavement owed their early success to Gerard Cosloy, who gave Pavement a positive review in the early '90s fanzine, Conflict.
But Malkmus's writing and performing continues apace as he and the Jicks have six albums to date, the most recent one being Wig Out at Jagbags — a name Steve Seel describes as the "most Malkmusian" thus far. Malkmus shares a few of his rejected album names, and he also talks about what it was like to live in Berlin, what it's like to live in Portland, Ore., and which artists his daughters — ages 9 and 6 — enjoy.
Songs Performed
"Chartjunk"
"Independence Street"
"Cinnamon and Lesbians"
All songs off Wig Out at Jagbags, out now on Matador Records.
Hosted by Steve Seel
Produced by Jade
Engineered by Michael DeMark and Andrew Danielsson
Guests
Stephen Malkmus and The Jicks
Resources
Related Stories
7 Photos
Joanna Bolme, bassist of Stephen Malkmus and the Jicks.

(MPR photo/Nate Ryan

)

Stephen Malkmus and Jake Morris of Stephen Malkmus and the Jicks performing in The Current's studio

(MPR photo/Nate Ryan

)

Stephen Malkmus and the Jicks perform in The Current's studio.

(MPR photo/Nate Ryan

)

Mike Clark of Stephen Malkmus and The Jicks.

(MPR photo/Nate Ryan

)

Stephen Malkmus performing in The Current's studio.

(MPR photo/Nate Ryan

)

Stephen Malkmus and The Jicks perform in The Current's studio.

(MPR photo/Nate Ryan

)

Mike Clark of Stephen Malkmus and The Jicks at the piano in The Current's studio.

(MPR photo/Nate Ryan

)
View 6 more photos