Album Review: Temples, 'Sun Structures'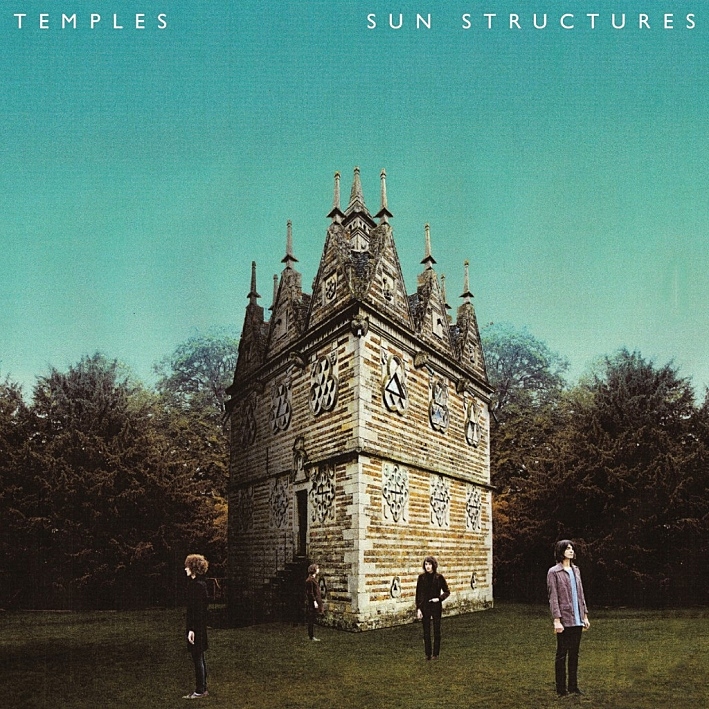 Listening to Temples, a four-piece band from England, one is immediately aware this band did not set out to make a modern-sounding record. SUCCESS!
Sun Structures is filled with reverb-soaked vocals and fuzzy guitars that whirl around you like a 1960s or '70s blizzard of sound. Drawing from their traceable inspiration of the Beatles' more psychedelic period and bands like the Zombies, the band have crafted a combo of tunes that will make you wanna wear velvet trousers and take a rip off a giant bong. There, I said it.
The singer James Bagshaw, who recorded and produced the album in his house, makes no secret of his infatuation with vintage rock in general. In fact, the whole thing sounds like it was recorded onto cassette.
The band started as a duo in the summer of 2012 in Kettering, Northamptonshire, and had posted a video of their very first song on YouTube. Building a quick following that included record labels and the likes of British tastemakers Noel Gallagher and Johnny Marr claiming them to be the best band in Britain despite little radio airplay.
Temples seem happy to live in a borrowed era. On their first single, "Shelter Song", it's easy to see why the hype train followed the band. It's perhaps the most catchy tune on the record, setting a tone for the remainder of the record with its unrelenting psychedelic sound. Another standout track is the T Rex-influenced "Keep in the Dark". The band are easily on their way to perfecting a trippy, layered wash of fuzz pop. In fact, you could play a drinking game by simply reading reviews of Sun Structures — take a drink every time the word "psychedelic" or "fuzz" is used. Trust me; you'll be hammered.
Having played major UK and European festivals supporting Kasabian and the Vaccines, Temples are poised to take on headlining gigs in 2014 with the formal release of Sun Structures.
Are you drunk yet?
Have you heard the album? What do you think of it? Share your thoughts in the comments section below.
Resources
Related Stories
First Listen: Temples, 'Sun Structures' The young English band weaves '60s inspirations into crazy-beautiful, richly idiosyncratic music.
New Hot's 15 most anticipated albums of 2014 Now that the year-end lists have finally settled, it's time to build up anticipation for what's to come, so The Current's Music Director and New Hot host, David Safar, has put together a list of the most anticipated albums of 2014. Some records come from familiar artists with definite release dates, some have only have European or Australian releases and some may have been released in late 2013 but are just about to make their big splash in the new year.
---
comments powered by

Disqus