Kins perform live in The Current's studio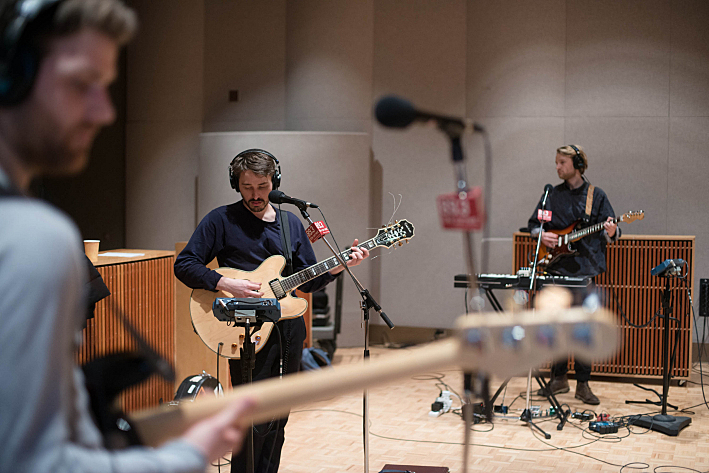 In town to play a gig at the Turf Club in St. Paul, four-piece dream-pop band Kins stopped by The Current's studios to play some songs off their self-titled debut album and to chat with Mark Wheat.
Front man Thomas Savage grew up in the suburbs of Melbourne, Australia, where he launched his music career and even lived in a house with a number of other musicians and songwriters. Eventually, Savage felt his options were limited in his native Australia, so he re-located to the seaside town of Brighton, England.
The creative climate of Brighton fuelled Savage's songwriting; being 90 minutes from London also helped the band get bigger gigs and tap into larger markets.
Listen to the audio to hear Savage describe the similarities between Melbourne and the Twin Cities, and to hear Mark Wheat and Kins compare and contrast the Brighton of Mark's youth with the Brighton of today.
Songs Performed
"Post Tropical Storm"
"Mockasin's"
"Aimless"
All songs off the album, Kins, out now on East City Records Ltd.
Hosted by Mark Wheat
Produced by Derrick Stevens
Engineered by Michael DeMark and Andrew Danielsson
Resources
Related Stories
9 Photos
Kins front man Thomas Savage

(MPR photo/Nate Ryan

)

Kins bassist Rob Walters

(MPR photo/Nate Ryan

)

Queline Cartwright of Kins on keys and guitar

(MPR photo/Nate Ryan

)

Kins drummer Alex Knight in The Current's studio

(MPR photo/Nate Ryan

)

Kins' Rob Walters and Thomas Savage in The Current's studio

(MPR photo/Nate Ryan

)

Kins front man Thomas Savage performs in The Current's studio

(MPR photo/Nate Ryan

)

Kins front man Thomas Savage takes a leaf from Mark Wheat's book by hanging in the studio in his socks.

(MPR photo/Nate Ryan

)

Kins front man Thomas Savage performs in The Current's studio

(MPR photo/Nate Ryan

)

Kins multi-instrumentalist Queline Cartwright tunes his guitar.

(MPR photo/Nate Ryan

)
View 8 more photos
---
comments powered by

Disqus