Arcade Fire live at the Target Center in Minneapolis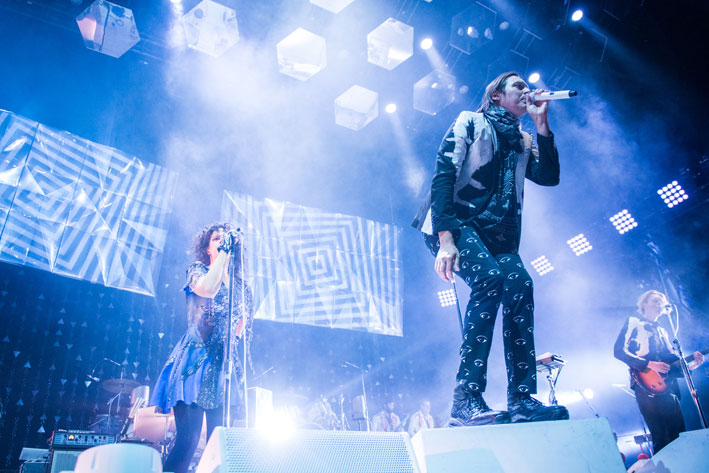 In one of the most-tweeted moments of Arcade Fire's March 8 performance in Minneapolis, Win Butler declared, "This is the perfect song for the Target Center. It's called 'The Suburbs.'"
The gag resonated not just because it was a knowing reference to Minnesota—in a show that left absolutely no doubt that the band didn't have to check their set lists to figure out what state they were in—but because it alluded to the incongruity of the indie-darling Canadians playing a venue typically reserved for pop juggernauts.
Despite the Grammy they scooped for The Suburbs (2010), jumping from auditoriums to arenas to tour behind their 2013 album Reflektor was a gamble for the band, who have built a large following with their four acclaimed albums but have never had a hit single. (By comparison, R.E.M.'s rise from 80s cult status to 90s stadium stardom was greased by copious Top 40 airplay.) As thousands of fans who might more typically be seen across the street at First Avenue crossed over to the cavernous basketball arena, there was an unmistakable giddiness—like we'd all been given a free upgrade.
Given a whole arena to play with—an opportunity that might or might not ever present itself again—Arcade Fire gave their fans an experience quite unlike the typical Target Center show, and not just because of the ironic references to the venue's name.
As fans queued in the lobby before the show—dressed, per instructions, in a mixture of formalwear and costumes (up to and including a human bottle of ketchup)—the doors opened and a group of people in giant Arcade Fire prop heads walked up a red carpet, waving merrily. These were "the Reflektors," an alternate-universe version of the band who go by the name Arcade Fire used when playing semi-secret shows leading up to Reflektor's release.
Were those actually the members of Arcade Fire under those heads? That wasn't apparent, but it was definitely Win Butler under the giant head of the Win Butler figure who came out to boogie with fans in a dance circle formed by opener Dan Deacon. The Arcade Fire frontman briefly whipped the head off to reveal his identity, and even then, fans had to tweet each other before we could believe our own eyes.
Further evidence that this wasn't the average arena rock show came in the form of first opener Kid Koala, an expert turntablist who mumbled his way through an idiosyncratic set—including a remix of "Moon River"—while standing on a hydraulic stage behind Arcade Fire's soundboard, decked out with barrels and camouflage netting as though the koala-suited DJ was off to find Colonel Kurtz.
Arcade Fire's set began with a touch of surreal theatricality, spotlights illuminating a strange humanoid figure completely enveloped in a suit of mirrors. The sparkling figure climbed to the raft stage, where it was revealed that Butler and Regine Chassagne were waiting for him, singing "My Body is a Cage" in a moment of spare darkness that quickly yielded to blinding light as the mainstage curtain fell to reveal Arcade Fire's dozen-strong touring band playing Reflektor's hard-hitting, danceable title cut.
The energy level didn't flag for the duration of a barnstorming set that drew on Arcade Fire's sizable body of anthemic songs built for fist-pumping and shouting along. The band dazzled visually as much as musically, with the gleaming stage set including two silver conga drums, a dancing string section, and hexagonal clusters of screens on which the band members—most often marquee married couple Butler and Chassagne—were projected.
"Sprawl II (Mountains Beyond Mountains)," the stirring Suburbs cut with lead vocals by Chassagne, brought the band's set to a close; a minute after the lights went down, though, the bobble-headed Reflektors were revealed standing on the satellite stage. The un-Butler announced that the band would play a song by "a local boy made good; his name is Cyndi Lauper." With that, Prince's recording of his own "When You Were Mine"—a song that was covered by Lauper on her 1983 breakout album She's So Unusual—played over the PA while the Reflektors played air-band.
That segued to the actual Arcade Fire playing an actual Prince cover: "Controversy," the 1981 single that featured "When You Were Mine" as a b-side. Adding frosting to that local flavor, Butler spent that song wearing a cube-hat with screens that alternately depicted Prince and Michele Bachmann. The band closed out the show with Reflektor's "Here Comes the Night Time" and "Wake Up," the song off their debut Funeral that indie rock fans a decade ago couldn't stop playing.
Arcade Fire played that song with David Bowie in 2005, among the first in a string of rock-legend sign-offs—including a joint SPIN cover appearance by Butler and Bruce Springsteen in 2007—that gave early notice Arcade Fire were anointed to rise among the greats. Now almost halfway to Rock 'n' Roll Hall of Fame eligibility, Arcade Fire are indeed continuing to rise—but decidedly on their own terms.
- text by Jay Gabler, photos by Nate Ryan
Setlist
My Body Is a Cage
Reflektor
Flashbulb Eyes
Neighborhood #3 (Power Out)
Rebellion (Lies)
Joan of Arc
Rococo
The Suburbs
Ready to Start
Neighborhood #1 (Tunnels)
We Exist
Normal Person
No Cars Go
Haiti
Afterlife
It's Never Over (Oh Orpheus)
Sprawl II (Mountains Beyond Mountains)
Encore
Controversy (Prince cover)
Here Comes the Night Time
Wake Up
Guests
Related Stories
Arcade Fire, live from First Avenue, Sept. 29, 2005 Almost one year exactly after their debut record Funeral released, Arcade Fire made their second Twin Cities stop in Minneapolis for a sold out show in First Avenue's mainroom. The Current was there to roll tape, and now you can relive one of the most talked about shows among Arcade Fire fanatics nearly 10 years after its recording.
Arcade Fire live from Los Angeles Arcade Fire played Capitol Records studios in Los Angeles on Oct. 28; the eve of their highly-anticipated 'Reflektor' album release. With their recent announcement of live shows throughout the country,you'll want to hear this incredible hour-long show, (Sun. Nov. 17 at 10 p.m.) including an amazing tribute to the late Lou Reed.
25 Photos
Arcade Fire take the stage.

(MPR Photo / Nate Ryan

)

Arcade Fire at the Target Center, March 8, 2014.

(MPR Photo / Nate Ryan

)

Tim Kingsbury

(MPR Photo / Nate Ryan

)

Win Butler

(MPR Photo / Nate Ryan

)

Front row fans at the Arcade Fire show at Target Center.

(MPR Photo / Nate Ryan

)

Regine Chassagne of Arcade Fire.

(MPR Photo / Nate Ryan

)

Richard Reed Parry

(MPR Photo / Nate Ryan

)

Arcade Fire took the stage wearing masks.

(MPR Photo / Nate Ryan

)

Win Butler greets fans

(MPR Photo / Nate Ryan

)

Regine and Win close out "Reflektor."

(MPR Photo / Nate Ryan

)

Regine Chassagne

(MPR Photo / Nate Ryan

)

Arcade Fire

(MPR Photo / Nate Ryan

)

Diol Edmond and Tiwill Duprate on percussion

(MPR Photo / Nate Ryan

)

Arcade Fire from the balcony

(MPR Photo / Nate Ryan

)

Horns add color to the songs early in Arcade Fire's set.

(MPR Photo / Nate Ryan

)

"Flashbulb Eyes"

(MPR Photo / Nate Ryan

)

William Butler on keyboards

(MPR Photo / Nate Ryan

)

Regine Chassagne behind the reflective pedestals

(MPR Photo / Nate Ryan

)

Sarah Neufeld

(MPR Photo / Nate Ryan

)

Win Butler sings "Flashbulb Eyes"

(MPR Photo / Nate Ryan

)

Arcade Fire applauds the audience.

(MPR Photo / Nate Ryan

)

Regine Chassagne on steel drums

(MPR Photo / Nate Ryan

)

Tim Kingsbury

(MPR Photo / Nate Ryan

)

Arcade Fire spared no expense when it came to the confetti budget.

(MPR Photo / Nate Ryan

)

Arcade Fire at the Target Center.

(MPR Photo / Nate Ryan

)
View 24 more photos
---
comments powered by

Disqus