On The Ball with Mark Wheat: Northern Soul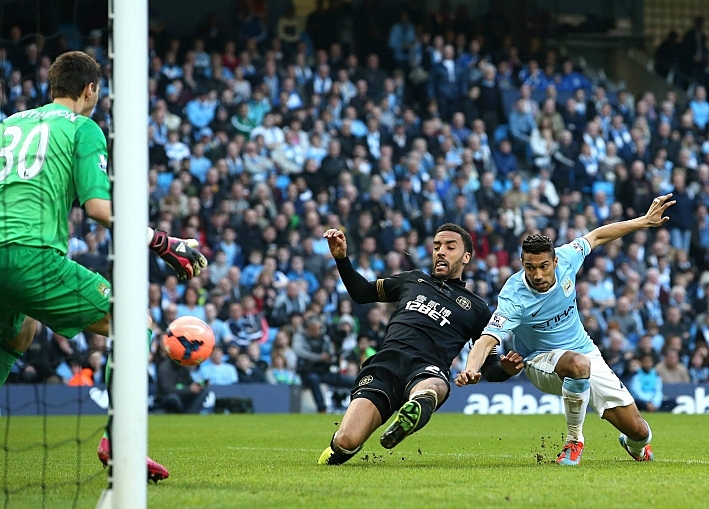 On the Ball with Mark Wheat is a new Monday feature on The Current that celebrates the connections between music and soccer, with an eye to the past weekend's results. Listen Mondays at 7 p.m. as Mark plays the music selection of the week.
Schadenfreude is a German word that has no real English equivalent; it means pleasure derived from the misfortunes of others. Anti-compassion. So it was tough for me when I realized that I was feeling it. Especially after hearing the Dalai Lama speak last Saturday and being involved in a Nobel Peace Prize Forum with Mason Jennings this weekend!
While watching Wigan beat Man City in the FA Cup game on Sunday morning, Maren, the missus, asked me why I kept giggling. Being German she recognized it as classic schadenfreude when I told her why, and she scolded me for exhibiting such unseemly behavior!
Manchester City v Wigan Athletic highlights (courtesy the FA)
The joy I felt at City's expense was doubled, of course, by having watched United on Saturday morning turn in perhaps their best effort yet to beat West Brom 3-0. I liked the fluid movement of the midfield, Mata turning up all over the place, once even literally on the United goal line to save a certain goal: Marouane Fellaini looked close to comfortable in his own skin and has apparently been designated an aerial target man; and Phil Jones was given the Man of the Match award by NBC, scoring the first goal and making many timely interceptions in his first game back after injury in a new central defensive role.
West Bromwich Albion v Manchester United highlights (via NBC Sports)
In my defense, the joy was also compounded by the romance of the Wigan story. Last year they won the Cup Final against Man City, but were relegated into the Championship, in which they're struggling this season. The small town — which is dwarfed in import by its close, dual noisy neighbors of Liverpool and Manchester — has a soul thing going on. Their supporters draped "Believe" flags around the mighty Eithad Stadium. There were also a few "Do It For Ben" signs and many fans wore masks representing one of the team heroes, Ben Watson, who suffered a double fracture of his leg a few weeks ago.
Perhaps those supporters will be disappointed that they are drawn against the remaining favorites in the semi-final, Arsenal, who easily took care of Everton. The other semi has two teams that might have been easier for Wigan to beat, Hull and Sheffield United, but then FA Cup giant killers have to kill their giants whenever they can! It will be a great story for either Hull or Sheffield to get into the prestigious final. Sheffield are in League One, a division below Wigan! If they both make it, I think it will be the first time ever that two teams play in the final who are NOT in the top division of English football. That's why the FA Cup is a fan fave; you can't make up stories like that. Hull and Sheffield are also both in Yorkshire, the largest county in England with a very proud populace who have not had a great team in their midst for some time. And Wigan are a Lancashire side, neighboring long-standing rivals to Yorkshire, so if they do beat Arsenal, the Final will be a rematch of the War of the Roses! (England's Civil War)
One last reason why my schadenfreude was justified (although it shouldn't ever be, really!), is that Manuel Pellegrini, the Man City boss, has recently been boasting that they were capable of winning all four trophies. They did win one last week — the smallest — but on top of this FA Cup debacle, they're on the verge of going out of the Champions League on Wednesday against Barcelona, and if they don't play better for the rest of the season, I can't see them amassing enough points to overhaul the rampaging Chelsea.
Blues boss Jose Mourinho, on the other hand, refused to acknowledge his team as Premiership faves this weekend ahead of beating Spurs 4-0 to take a nine-point lead over Man City, who have three games in hand. I thought Tottenham were unlucky; they were dominating it until a dodgy penalty decision left them with 10 men. I agree with the commentators of the game who said we have to change this rule. If a player denies a goal-scoring opportunity from outside the box, he should be given a straight red card, but if it's in the box, a penalty is punishment enough.
Chelsea v Tottenham Hotspur highlights (via NBC Sports)
So I still stand by my prediction that Spurs will make it into the Top 4. But on recent form, maybe it will be Man City that they "replace", NOT Liverpool!?
Meanwhile at the bottom, my mid-season predictions for the drop all seem to have momentum: Aston Villa have climbed clear of immediate danger; Cardiff had a massive "6 point" win this week over Fulham, who have sunk to the bottom of the table; and Sunderland's Cup heroics also suggest that they believe as well. It remains to be seen who has enough soul to escape.
Speaking of which ... the obvious musical link to make this week is to a strange musical phenomenon called Northern Soul. It is a mix of soul and R'n'B from the USA that became popular in the '70s in the large dance clubs of northern Britain — most famously, The Wigan Casino! Late last year, our friends on NPR celebrated a revival that it's having in — San Francisco?!
And the BBC did a great short documentary on it, calling it "the birth of late-night dance-club culture in Britain":
"Northern Soul: Keeping The Faith", The Culture Show on BBC2, Sept. 25, 2013
Listen at 7 p.m. when I play a song from the Northern Soul genre!
Which game or games did you watch this weekend? What are your thoughts about them? Have you ever experienced schadenfreude at the expense of your team's rivals? Share your thoughts in the comments section below.
Resources
Related Stories
---
comments powered by

Disqus