On The Ball with Mark Wheat: Three-Horse Race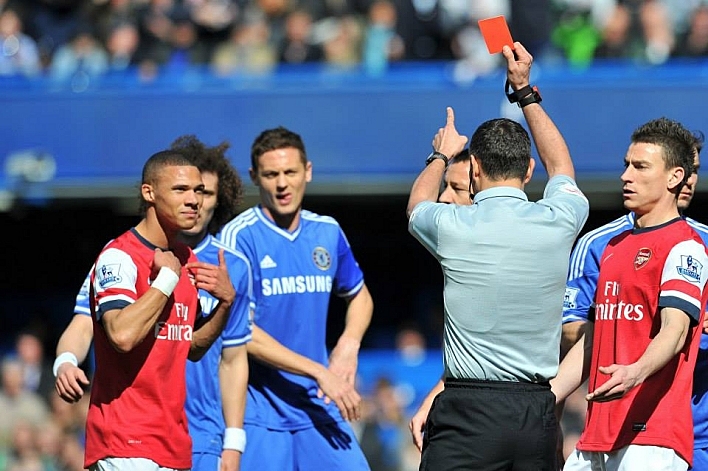 On the Ball with Mark Wheat is a Monday feature on The Current that celebrates the connections between music and soccer, with an eye to the past weekend's results. Listen Mondays at 7 p.m. as Mark plays the music selection of the week.
I mentioned at the start of the season that I was doing the BPL Fantasy League for the first time ever. Haven't written about it since because I'm pants at it (another silly British saying for being very bad at something!). But I went up about 120,000 places to 1,481,750th in the league, scoring more than 100 points for the first time ever! It's because this weekend's goal fest — the highest scoring weekend in more than three years, just two shy of the record — saw almost every one of my team members score: my captain, Yaya Touré, got three! Oscar two, Lallana, Rodriguez, Snodgrass and Bony one each, and then Liverpool defender Skrtel got two!! I couldn't bring myself to pick The Reds' hat-trick hero Suarez, and I can't afford him now — he's the highest Fantasy points scoring player with 28 goals in real life!
What he's achieved this season is extraordinary, but perhaps more amazing is that his striking partner Daniel Sturridge is second in the 'Golden boot' (given to the top scorer for the season) race so that Liverpool have already broken their own goals for a season record, with eight games still to play!
It gave me a lump in my throat to hear the Liverpool supporters singing as loudly as if they were at home, "We're going to win the league." It's the first time in more than 20 years that they can sing that song with belief. Growing up through the era when they dominated the domestic league and became the first major successful English team in Europe, I always loved hearing their famous Kop sing.
Liverpool are still the outsiders in the title race, which was made a three-horse race by the first game of the weekend. And it was all over after 20 minutes with Chelsea 3-0 up and Arsenal down to 10 men.
Chelsea v Arsenal game summary (via NBC Sports):
I ALMOST feel some sympathy for the Gooners; is it really going to end in tears AGAIN for them?! They take on Man City next weekend for what will surely be their last chance to get back into the fight for the top. One of our senior managers here at APM, Vice-President for Content David Kansas, is going over to London to watch that match. He'll report back on this blog next Tuesday (as I am off the air next Monday), so we asked him to set the scene by explaining his strange choice of Premier League team to support:
Today hardly seems the day to recall how I became a fan of the Arsenal, but a requirement of English football is that you stick with your side no matter what — even after an embarrassing 6-0 pasting at the hands of hated crosstown rival Chelsea over the weekend.

Back in the late 1990s, when American interest in European football was scant, I traveled to London to celebrate a friend's birthday. It was a quick trip, and I knew I'd be flying back and straight into work. So I needed a hat. I stopped at a store at Gatwick Airport and was drawn to a blue hat. The hat had a nice gold cannon on the front and "Arsenal" on the back. I liked it, bought it, and decided to become a Gunner backer at that point. It didn't hurt that they soon thereafter won the double, winning both the Premier League title and the FA Cup in 1998.

The choice of Arsenal seemed almost predestined. Not long after, I started doing a lot of business in London (I lived in NYC at the time). And I soon became friends with a guy who had grown up in Minnesota, had moved to London and had become a big Arsenal fan. In fact, he owned — and still owns — very nice season tickets. He and I have watched games together at Highbury (Arsenal's home stadium from 1913 to 2006) and now at Arsenal's new ground, the Emirates Stadium. My friend and I even both lived in London for a brief period. I've since moved back to the Twin Cities, and he's now in Singapore. But we still love our Gunners.

This Saturday, I will be sitting in his seats watching the Gunners take on Manchester City. It's my birthday present! Let's hope it's better than this past weekend's match.

And the hat? I'm afraid I lost it during one of my many moves. Will need to get a new one this weekend.
I hope you have a great time at the Emirates on Saturday, David! When he and I first exchanged emails about this, David said that he heard this song at his first Arsenal game as the players came out:
Which games did you watch this weekend? Which songs remind you of your team? Share your thoughts in the comments section below.
Related Stories
On The Ball with Mark Wheat: Song for the Non-League Sides A bit of karmic comeuppance for Mark Wheat's schadenfreude as Manchester United lose 3 - 0 to Liverpool in a match that included a remarkable three penalties. Meanwhile, Minnesota United have been on tour in England, and their win versus Matlock Town F.C. last week is the inspiration for today's song pick.
On The Ball with Mark Wheat: Northern Soul The hubris of certain Premiership managers stirs some schadenfreude in Mark Wheat this week; plus, exciting results from the FA Cup shift Mark's attention to Wigan and the musical subgenre known as Northern Soul.
On The Ball with Mark Wheat: A Roundup of Soccer Talk & Tunes A busy weekend for Mark Wheat meant not as much soccer-watching as usual, but it certainly didn't cut down on the soccer-related conversations and news, plus a surprising music pick.
---
comments powered by

Disqus