Johnny Cash's lost album, 'Out Among the Stars', releases today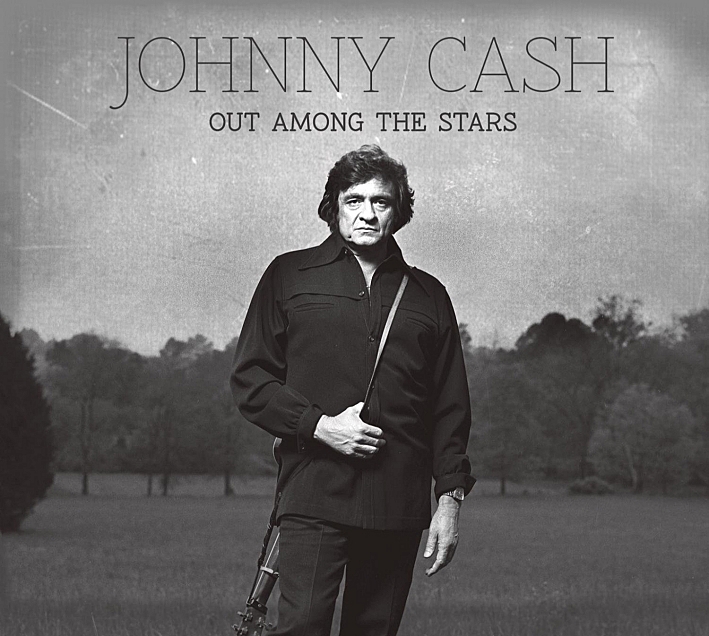 OK, it ain't the Holy Grail, but if you are fan of Johnny Cash, this is really exciting: Out Among the Stars releases today. An album of unheard songs by Johnny Cash — that's big news! (Full disclosure: I am a massive Johnny Cash fan. I have a picture of Johnny Cash on my wall at home and a Johnny Cash action figure in my work cubicle.) And this is an actual album, not your typical "cobbled together from assorted studio outtakes, remixes, and rarities" release.
This one was originally meant to be the follow-up to Cash's 1981 album The Baron, which sold poorly in the post-Urban Cowboy era. At that point in his career, Johnny's record company had no idea how to market his music. Hard as it is to imagine, The Man in Black was on the verge of being dropped by his label. The '80s weren't very kind to many legendary artists.
After a substance relapse and fresh from out of treatment, Johnny Cash recorded these songs in 1984 with famed country-politan producer Billy Sherrill; the songs were ultimately shelved and forgotten by Cash's record company. Eventually, Johnny's son, John Carter Cash, found the tapes, which had been missing and weren't quite complete, so he called in a few A-list musicians like Marty Stuart — who was part of the original sessions — and Buddy Miller to finish it up.
From beyond the grave, Johnny Cash gets the last laugh. He is in strong voice on a strong batch of songs; ain't no grave gonna hold his body down! Out Among the Stars almost fits right in with the American series that relaunched his career a decade later.
The lead and title track, "Out Among the Stars," struck me from the get-go with Cash's "voice of god" shining through on a track that features a full choir. The album then features "Baby Ride Easy," which might be the best Johnny-and-June duet since "Jackson." You'll be singing along, even on first listen! All the duets on Out Among the Stars are priceless; a still-healthy Waylon Jennings wandered into the studio and joins Cash on the Hank Snow classic, "I'm Movin' On" — this one is pure gold!
Mr. Cash sounds like had had a blast recording some of these tunes. "If I Told You Who It Was" tells the story where Cash changes the flat tire of a female country star. When you learn who it is, you'll bust out in laughter. (It's not who you'd think!) Later, Johnny sounds like he was having a devilish good time on the track, "I Drove Her Out of My Mind".
Cash also contributes a couple of very personal songs he wrote, "Call Your Mother" and "I Came to Believe," where he explains the religion that is so important to him. The hymn-like quality of the latter one will get you to church on time.
Johnny Cash's Out Among the Stars might not make any converts, but for Cash fans like myself, this is a must-hear album!
Resources
Related Stories
Lost Album Gives Voice To A Johnny Cash In Recovery Fresh out of rehab and a rocky point in his marriage to June Carter, Cash recorded an album in the early 1980s that his fans never got to hear.
Bill DeVille's musical postcard from Nashville The Current's Bill DeVille recently visited Nashville, Tenn., to attend the Americana Music Conference — very fitting for the host of United States of Americana! Read about and see photos of Bill's experiences in "Music City."
Rosanne Cash performs live in The Current studios Children of famous parents sometimes have a hard time adjusting to life in their parents' shadow. Not so for Rosanne Cash, the daughter of the late Johnny Cash. Throughout her thirty-year career, Cash has been a vibrant and engaging force in the country music world.
---
comments powered by

Disqus