Sam Roberts Band perform in The Current's studio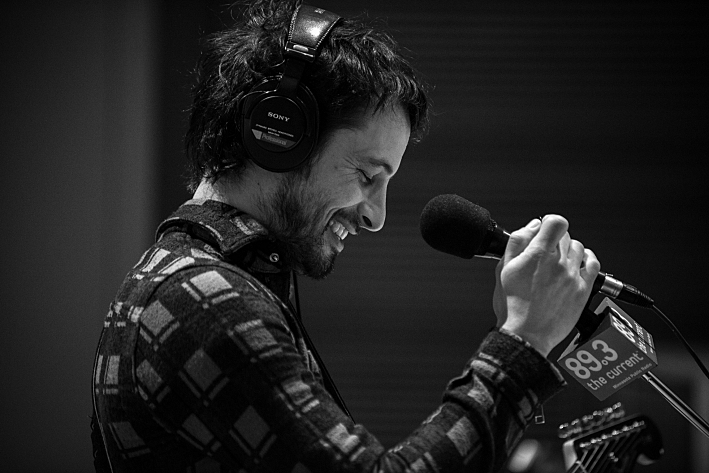 In town to play a show at the Turf Club in St. Paul, Minn., Montreal-based six-piece Sam Roberts Band stopped in to The Current's studio to play some tracks off their new album, Lo-Fantasy and to chat with the Morning Show's Jill Riley.
Lo-Fantasy is only the second album by the group to be released under the "Sam Roberts Band" moniker; even though that's the name by which people generally referred to the band, Roberts says it was important to put it on the cover of the group's records (2011's Collider being the first to make the statement).
Beyond the band's name, Roberts spoke to Riley about the meanings behind his songs — something many songwriters are hesitant to do. He also talked about what it was like to work with producer Martin Glover — aka Youth — on Lo-Fantasy.
Listen to the entire interview to hear what Roberts has to say about the Juno Awards, about playing at the 2010 Winter Olympic Games and about what he thinks is his most memorable gig to date.
Songs performed
"We're All In This Together"
"Shapeshifters"
"Never Enough"
All songs off Sam Roberts Band's 2014 release, Lo-Fantasy, out now on Paper Bag Records.
Hosted by Jill Riley
Produced by Jade
Engineered by Michael DeMark and Andrew Danielsson
Guests
Resources
Related Stories
Sam Roberts Band performs in The Current studio The Sam Roberts band, the five-person Canadian indie-rock band led by their namesake singer-songwriter, recently released their fourth full-length album, Collider. The album offers more of the band's trademark catchy, classic-rock-infused style, but features surprising and interesting guest contributions from members of Chicago rockers Califone and Afrobeat revivalists Antibalas.
Sam Roberts performs in The Current studios A superstar in the Canadian music world, Sam Roberts' songwriting has garnered him multiple Juno Awards and plenty of critical acclaim in both the U.S. and Canada.
12 Photos
Sam Roberts Band's Dave Nugent, guitar, and Chet Doxas, saxophone.

(MPR photo/Nate Ryan

)

Sam Roberts Band in The Current's studio

(MPR photo/Nate Ryan

)

Sam Roberts in The Current's studio

(MPR photo/Nate Ryan

)

Sam Robert's Band's Chet Doxas (sax) and Dave Nugent (guitar)

(MPR photo/Nate Ryan

)

Sam Roberts Band performing in The Current's studio.

(MPR photo/Nate Ryan

)

Eric Fares on keyboards with Sam Roberts Band

(MPR photo/Nate Ryan

)

Sam Roberts Band saxophonist Chet Doxas

(MPR photo/Nate Ryan

)

Sam Roberts Band performing in The Current's studio

(MPR photo/Nate Ryan

)

Sam Roberts Band performing in The Current's studio

(MPR photo/Nate Ryan

)

Sam Roberts in The Current's studio

(MPR photo/Nate Ryan

)

Producer Jade and sound engineer Michael DeMark during the Sam Roberts Band session.

(MPR photo/Nate Ryan

)

Sam Roberts in The Current's studio

(MPR photo/Nate Ryan

)
View 11 more photos
---
comments powered by

Disqus