Album Review: Foster the People, 'Supermodel'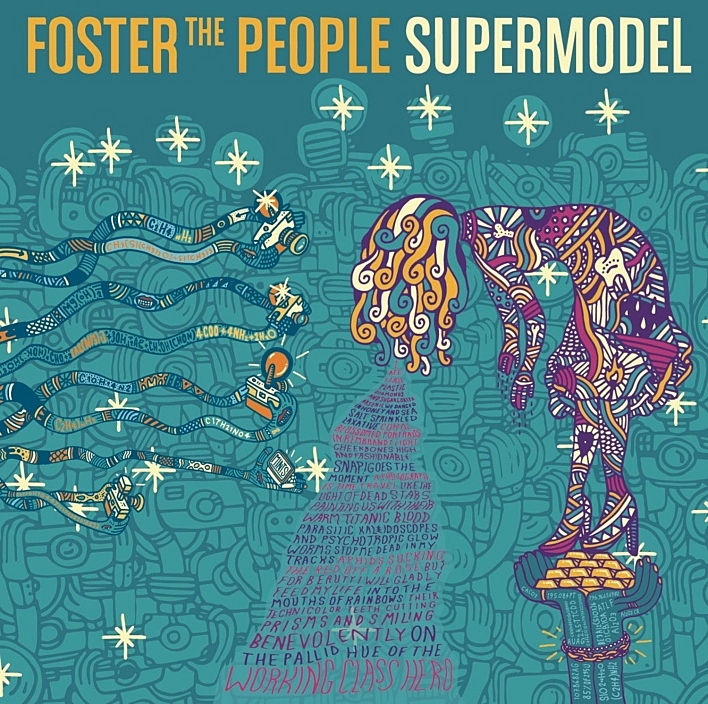 Foster the People have made an admirable effort to inject an even more adventurous spirit into their second album, Supermodel, with a mixed bag of new sounds that range from catchy to unfortunate.
What jumps out are the parallels with '70s classic rockers Boston. Both bands hit it big with an enormous, insta-anthem that riffed on several other pop standards, built largely by one man before his band even had a record deal, followed by a full-length album that produced even more visibility. That original single, whether it be "More Than a Feeling" or "Pumped Up Kicks," will always loom over the band, whether as an albatross or as a future challenge.
Boston spun the formula into a series of like-minded, increasingly faceless ("corporate rock") records, and Foster the People have found themselves at a similar juncture. They'd probably wince at the mere fact that "Pumped Up Kicks" is even brought up as a point of comparison. In this regard, they've also been compared during this new album cycle to MGMT, who deliberately eschewed producing any "hits" for their own sophomore release, to mixed results.
Mark Foster's lyrics on Supermodel predictably cover the perils of fame, and the insecurities of wondering whether you've made the right choice after all. If you enjoy listening to rock stars express angst about the moral quandaries of being a rock star, you'll be able to absorb many life lessons. Like the late Brad Delp of (who else?) Boston, Foster sings in an agile voice that can alternately impress and grate. His falsetto is occasionally used to nice artistic effect, but most of the record sounds like someone at a karaoke bar who's been dared to sing Alt-J songs in Adam Levine's voice.
Enlisting a Grammy winner for Producer of the Year is a decent way to mask any glaring shortcomings, and Paul Epworth does his very best to make the record sound at least a little interesting. Lead single "Coming of Age" boasts some admittedly catchy guitar riffs, and tracks like "Ask Yourself" and "Best Friends" will work as passable follow-up singles. Unfortunately, all the songs, except the 30-second a cappella Beach Boys tribute "The Angelic Welcome of Mr. Jones" (even the title is self-indulgent!), stretch to the four-and-a-half minute mark and beyond, blunting whatever meager momentum is constructed. After "A Beginner's Guide to Destroying the Moon," which fritters away its promising title on another dull experiment, the record plunges into an abyss of forgettableness.
I go through phases where I feel like I've surpassed Peak Boston and I would be okay with never hearing "More Than a Feeling" again, before — as in the song — I'll hear it on the radio and it brings me back to the halcyon days of listening to classic-rock radio as a teenager. Maybe future generations will get that same nostalgic rush from randomly hearing "Pumped Up Kicks," and just as I'm in no hurry to pull out Don't Look Back, they won't be in any rush to revisit Supermodel.
Have you heard the album? What do you think of it? Share your thoughts in the comments section below.
Resources
Related Stories
Top 89 albums of 2011 The Top 89 albums of 2011 as voted on by listeners of The Current.
Foster the People perform live in The Current studio After a whirl-wind year of touring Foster the People, known for their synth-laced hazy pop, brought an acoustic set to The Current studio. The California trio spoke to Mark Wheat about their love of surfing, touring, and the German website that kick started their internet buzz.
---
comments powered by

Disqus