Gary Numan performs in The Current studio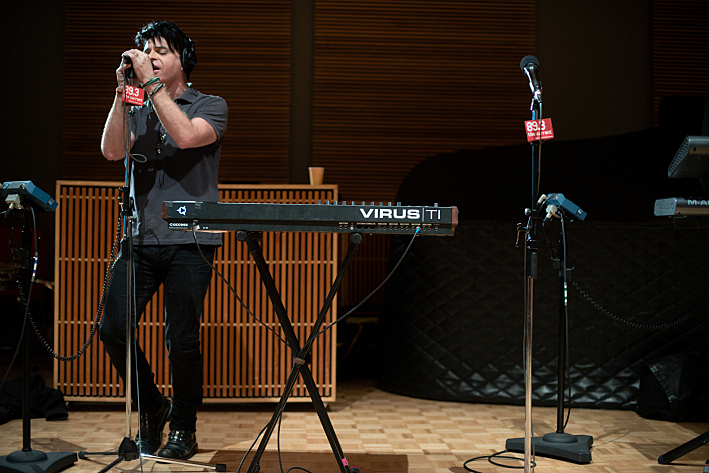 Between gigs at Mill City Nights in Minneapolis last night and Turner Hall Ballroom in Milwaukee on April 1, Gary Numan and his band stopped by The Current's studio to play some tunes and to chat with Mary Lucia.
Lucia and Numan hit it off very well, and Numan talks very openly about his career, his motivation for moving to Los Angeles, his family, his personality traits and his friendship with Trent Reznor of Nine Inch Nails. Numan also explains the deeply personal significance of his tattoos.
Listen to the full interview to hear all about this hard-working artist, dedicated family man and newly minted Angeleno.
Songs Performed
"Everything Comes Down to This"
"Metal"
"Love Hurt Bleed"
Songs one and three are off the album, Splinter (Songs from a Broken Mind), out now on Cooking Vinyl; "Metal" comes from Numan's 1979 album The Pleasure Principle.
Hosted by Mary Lucia
Produced by Derrick Stevens
Engineered by Michael DeMark
Guests
Resources
Related Stories
Gary Numan, Live In Concert Singer and composer Gary Numan is considered a pioneer of synth-based electronic music who has often featured a heavy rock influence. For this special Mountain Oasis set, Numan performed a number of his classic hits, as well as new tracks from his 2013 album, 'Splinter.'
10 Photos
Gary Numan performs in The Current's studio.

(MPR photo/Nate Ryan

)

Gary Numan performs in The Current's studio.

(MPR photo/Nate Ryan

)

Guitarist Steve Harris of Gary Numan's band

(MPR photo/Nate Ryan

)

Gary Numan's keyboard player Ade Fenton

(MPR photo/Nate Ryan

)

Drummer Richard Beasley with Gary Numan's band

(MPR photo/Nate Ryan

)

Gary Numan performs in The Current's studio.

(MPR photo/Nate Ryan

)

Gary Numan performs in The Current's studio.

(MPR photo/Nate Ryan

)

Gary Numan performs in The Current's studio.

(MPR photo/Nate Ryan

)

Gary Numan performs in The Current's studio.

(MPR photo/Nate Ryan

)

Gary Numan performs in The Current's studio.

(MPR photo/Nate Ryan

)
View 9 more photos
---
comments powered by

Disqus