The Current's Guitar Collection: Martin Courtney of Real Estate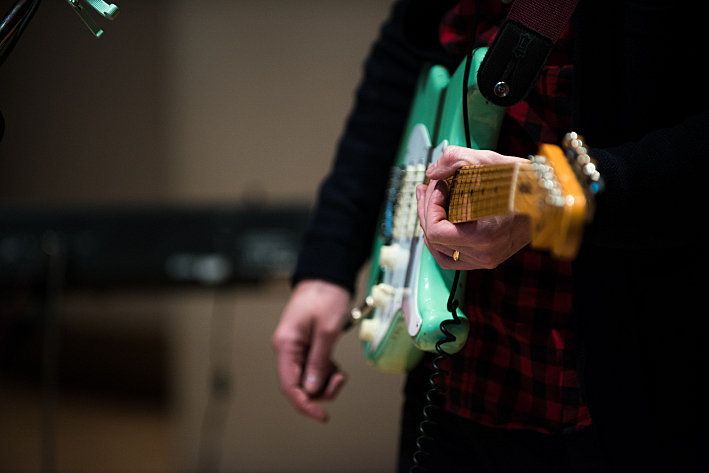 When Brooklyn, N.Y.-based five-piece Real Estate were in town to play a gig at the Fine Line in Minneapolis, they stopped in to The Current for an in-studio session hosted by Mark Wheat.
Real Estate front man Martin Courtney's sea-foam green Fender Stratocaster caught everyone's eye. Courtney took a few minutes to tell us how it caught his ear.
How long have you had this Fender Stratocaster?
I've had it for about two-and-a-half years. I was new when I got it, so it's not that special — or it is, though, because I like it, because it's mine!
Where did you get it?
Guitar Center! (Laugh) Like, literally, I was just, like, "I need something." I had been playing a Telecaster for probably about a year-and-a-half on the road, and I really like the way that they sound, and I still use them in the studio. But they're a little bit more temperamental live; they're a little bit more twangy and it's sometimes hard to tame that twang.
I had played a Strat — one of my friend's guitars — and I thought it seems like more of a good tour or road guitar that is versatile and you can do anything with it.
So I just went to the store — I knew there are different types of Strats — but this one is a '59 reissue, and I just liked the way it felt and sounded. It's got different, older-style pickups on it.
And I found out that they only do this particular reissue in black, white and this green. I wanted to go for the green to make it more unique to me.
Plus the finish on it is a thinner coat, which I think affects the sound. It doesn't have the whole lacquer finish on it, which is kind of why it's all chipped up already, but I kind of like that, too.
How do you find the thinner coat affects the sound?
I'm going to sound dumb if I really try to explain it, because I don't know, but I like how this guitar is bright but it has a lot of body to it. Just hit the low E string through a nice amp, and it just sounds really good.
I'm obviously not a huge gearhead; I don't know too much about it, just that I like it.
Do you write a lot on this guitar?
No — I actually have this little Yamaha half-size, nylon-string acoustic guitar that I got on the road one time, just to have in the back of the van to play around with when we're driving. That guitar now lives in my living room, and I kind of wrote probably 75 percent of the record on that little guy.
It's small, it's cheap, but it sounds really nice. It was just a tour impulse buy. It's nice to have something you can strum on when you're just sitting around.
If you're writing on a travel-model guitar, is it difficult to make the transition to a full band when it's time to start arranging?
Whenever I wind up coming up with stuff, I'll hear it in my head as the full band. I'll just be strumming around and if I hear something I like, I'll just work out how it might sound electric or live or whatever.
One or two of the songs on this record are acoustic-driven, and I have an acoustic that I play on the road, so I didn't have to translate those songs from their acoustic beginnings.
Speaking of writing, you guys have often been compared to Luna — are they among your influences?
Yes — but not at first. But they and obviously Galaxie 500, the precursor to Luna became known to us because in the reviews of our first record, people were comparing us to Galaxie and I didn't really know that much about them at the time, but I became a big fan because of that.
I kind of discovered Luna myself by being a fan of Galaxie 500. We're all really big Feelies fans, and Stanley Demeski is the drummer in both the Feelies and Luna, which I think is another reason why I got into Luna.
So yes, probably in a subconscious way, Luna have ended up influencing our songwriting. All that '90s indie rock is good fodder for inspiration, definitely.
Resources
Related Stories
4 Photos
Real Estate perform in The Current's studio

(MPR photo/Nate Ryan

)

Real Estate perform in The Current's studio

(MPR photo/Nate Ryan

)

Real Estate's Martin Courtney in The Current's studio

(MPR photo/Nate Ryan

)

Guitar case with sea-foam green Fender Stratocaster in the distance.

(MPR photo/Nate Ryan

)
View 3 more photos