Dum Dum Girls perform in The Current studio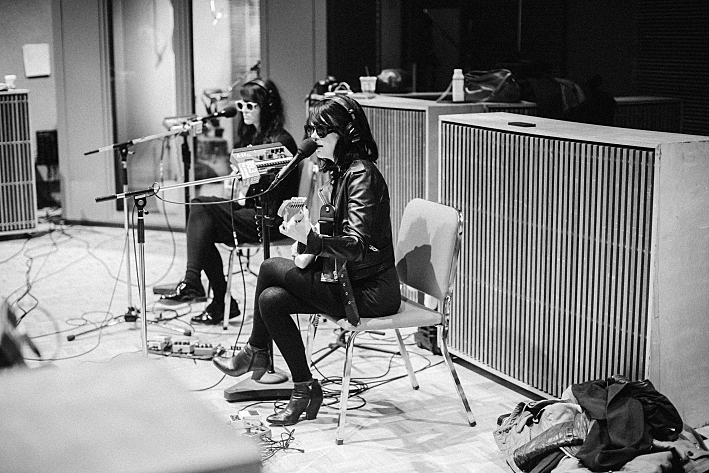 Combining elements of noir and the California sunshine to exude a specific Los Angeles vibe, Dum Dum Girls were recently in town to play a gig at the Triple Rock Social Club in Minneapolis. They stopped in to The Current's studio to talk to Steve Seel and to play a few songs, including a couple off their most recent album, Too True.
Between songs, Seel asks Dum Dum Girls about their recent short-film project, "Are You Okay?", which was written by Bret Easton Ellis, whose previous credits include American Psycho and Less Than Zero. The short film is embedded below.
Beyond the film project, Dee Dee talks about her influences and how she came to work with legendary producer Richard Gottehrer. Jules also tells Steve about her Airline guitar (pictured below), saying, "I love old '60s guitars that look like they were developed for sci-fi films."
Listen to the complete audio to hear the entire interview and music.
Songs Performed
"Are You Okay?"
"In The Wake Of You"
"Coming Down"
The first two tracks are off the Dum Dum Girls' 2014 release, Too True, while "Coming Down" is off the 2011 full-length, Only in Dreams; both albums are on the Sub Pop label.
Hosted by Steve Seel
Produced by Jade
Engineered by Michael DeMark
Guests
Resources
Related Stories
15 Photos
Dee Dee of Dum Dum Girls

(MPR photo/Nate Ryan

)

Dee Dee of Dum Dum Girls

(MPR photo/Nate Ryan

)

Sandy of Dum Dum Girls

(MPR photo/Nate Ryan

)

Jules of Dum Dum Girls

(MPR photo/Nate Ryan

)

Andrew Montoya plays additional guitar parts for Dum Dum Girls.

(MPR photo/Nate Ryan

)

Dee Dee of Dum Dum Girls in the studio of 89.3 The Current.

(MPR photo/Nate Ryan

)

Andrew Montoya adds additional guitar sound to Dum Dum Girls

(MPR photo/Nate Ryan

)

Malia of Dum Dum Girls

(MPR photo/Nate Ryan

)

Dum Dum Girls perform in The Current studio.

(MPR photo/Nate Ryan

)

Dee Dee of Dum Dum Girls

(MPR photo/Nate Ryan

)

Sandy from Dum Dum Girls

(MPR photo/Nate Ryan

)

Jules of Dum Dum Girls with her Airline guitar.

(MPR photo/Nate Ryan

)

Jules from Dum Dum Girls says, ""I love old '60s guitars that look like they were developed for sci-fi films." This Airline guitar seems to fit the bill.

(MPR photo/Nate Ryan

)

Dee Dee from Dum Dum Girls in The Current's studio.

(MPR photo/Nate Ryan

)

Jules' Airline guitar in its stand looks like it's ready to blast off for the moon.

(MPR photo/Nate Ryan

)
View 14 more photos
---
comments powered by

Disqus