Album Review: St. Vincent, 'St. Vincent'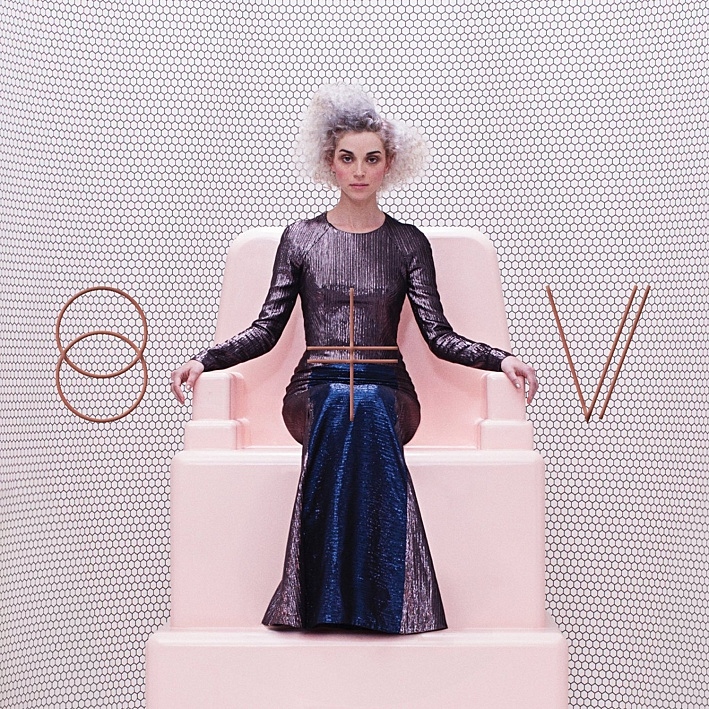 St. Vincent's music boasts an intelligence that is both daunting and alienating (in a good way). From the intricate artistry of her first records, to the measured ferocity of Strange Mercy to her more rhythm-oriented collaboration with David Byrne, her work has been almost uniformly wonderful, yet intimidating. Her songs have often played like museum pieces, to be admired and appreciated, if not necessarily loved. With her new, self-titled record, St. Vincent erects new barriers of aloofness while also managing to make her most accessible, exciting record yet.
In 40 brisk minutes, St. Vincent features 11 electrifying tracks, each one packed with hooks of both the musical and lyrical sense. Each song boasts its own unique personality, while fitting in seamlessly with the broader record as a whole. If that seems like a rudimentary observation of the record, it's only because the meticulous care with which Annie Clark has assembled the record is evident in every twist and turn. It's all a bit strange, as would be expected, yet organic, natural, and free-flowing.
St. Vincent can be roughly divided into two halves. Side 1 feels like Clark couldn't decide which song to release as a single, so she filed them all alongside each other, to staggering effect. The ominous "Rattlesnake" gives way to (lead single) "Birth in Reverse"; when Clark spoke to The Current's Mark Wheat for her Theft of the Dial session, she noted that she wanted it to be the record's single, as it bridges the gap between her previous work and her new compositions. The mysterious "Prince Johnny" features one of the record's best vocal melodies, and the languid "Huey Newton" abruptly gives way to a crunching coda, leading to the horn-driven "Digital Witness." As with many great artists, the level to which one chooses to read into the lyrics is up to the listener: one can read "Digital Witness" as a commentary on our obsessions with technology, or simply enjoy it for its groove.
"I Prefer Your Love" appears at the record's center, reading much like a hymn, down to its main refrain, "I prefer your love to Jesus." It's the lowest-key song on the album, allowing a breather before the adrenaline rush of Side 2.
Even on the heels of the amazing first half, it was the second half of St. Vincent that made me truly fall in love. Like the New Order song of the same name, "Regret" belies its sad title and sentiments with a springy guitar part. The synth-heavy "Bring Me Your Loves" and "Psychopath" are each brilliantly catchy; for album tracks buried on the record's second half, they stand with any pop songs I've heard this year. "Every Tear Disappears" is fittingly idiosyncratic, before the album wraps with the evocatively (and gruesomely!) titled "Severed Cross Fingers," with another captivating vocal melody. I may be getting jaded as I approach the big 3-0, but encountering a filler-free album is an increasingly joyful experience.
With each release, St. Vincent has been anointed new levels of acclaim. This is the record, I feel, where she takes a quantum leap forward, and into the top tier of artists making music in the 21st century.
Have you heard the album? What do you think of it? Share your thoughts in the comments section below.
Resources
Related Stories
---
comments powered by

Disqus