Theft of the Dial: St. Vincent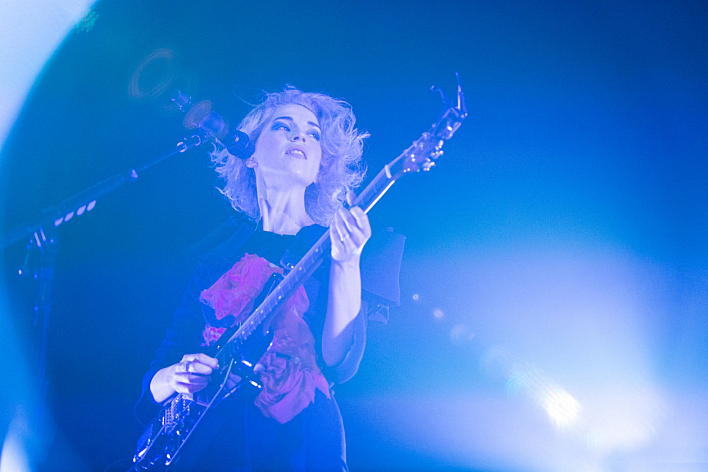 Performing under the guise St. Vincent, Annie Clark has certainly made a name for herself. She was first introduced to a few of the producers and engineers she works with today by singing in the Polyphonic Spree and Sufjan Stevens' backing band in the early 2000s, and since 2006, she's released five solo full-lengths, including the collaborative album Love This Giant with David Byrne of the Talking Heads.
Ahead of her fantastic performance at the State Theatre on April 3, St. Vincent came by The Current studios to record a Theft of the Dial with host Mark Wheat.
Between songs, St. Vincent and Mark Wheat chatted about her deejay name inspired by an old Yahoo! account, how record shopping in Dallas in high school shaped her music taste today and why wandering through the desert naked in West Texas inspired the track "Rattlesnake."
Playlist
St. Vincent - "Birth in Reverse"
Beyonce - "Blow"
Big Black - "Passing Complexion"
John Coltrane - "A Love Supreme, Part 2"
Solex - "Oh Blimey!"
Sufjan Stevens - "Now That I'm Older"
St. Vincent - "Rattlesnake"
Guests
Resources
Related Stories
Album Review: St. Vincent, 'St. Vincent' With her new, self-titled record, St. Vincent erects new barriers of aloofness while also managing to make her most accessible and exciting record yet.
St. Vincent performs in The Current studios Onetime Polyphonic Spree member Annie Clark made her debut under the recording name St. Vincent four years ago with 2007's "Marry Me." But it was her sophomore effort, 2009's "Actor," that propelled her to critical acclaim and widespread popularity in the indie-rock community. Now, two years later, she has returned with her third album, "Strange Mercy."
---
comments powered by

Disqus