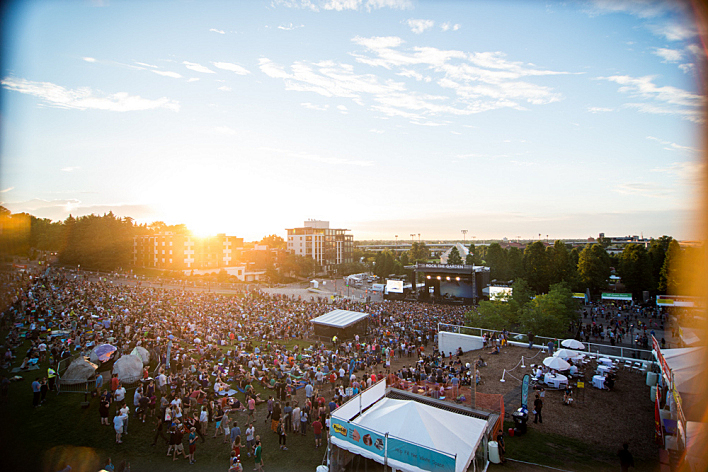 Listen Feature audio

Jun 24, 2014 Listen to all 10 tracks:
Lizzo at Rock the Garden 2014
Jeremy Messersmith at Rock the Garden 2014
Best Coast at Rock the Garden 2014
Matt and Kim at Rock the Garden 2014
De La Soul at Rock the Garden 2014
Valerie June at Rock the Garden 2014
Kurt Vile at Rock the Garden 2014
Dessa at Rock the Garden 2014
Guided By Voices at Rock the Garden 2014
Spoon at Rock the Garden 2014
Rock the Garden has come and gone, but after ten bands, thousands of people and countless smiles, we can say that the Garden has officially been rocked. Find all the coverage below!
For Information on Rock the Garden 2015, check out our Rock the Garden collection.
Saturday, June 21
100 stunning images from Rock the Garden Day 1: Lizzo, Jeremy Messersmith, Best Coast, Matt and Kim, and De La Soul
Rock the Garden 2014: Recapping Saturday's festivities
GIFs: Rock the Garden crowd busts a move
Ten epic hats of Rock the Garden 2014
What's the story of your Rock the Garden blanket?
Rock the Garden 2014 crowd fashion: Peep the looks
Sunday, June 22
Day 2 of Rock the Garden in 100 images: Valerie June, Kurt Vile, Dessa, Guided by Voices and Spoon
Rock the Garden 2014: Recapping Sunday's sets
Spot a staffer! Behind the scenes at Rock the Garden
Who's your Rock the Garden buddy?
Rock the Garden 2014 crowd fashion: Looking good on day two
GIFs: Rock the Garden crowd dances to Guided By Voices
Saturday, June 21
De La Soul
An American hip hop trio formed in 1987, De La Soul are known for their eclectic sampling, quirky lyrics, and their contributions to the evolution of hip hop. With its playful wordplay, innovative sampling and witty skits, the band's debut, 3 Feet High and Rising, is considered a hip hop masterpiece. In 2006, the group won a Grammy for their collaboration with Gorillaz on the single, "Feel Good, Inc," and are set to release their 8th album, Your Welcome, later this year.
Matt and Kim
Matt and Kim are an American indie-rock duel from Brooklyn, N.Y., who have released four albums since 2006. They are known for their high-energy live performances and outrageous videos (that often contain nudity). Matt and Kim have headlined stages at Bonnaroo and at Lollapalooza, and will have new music out later this year. They've even collaborated with De La Soul, who will follow them on stage on Saturday, June 21, at Rock the Garden.

Studio session
First Ave slideshow
Best Coast
Capturing a southern California sound that combines elements of lo-fi, garage rock and '60s surf tunes, Best Coast offer up fresh, energetic, fast-paced Los Angeles pop. Singer/songwriter Bethany Cosentino and multi-instrumentalist Bobb Bruno form the core of Best Coast, and their sunny songs will translate well to Rock The Garden's summer setting.
Jeremy Messersmith
Jeremy Messersmith moved to Minneapolis in 1999 to go to college and has become one of our city's best-known musical exports through his four albums of well-crafted pop songs. From living-room gigs to sold-out shows at First Avenue to opening for President Obama, Jeremy has spent the spring touring America, and he returns home for his first show since the release of Heart Murmurs. He'll play Saturday, June 21, at Rock the Garden.

Jeremy Messersmith Live in the Forum
Guitar Collection
Lizzo
Can anyone match the meteoric rise of Lizzo? Ever since she moved to Minneapolis in 2011, Lizzo has taken the scene by storm with her rock-solid performances with The Chalice and GRRRL PRTY. Then, with the release of her solo album Lizzobangers in late 2013, Lizzo rocketed to the fore in both the US and the UK, winning fans with her rapid-fire rap and commanding stage presence. Time magazine has named Lizzo an artist to watch in 2014 — and now you can watch her perform live at Rock the Garden.
Lizzo on party rap stereotypes, feminism, and her favorite GRRRLs
Studio session
Sunday, June 22
Spoon

Longtime friends of 89.3 The Current, Austin, Texas, band Spoon make their Rock the Garden debut in 2014. With seven full-length albums to their name and another one slated for release later this year, these prolific rockers — led by front man Britt Daniel — will bring catchy guitar riffs and irresistible backbeats to the Rock the Garden stage.
Guided By Voices
In the annals of indie rock, there are few who remain as legendary, influential — and active — as the Ohio-bred band, Guided by Voices. Fronted by the inimitable Robert Pollard, GBV have released 20 albums to date, with a twenty-first planned for release on May 19. Known for his onstage theatrics and stream-of-consciousness banter, Robert Pollard is sure to surprise and delight at Rock the Garden ... which is our nice way of saying we really have no idea what he's gonna do!
Album Review, 'Let's Go Eat the Factory', 2012
Dessa

If you need proof that talent and a whole lot of hard work can reap rewards, look no further than Dessa. This hometown favorite is a singer, rapper, essayist, speaker and a proud member of the Minneapolis hip hop collective, Doomtree. She's released three full-length albums since 2010, her most recent being last year's Parts of Speech. Dessa's entrancing abilities as a rapper, vocalist and lyricist are set to etch themselves indelibly in the memories of everyone at Rock the Garden this year.

The Wits of Dessa
Fitzgerald Theater performance, 2011
Dessa Deconstructed, June 24, 2013
Kurt Vile and the Violators
Even though he's from Philadelphia, chilled-out indie rocker Kurt Vile and his band the Violators evoke a sort of Laurel Canyon vibe through winsome lyrics and just-this-side of acoustic arrangements. Kurt Vile has cranked out five albums since 2008, and his most recent, Wakin On A Pretty Daze, has received critical acclaim. The record's popularity among The Current's listeners make Kurt Vile a great addition to this year's Rock the Garden lineup
Valerie June
Magical, mystical and very much in tune with her place in the near-mythic heritage of Memphis singer-songwriters, Valerie June brings a soulful Southern sensibility to this year's Rock the Garden stage. Valerie's tunes "Workin' Woman Blues" and "You Can't Be Told" have struck a chord with The Current's listeners — and her disarming appeal and stage banter are certain to charm the socks off everyone outside Walker Art Center this year.

Studio session
Guitar collection
Set times
Saturday, June 21:
3:45 - 4:15 pm - Lizzo
4:30 - 5:15 pm - Jeremy Messersmith
5:45 - 6:45 pm - Best Coast
7:15 - 8:15 pm - Matt and Kim
8:45 - 10:00 pm - De La Soul
Sunday, June 22:
3:45 - 4:15 pm - Valerie June
4:30 - 5:15 pm - Kurt Vile and the Violators
5:45 - 6:45 pm - Dessa
7:15 - 8:15 pm - Guided by Voices
8:45 - 10:00 pm - Spoon
Accessibility
Rock the Garden is accessible to all visitors. For more information, contact us as 612.375.7600 or access@walkerart.org.
Re-entry
New: There is re-entry at RTG this year -- with a wristband and a hand stamp -- at every entrance. So you will be free to go watch the USA vs. Portugal match of the World Cup (which, sadly, we are unable to broadcast on-site during the concert) and come back and join us.
Food and Drink
Food and Beverages will be available for sale from 3-10 p.m. both days. All vendors are located on Vineland or Groveland. Food and drink vendors will all be using a ticket system. One dollar = one ticket. Tickets available at stands inside the entrance.
Best Way Gyros
Taulelle Concessions - 2 Locations
Butcher & the Boar
Jerry's Cherry Lemonade
Talenti Gelato - 2 Locations
Drock Kettle Corn
World Street Kitchen
Nitch's Pies and Cakes
Chef Shack
Two types of Summit beer, Special vodka cocktail by D'Amico/ Phillips Vodka
Prohibited items

No guns allowed
No outside soliciting
No video or audio recording
No lawn furniture, coolers, umbrellas or pets
All bags subject to search
Merch
Walker, 89.3 The Current, and band merchandise including Rock the Garden t-shirts and event-branded posters are on sale at the top of the hill in the Merch area
There will be 2 cash machines located at the top of the hill on Groveland, 2 on Vineland, and 1 additional machine is located in the corridor between P1 (parking garage) and Bazinet Lobby
Transportation
• MetroTransit is offering a free transit pass for Rock the Garden attendees.
• Paid parking available at Dunwoody Institute (North end of Garden)
• Bike racks are located outside of the Walker along Hennepin Ave (40 racks, enough for 560 bikes). Bikes must be removed by 10:30 p.m. Sunday.
• Taxi stand: in front of 1 Groveland Terrace near intersection of Groveland and Hennepin Avenue.
Zero-Waste Efforts
Rock the Garden is proud to be a zero-waste event in partnership with Eureka Recycling. On average, we have reduced the amount of waste per visitor to one ounce. Join us in our effort to make Rock the Garden 2014 even more successful!
Rock the Garden is a unique collaboration between 89.3 The Current and the Walker Art Center and is possible because of supporters like you.
Sponsors
Lead Sponsors
Media Partner
Official Beer
Supporting Sponsors
VIP Skybox Sponsor
Related Stories
4 Photos
Rock the Garden 2014

(MPR Photo / Nate Ryan

)

Rock the Garden 2014: The lineup will be revealed April 15, 2014 at 4 p.m. on The Current.

(Walker Art Center

)

Line up for Rock the Garden 2014. Tickets go on sale to MPR and Walker Art Center members on Thursday, April 17th at 11 a.m.

(Walker Art Center

)

Rock the Garden lineup for 2014

(Walker Art Center

)
View 3 more photos