Album Review: Courtney Barnett, 'A Sea of Split Peas'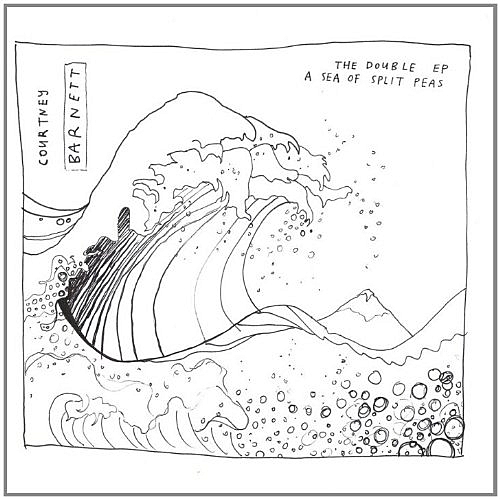 Over the course of two short years, Courtney Barnett has gone from self-releasing her debut EP to gaining fans around the world and having her music reissued internationally. And much of her success happened before she had even set foot outside of her hometown of Melbourne, Australia.
Chances are you've heard Barnett's breakout single, "Avant Gardener," a rollicking stream-of-conscious narrative about a perfectly normal day gone awry — one minute she's getting up the gumption to pull some weeds in her front yard, and the next thing she knows she's collapsing from an allergy-fueled asthma attack and being loaded into the back of an ambulance. Even at the song's most dramatic points, Barnett is pointing her finger at the absurdity of it all and cracking jokes. "I was never good at smoking bongs," she sighs, lamenting how hard it was for her to suck the medicine out of an inhaler in the ambulance, while the next minute she's comparing herself Uma Thurman's adrenaline-injected character in Pulp Fiction.
That wry sense of humor runs through all 12 tracks on Barnett's recently reissued album, A Sea of Split Peas, which is actually a compilation of her first two EPs slapped together to satiate her growing fanbase. Whether she's writing off an ex ("I may not be 100% happy but at least I'm not with you") or drinking the night away ("We drifted to a party, cool/The people went to arty school/They made their paints by mixing acid wash and lemonade"), Barnett's lyrics are vivid and sardonic, striking a poignant balance of indifference and intense awareness of everything happening around her.
Witty and evocative, Barnett rambles around from one idea to the next over lo-fi, psych-influenced washes of guitar. But there is also something deceptively poppy about her music; just when you think she's about to trail off or fall completely apart, she'll drop in a melodic hook that'll get stuck in your head for days. How many times has the line "I'm not that good at breathing in" echoed in your ears after hearing "Avant Gardener"? That same thing will happen with the melodies in "History Eraser" and "David," both of which sound like they could have come out of late-'60s San Francisco, while sparser songs "Anonymous Club" and "Ode to Odetta" highlight Barnett's alter-ego as a compelling folksinger.
Now that Barnett has received international acclaim and begun touring the U.S. and Europe, there's no telling what kind of crazy yarns she'll be able to spin when she finally records a proper debut album. Personally, I'm counting down the days until Barnett's live debut in Minneapolis at the Varsity Theater on June 24, just a few days after Rock the Garden. And I wouldn't be surprised if she's playing stages the size of the one at Rock the Garden the next time she comes to town.
Have you heard the album? What do you think of it? Share your thoughts in the comments section below.
Resources
What is Spotify?
Related Stories
---
comments powered by

Disqus