On The Ball with Mark Wheat: Down to the Crunch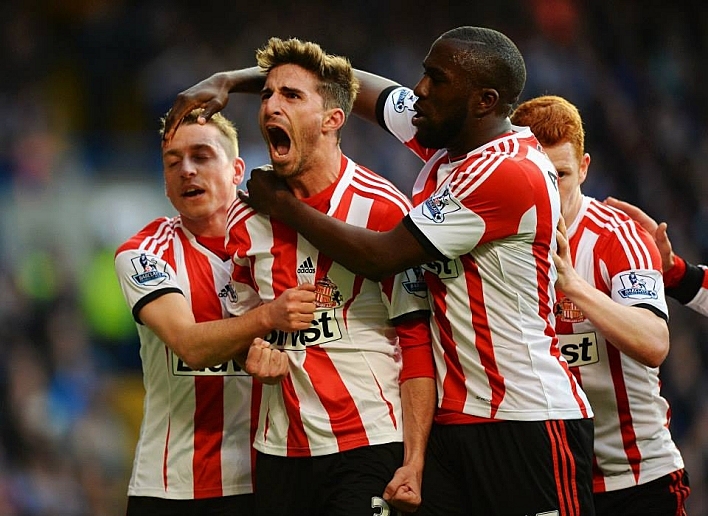 On the Ball with Mark Wheat is a Monday feature on The Current that celebrates the connections between music and soccer, with an eye to the past weekend's results. Listen Mondays at 7 p.m. as Mark plays the music selection of the week.
As we go to press, as they say, I'm afraid that more news will have broken on this topsy-turvy season to make some of these points below moot:
Perhaps Man United will announce that they have fired David Moyes, piling indignity onto the man after he lost to his old team Everton on Sunday;
OR Man City will lose to West Bromwich Albion — both teams have games in hand over their rivals but are now in a desperate fight for survival, W.B.A. for their place in the division and City for their championship hopes or even their Top 4 spot, which they don't need after winning the League Cup gets them into Europe;
While Arsenal and Everton are desperate for their spots in the Top 4 and everyone at the bottom of the table is showing signs of escape — even the team we said were doomed last week!
Yes, everything changed at the top and bottom this weekend after Sunderland beat Chelsea at home. It was a disputed penalty, given for a challenge on the American forward Jozy Altidore who needs to stay in the Black Cats side for the rest of the season to get sharp for a possible place in the USA World Cup team. It was the end of a 77-game unbeaten run at home for Jose Mourinho, who couldn't celebrate that marvelous record, way more than any other manager's had, because it means that his team now have to beat Liverpool at Anfield to have any hope of winning the Premier League. The pendulum will keep swinging down to the last day, it seems!
Chelsea v Sunderland highlights, via NBC Sports
I wonder what would have happened to United had Jose got the job instead of Moyes!?! Apparently, he at least wanted to be considered for it and I can't help but think that the players would have responded differently. These professional footballers are not easily motivated by someone who they consider to be "beneath them." When you play for what is supposed to be the best side in the world, you expect to have the best coach. They had that in Sir Alex and that's why it worked. Now they don't. No one would name Moyes in a list of the Top 10 managers in the world, so how did he get the job?!!? It MIGHT have made sense in corporate speak, about long-term goals and needs of the club being paramount during such a shift after Sir Alex retired. And Ferguson himself played a role, too, recommending Moyes.
But I'm sure that's what the players were thinking and they haven't been convinced, obviously judging by their performances. Their opponents, too; the aura around a team is manifested by the manager — Jose has it in spades, Moyes does not. Everyone was willing to give him a chance to create it, but that hasn't happened and now United have had a disastrous season. If he has to go they should do it soon so the new guy has time to work on the re-building that is said to be needed in the summer. It will be hard to convince great players to come to a club that will not be in the Champions League next season, especially if the coach still has a huge question mark over him. Would Jose be able to refuse if they asked?!
Everton v Manchester United Highlights, via NBC Sports
My "other team" Norwich City slid to defeat to Liverpool and might continue to slide all the way down to the Championship, primarily because they play all top teams for the final three games, including Man Utd on the last day on April 26 and Arsenal on the last day. Perhaps the Red Devils could roll over to save the Canaries — that would be nice!
Norwich City v Liverpool highlights, via NBC Sports
Another team that I used to go to watch when I was a lad are Ipswich Town, because of their proximity to where I was brought up. They've been absent from the Prem for 12 years but are making a brave run at the end of this season to get back in. The Championship has a play-off series involving the 3rd thru 6th teams playing each other at Wembley to decide the final promotion spot. Ipswich dropped 2 points today but it will be close between them, Reading and Brighton for that final place in the play-offs.
Congrats to Burnley who were one of the founding clubs of the whole League back in 1888 and, when I was a kid, were regulars in the top division. They hadn't been in the top flight for 33 years until 2009, when they only stayed for one season, but they're back in the Premier League now after beating Wigan today. The towns are close to each other in Lancashire, but Burnley is not known for a big music scene, or a Casino like Wigan. Its most famous sons are actor Sir Ian McKellen and the band Chumbawamba!
But I checked the enterprising Facebook page of the Burnley and Pendle Music Community to discover that they're celebrating the Queen's birthday today with a punk festival called "God Save The Queens"! So let's join the fun with a little ditty from the Sex Pistols and this reminder of why it was banned in 1977:
What are your thoughts about this past weekend's games? Which clubs do you think are sure bets for relegation? What do you think of the David Moyes situation? Share your thoughts in the comments section below.
Related Stories
On The Ball with Mark Wheat: Lots of Drama A look at the drama in the FA Cup semifinals, plus a lot of drama at Anfield as Liverpool secure a big win at the top of the table (and perhaps one player was doing a bit of acting, too). Meanwhile, Mark makes a music pick from local lads Heiruspecs.
On The Ball with Mark Wheat: Much Merriment on Merseyside! Mark Wheat looks at the bright prospects for Liverpool after another big win by the Reds at the weekend, plus a celebration of Leicester City's promotion and an interview excerpt from Janelle Monae, courtesy The Guardian.
---
comments powered by

Disqus