The intense pressure of the Voice-o-Graph recording booth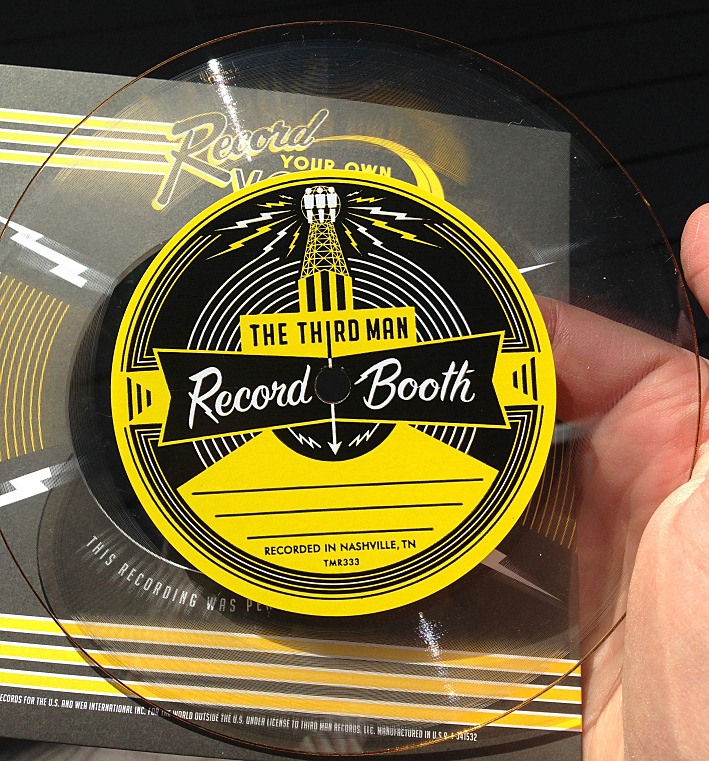 Update: On May 12, Neil Young and Jack White debuted the Voice-o-Graph record booth on national television by recording a version of Willie Nelson's song "Crazy" -- made popular by Patsy Cline -- on the Tonight Show with Jimmy Fallon.
Jim McGuinn, Program Director for The Current had the chance to try out the booth on April 19, 2014 -- Record Store Day -- at Jack White's record store.

Over the past weekend, I got the opportunity to spend some time in Nashville, Tenn., at Third Man Records, the record shop / performance space / warehouse for Jack White's record label of the same name. Besides being in the crowd as White recorded the "World's Fastest Record" on Saturday morning, I shopped in the store, and at the very back of the vinyl rack, I found a copy of the new Neil Young album. No signs, no bin cards, no marketing. Just a random vinyl record in the back of the racks. I brought it to the counter and asked, "Um, this is the new Neil Young album, right?"
Yes.
"And you're selling it?"
Yes.
"The one he recorded right over there?" I said, pointing to the Record Booth — essentially a phone booth with a microphone inside and an acetate lathe cutter.
Yes.
Not only was one of the world's greatest rock artists of all time putting out this unique album in collaboration with Jack White, but it was being "un-marketed," where you had to go to the counter and ask for a copy in order to know it even existed! I later talked to Ben Swank of Third Man about the release, and he said they randomly sent a few copies out to some of their favorite stores — without telling the stores they were getting them!
So I thought, well, if a 1947 Voice-O-Graph is good enough for Neil, I should get in on this as well! For $15, anyone at Third Man can pop in and cut their own track, etched forever onto a 33 RPM single. You put in the special tokens, pull a lever, and the Record Booth surges to life, plopping a fresh master onto the spindle and dropping the cutting needle on the outer edge. A red light comes on in the booth, and you're off — for exactly 144 seconds of recording time.
Not knowing I was going to cut a single when I woke up that morning, I quickly tried to think of something I could record that I might be able to remember half the chords and words to — while being jammed into a booth, while a cacophony of music played through the building and on the street outside Third Man — settling on Nick Lowe's "Peace Love and Understanding" as a song that would be in the same spirit as Neil's album. My results are far from spectacular, but that's OK; it's the very custom "in the moment one try is all you get" aspect that makes it such a thrill to record in the booth. Then I saw I had some extra time, so I added the date and place, and tried to loop back into another chorus, only to run out of time on the last line. Such is life when you are cutting straight to disc.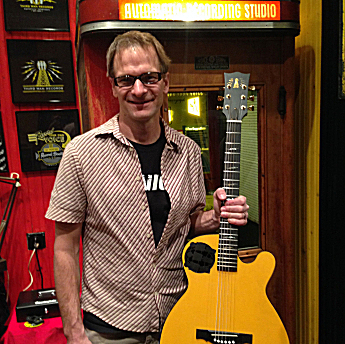 Jim McGuinn gets ready to go inside the record booth at Third Man Records in Nashville, Tenn. (photo courtesy Jim McGuinn)
So my results weren't quite as cool as Jack's new live single or Neil's album, but it was still a memory I'll treasure, even if most people who hear my recording will be listening to the digital posting of it!
Resources
Related Stories
Bill DeVille's musical postcard from Nashville The Current's Bill DeVille recently visited Nashville, Tenn., to attend the Americana Music Conference — very fitting for the host of United States of Americana! Read about and see photos of Bill's experiences in "Music City."
Ten observations from my weekend as a semi-famous local indie rock star By Jim McGuinn: This past weekend I got to live the rock and roll dream like I haven't for nearly a decade, joining local noise pop band BNLX as second guitarist for a weekend of shows at BNLXFest 2 at Cause. The fest featured five local acts per night, from buzzy new kids on the block Gloss and Frankie Teardrop to veteran acts Pink Mink, Two Harbors, and Blue Sky Blackout, who played their last show on Friday night.
'Ultra LP' Version Of Jack White's New Album Has Some Crazy Surprises The vinyl version of Jack White's Lazaretto album has three playback speeds, a floating hologram, tracks hidden under the labels and plenty more technological tweaks to the 70-year old format.
2 Photos
Third Man Records in Nashville, Tenn.

(MPR photo/Jim McGuinn

)

Jim McGuinn with the Neil Young record at Third Man Records in Nashville, Tenn.

(courtesy Jim McGuinn

)
View 1 more photos
---
comments powered by

Disqus