Album Review: Damon Albarn, 'Everyday Robots'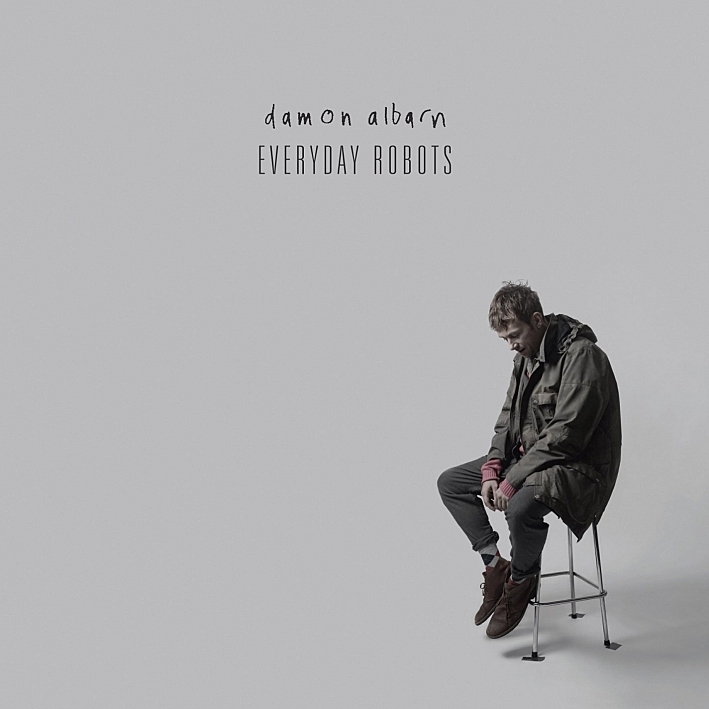 You might know him as one of the princes of Britpop with his band Blur, or as a cartoon character with his collaborative band of pirates Gorillaz, or as one of The Good, the Bad, the Queen … but which one was he?
Whatever he's been, you don't know him like this — the way he sounds on his first solo release is new to us: quiet, restrained and more than a little introspective. And if you don't know him at all, you might be nonplussed by a first listen to this album. I was, and I'm a huge fan of pretty much everything Damon Albarn has ever done. So I can imagine a younger listener who doesn't have the emotional connection to Damon's previous body of work being left cold by the languid overall mood of the album; confused by the lyrical references to places in England that have moulded this man; and wondering, "Really, can't he sing better?" Damon has accepted the limitations of his voice over the years and sometimes seems to shirk responsibility for making it sound "nice" all the time, pushing it just out of its natural range. He reminds me in this way of Brian Eno and Robert Wyatt.
Eno and Wyatt have, in the past, also taken on the burden of being quintessentially English voices, reflecting the country back onto itself, commentating on its foibles. Damon, as my boss Jim McGuinn pointed out, seems to have taken on that mantle for himself, too. Jim also saw Damon perform some of these songs at SXSW and was largely impressed with the innate soul of the work. And this is perhaps what saves this album: It's authentic and soulful in a way that you might not expect.
Perhaps it's no surprise, then, that the project was born out of a collaboration with Richard Russell, the boss of XL Recordings who worked with Damon on Bobby Womack's album, The Bravest Man In The Universe. Brian Eno himself is another collaborator; apparently Brian and Damon met in their local gym. Brian adds synths to "You and Me" and sings on the finale, one of the best tracks, "Heavy Seas of Love".
Yes, after being left a little bewildered by it upon first listen, I have to say that it does grow on you — it's been a great soundtrack to the rainy weather over the past few weeks! But also the huge hooks that seem initially buried in the grayish torpor created by the overall affect of the album lift themselves out and stay aloft and with you wherever you go, especially on "Mr. Tembo". Even the creaky sample that carries the title track gets etched into the brain after a while. If you've already heard those two tracks that we've been playing, you'll know that Damon not only uses guitar, steel drums, piano and strings, but also samples of both instrumental loops and voices from the past, including Timothy Leary on "Photographs", but all these elements are used sparingly — it's not as if he has to use them all in every track; in fact, they seem to be balanced in the work as a whole, as if the album is a canvas that depicts several different scenes but comes together to create a greater landscape when you stand back from it.
I love the way Damon also uses some DJ knowledge to string the tracks together, especially in the first half of the album where the tracks are linked by a drum machine slightly speeding up or slowing down — simple segues but very effective. The middle of the album is the high point too, tracks 7 and 8, "You and Me'" and especially "Hollow Ponds", which is the longest, most experimental structurally and seems to reference major transformative points in his life, like seeing the graffiti that inspired the title of Blur's biggest LP in '93, Modern Life is Rubbish.
That in fact might still be Damon's mantra. He doesn't seem impressed with all the cell phones and selfies, but the wistful air suggests that he might not care as long as he has his loved ones around him, and whenever he gets lonely, he can just press "play" and listen to his favorite music makers. An album then, perhaps not designed to win over new friends, but a cordial update for his loyal followers, a signal that he's all right; it's all those others, the everyday robots.
Damon Albarn's Everyday Robots releases Tuesday, April 29, 2014.
Damon Albarn talks through Everyday Robots, track by track:
Have you heard the album? What do you think of it? Share your thoughts in the comments section below.
Resources
Related Stories
---
comments powered by

Disqus