Bombay Bicycle Club perform in The Current studio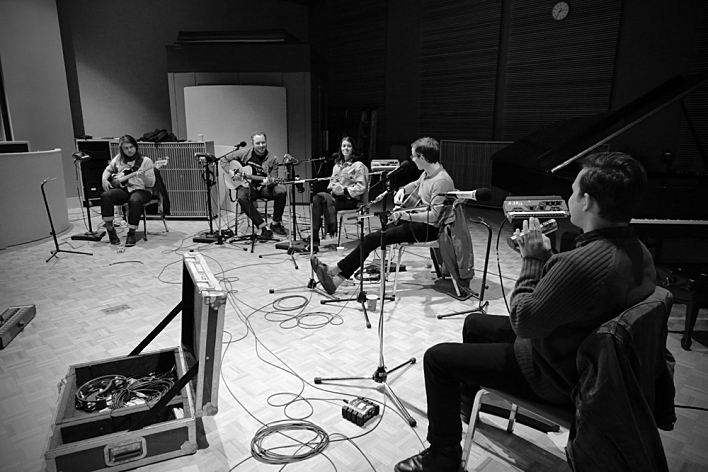 Touring in support of So Long, See You Tomorrow, their fourth album in five years, Bombay Bicycle Club stopped in to The Current's studio to play some songs and to chat with Bill DeVille.
Named for a now-defunct chain of Indian restaurants, Bombay Bicycle Club spoke about their recent gigs at Coachella and how that festival reminded them of the film Groundhog Day.
Acknowledging that touring gives them the opportunity to travel the U.S. in a bus with their friends, the members of the band talk about how they see the U.S. not so much as one nation but instead as many cultures and climates. Speaking of which, Bombay Bicycle Club found the grey, rainy, mild weather in the Twin Cities reminiscent of their native London. "It makes us feel at home," singer/guitarist Jack Steadman said. The band played a gig at the Varsity Theater on Tuesday, April 29.
Listen to the complete audio to hear more from the band members, including Steadman's thoughts about what it is that makes Mumbai a must-see place for creative types. Additionally, guitarist Jamie MacColl describes a childhood visit to his great-uncle's cabin along the Hudson River in New York — a great-uncle the rest of us know better as Pete Seeger.
Songs Performed
"Feel"
"Luna"
"Shuffle"
The first two tracks off Bombay Bicycle Club's 2014 album, So Long, See You Tomorrow, distributed in the U.S. by Vagrant Records. "Shuffle" off the band's 2011 album, A Different Kind of Fix, distributed in the U.S. by A&M/Octone.
Hosted by Bill DeVille
Produced by Derrick Stevens
Engineered by Michael Demark
Guests
Resources
Related Stories
5 Photos
Ed Nash, Jamie MacColl and Liz Lawrence of Bombay Bicycle Club.

(MPR photo/Leah Garaas

)

Louis Bhose of Bombay Bicycle Club

(MPR photo/Leah Garaas

)

Jack Steadman of Bombay Bicycle Club plays his custom-built Farida guitar in the studio of 89.3 The Current.

(MPR photo/Leah Garaas

)

Jamie MacColl of Bombay Bicycle Club plays his specially built Farida guitar.

(MPR photo/Leah Garaas

)

Bombay Bicycle Club in The Current's studio, L to R: Jamie MacColl, Liz Lawrence, Jack Steadman, Ed Nash, Louis Bhose and Suren de Saram.

(MPR photo/Leah Garaas

)
View 4 more photos
---
comments powered by

Disqus