Angel Olsen performs in The Current studio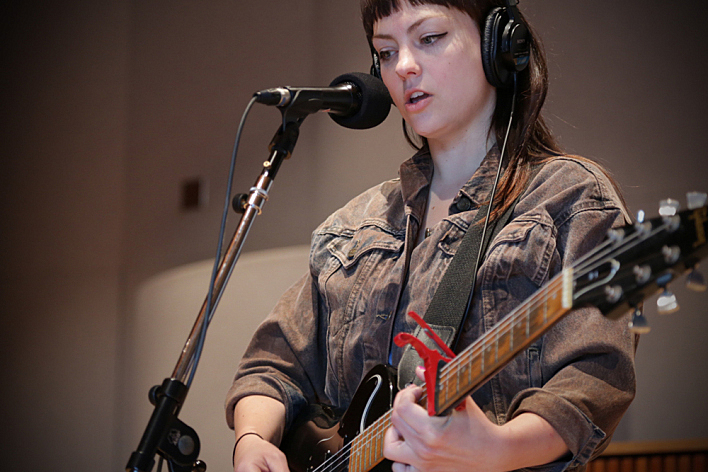 Fresh off playing a gig at The Cedar Cultural Center in Minneapolis last night, Angel Olsen and her band stopped in to The Current's studio to play a few songs and to chat with Mary Lucia.
In the course of the interview, Olsen describes her experience making the transition from solo performer to now having a band. Although it took some time to make the transition, Olsen loves the way each band member adds his or her own ideas to the song compositions and arrangements. "It's more fun to allow that to happen," Olsen says.
Now signed to Jagjaguwar, Olsen's latest album is called Burn Your Fire for No Witness. It was recorded in a former church in North Carolina. Incidentally, Olsen herself is now based in Asheville, N.C., and she talks about its music scene and the beauty of its forested environs.
Listen to the complete interview to hear more about Olsen's approach to songwriting and about how the meanings of her songs can change for her over time.
Songs Performed
"Miranda"
"Hi-Five"
"High & Wild"
The first track is from Olsen's 2013 release, Half Way Home; the subsequent tracks are off Olsen's 2014 album, Burn Your Fire for No Witness, out now on Jagjaguwar.
Hosted by Mary Lucia
Produced by Lindsay Kimball
Engineered by Michael DeMark
Resources
Related Stories
Angel Olsen entrances at the Cedar Cultural Center At the Cedar Cultural Center last night, Angel Olsen transported the audience to a time before technology and abbreviated attention spans. For every second of Olsen's set, the wall-to-wall crowd stood rapt, as if even inhaling would shatter what she had created onstage.
New Hot's 15 most anticipated albums of 2014 Now that the year-end lists have finally settled, it's time to build up anticipation for what's to come, so The Current's Music Director and New Hot host, David Safar, has put together a list of the most anticipated albums of 2014. Some records come from familiar artists with definite release dates, some have only have European or Australian releases and some may have been released in late 2013 but are just about to make their big splash in the new year.
5 Photos
Bassist Emily Elhaj and Angel Olsen in The Current's studio

(MPR photo/Leah Garaas

)

Angel Olsen performs in The Current's studio.

(MPR photo/Leah Garaas

)

Lead guitarist Stewart Bronaugh and drummer Joshua Jaeger perform with Angel Olsen in The Current studio.

(MPR photo/Leah Garaas

)

Angel Olsen and her band in The Current studio.

(MPR photo/Leah Garaas

)

Angel Olsen performs in The Current studio.

(MPR photo/Leah Garaas

)
View 4 more photos
---
comments powered by

Disqus