Album Review: Atmosphere, 'Southsiders'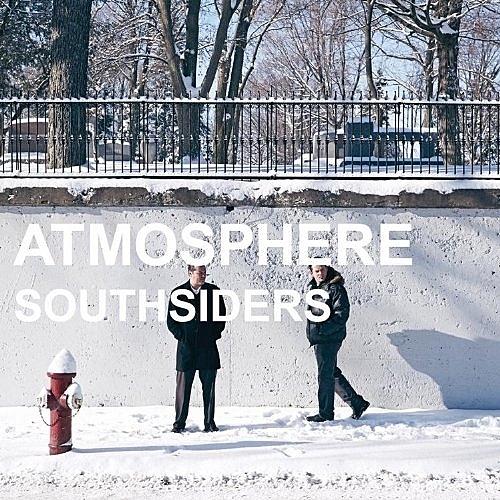 This week's CD of the Week is Atmosphere's eighth studio album, Southsiders.
As the album title suggests, Slug and Ant are using this new Atmosphere record to rep the south side of Minneapolis, where they have lived and worked for the majority of their 17-year career. Sometimes you can literally hear the city in the music, with the sound of the light rail sprinkled into certain tracks like signposts. But the album is far from Atmosphere's Boys and Girls in America, the Hold Steady album that dropped fictional characters into the Twin Cities to romp around familiar landmarks. Rather, the focus of Southsiders remains squarely trained on Slug, who you can practically picture wandering down Lake Street deep in thought as he raps about his place in this broken world.
The arrangements on Southsiders move away from the live instrumentation that defined The Family Sign (guitarist Nate Collis and keyboardist Erick Anderson, who have also toured with Atmosphere in recent years, are on hiatus from the group) and switch back to the basic formula of Ant's intricate production and Slug's introspective lyricism. In many ways it's a return to form for the duo. Ant's beats have rarely sounded as sophisticated as on opening track "Camera Thief," while one of the album's standout tracks, "Arthur's Song," harks back to the organ jive and classic-soul sound of early Atmosphere songs like "Guns and Cigarettes."
"The past will stick like initials carved in the concrete, like the tattoo that hides on your mommy / I still kick it with angels / The difference is that instead of the bar, I'm at my kitchen table," Slug raps on the album's opening track, and it comes across as both a throwback and an update to "The Woman With the Tattooed Hands." Whereas The Family Sign found Slug coming to terms with the fact that he was getting older and staying closer to home, Southsiders moves past that, "Oh crap, I'm a family man now" realization and into what might come next: coming to terms with the past and figuring out how he can still grab life by the horns while keeping the stereo down low enough that it doesn't wake the baby in the next room.
As with much of Atmosphere's work, Slug is at his strongest when he relaxes into the beat and unravels a well-worn story about love or loss. There is a fine line that stands between stream-of-consciousness style narratives and plain self-consciousness, and Slug is walking the line on many of these songs. At times, in a very Minnesotan fashion, he almost seems to be apologizing for having anything to say at all. But when he lets go and dives deep — as he does on "Arthur's Song," "January on Lake Street," and his breathtaking reflection on Eyedea's death, "Flicker" — the result is some of the strongest work of his career.
George Orwell once said that, "Good prose should be transparent, like a window pane," and I think the same could be said about good rapping, at least for an MC as unapologetically personal and literal as Slug. Over the past few years, even when he's rapping about himself, he has had a tendency to lean in too close and smear the window, and the album's awkward moments come when Slug gets in his own way and sounds like he's trying too hard, over-enunciating his words or making attempts to be clever. But when he finds those moments of clarity, and when he can open himself up and describe his thoughts so plainly and purely that the narrator disappears, it's as if we can look right through him. And that's an incredibly brave and powerful thing to be able to do.
What do you think of the album? Share your thoughts in the comments section below.
Resources
Related Stories
---
comments powered by

Disqus