Cloud Cult recorded live at the Fitzgerald Theater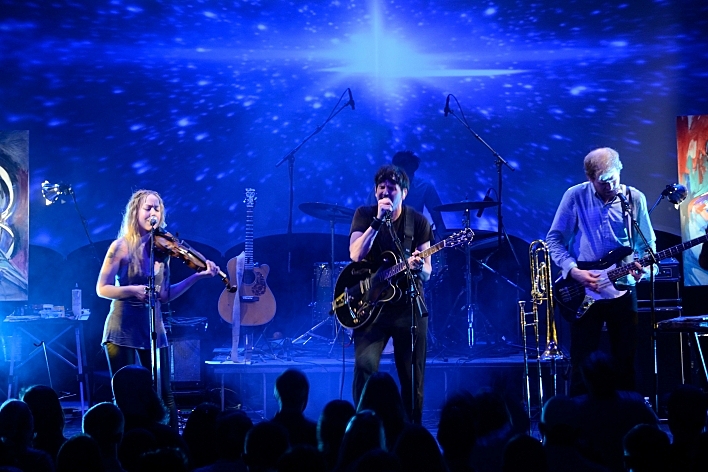 In early April, Cloud Cult sold out two nights at the Fitzgerald Theater where they performed two sets — one acoustic and one electric. In this program, you'll hear selections from both of those sets, featuring songs new and old.
We start with Cloud Cult's acoustic set, performed in celebration of the release of their new album, Unplug, and finish with their energetic, electric set that has the audience on their feet.
It's an Evening with Cloud Cult on 89.3 The Current.
Songs Performed
Acoustic Set
Run Time 25:10
You Were Born (Light Chasers)
Meet Me Where You're Going (Love)
Ghost Inside Our House (Feel Good Ghosts (Tea-Partying Through Tornadoes))
Running With The Wolves (Light Chasers)
Pretty Voice (The Meaning of 8)
Current Plug
Transistor Radio (Advice from the Happy Hippopotamus)
Chemicals Collide (The Meaning of 8)
Electric Set
Run Time: 40:47
All The Things We Couldn't See (Love)
Everybody Here Is A Cloud (Feel Good Ghosts (Tea-Partying Through Tornadoes)
Blessings (Invocation Part 2) (Light Chasers)
Car Crash (Advice from the Happy Hippopotamus)
Sleepwalker (Love)
The Calling (Love)
Love and the First Law of Thermodynamics (Love)
Good Friend (Love)
There's So Much Energy In Us (Light Chasers)
Hosted and Produced by Lindsay Kimball
Engineered by Jeff D. Johnson
Guests
Resources
Related Stories
The Chart Show Hall of Fame When a song stays on The Chart Show's chart for more than 10 weeks, we retire it from the poll and it enters the very prestigious Chart Show Hall of Fame.
The Best of the in-studios: Cloud Cult, Silversun Pickups or Tegan and Sara April is Public Radio Music Month, and what is more "public radio music" than the in-studio session? Stations across the nation put hours and hours of work into bringing up-and-coming artists and high-profile bands into their studios, often capturing some of the most poignant... or raucous performances out there.
Cloud Cult perform live at The Current in the UBS Forum This Twin Cities staple has been making emotionally-fused experimental rock for years, packing venues with capacity crowds entranced by live painting, dozens of instruments and encouragement to sit on the venue floor and become fully absorbed with the sound surrounding them.
7 Photos
Cloud Cult perform at the Fitzgerald Theater

(MPR photo/Tom Campbell

)

Cloud Cult perform at the Fitzgerald Theater

(MPR photo/Tom Campbell

)

Cloud Cult perform at the Fitzgerald Theater

(MPR photo/Tom Campbell

)

Cloud Cult perform at the Fitzgerald Theater

(MPR photo/Tom Campbell

)

Cloud Cult perform at the Fitzgerald Theater

(MPR photo/Tom Campbell

)

Cloud Cult perform at the Fitzgerald Theater

(MPR photo/Tom Campbell

)

Cloud Cult perform at the Fitzgerald Theater

(MPR photo/Tom Campbell

)
View 6 more photos
---
comments powered by

Disqus